Blue Jays: Unless it's for Lindor, leave Bo Bichette's position alone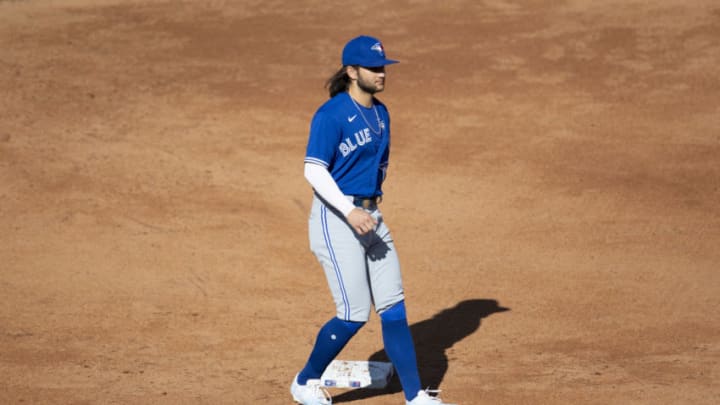 PHILADELPHIA, PA - SEPTEMBER 20: Bo Bichette #11 of the Toronto Blue Jays in action against the Philadelphia Phillies at Citizens Bank Park on September 20, 2020 in Philadelphia, Pennsylvania. The Blue Jays defeated the Phillies 6-3. (Photo by Mitchell Leff/Getty Images) /
It's one thing for the Blue Jays to discuss changing Bo Bichette's position for Francisco Lindor, but otherwise talk of him moving from shortstop is silly.
The Blue Jays are looking to improve the roster this offseason, and thanks to their flexible roster, there's not just one set way to do it.
It's likely that they're focusing on improving the infield, which arguably has a spot open at third base for 2021 at the moment. Travis Shaw remains under contract control and could return, and Vladimir Guerrero Jr. has also expressed a desire to move back to the hot corner, but chances are the front office will look outside the organization for reinforcements. Thanks to the flexibility of the roster, especially Cavan Biggio, one of the rumours linked to the Blue Jays lately has them showing a fair bit of interest in Cleveland's Francisco Lindor.
If you're acquiring a superstar like Lindor, you're going to make room for them to excel, so you can all but bank on him taking over at shortstop if he were to become a Blue Jay. That would displace Bo Bichette, who would likely move to second base in that scenario, with Biggio sliding to third to complete the infield with Vlad Jr. and Rowdy Tellez splitting time at first base. That's all well and good when you're adding a top-10 player in baseball, but otherwise, I'm not in love with the idea of moving Bichette away from shortstop.
More from Jays Journal
With that in mind, I'd like to express my general distaste for the idea of the Blue Jays pursuing someone like Andrelton Simmons or Marcus Semian, both of whom are available on the free agent market this winter. There were reports of their interest this week, as they seem to be casting a wide net in the early stages of free agency. Don't get me wrong, they could both make the Blue Jays marginally better in the short tern, and I recognize the need for improved defence in the infield, but I think there's more to consider.
Bichette has the potential to be a top-10 type of player as well, and that's the kind of talent that you nurture. The coaching staff has repeatedly talked about how they'd never bet against his talent or his work ethic, and he's already at least average defensively at shortstop. He's also more than aware of any shortcomings in his game, and he's widely known for meticulously working to improve.
All things considered, does it make sense to push him away from his natural position right now for someone like Simmons? We're not talking about a long-term answer here, as it's likely that the former Angel would only sign a 1-2 year deal, and then what? Move Bichette back to short in a year or two, or hope that a prospect like Austin Martin, Jordan Groshans, or Orelvis Martinez will be ready and capable of taking over?
To me, the only way you really consider moving Bichette is if you're getting a premium player at the position such as Lindor. Simmons can be that guy with the glove, but at 31 years old it's doubtful that he's going to be part of the long-term plans, and I'm not sure that a player like him moves the needle that much in 2021. They'd be marginally better, but would his skillset really push them into the conversation of true contenders?
I'd honestly prefer to let Bichette continue to develop as a shortstop, and I have full faith that he'll be an above average defender before long. That goes out the window for a star like Lindor, but if it's up to me, that's the only condition that I'd change his position for next season.