Toronto Blue Jays 2020 Report Card: Rafael Dolis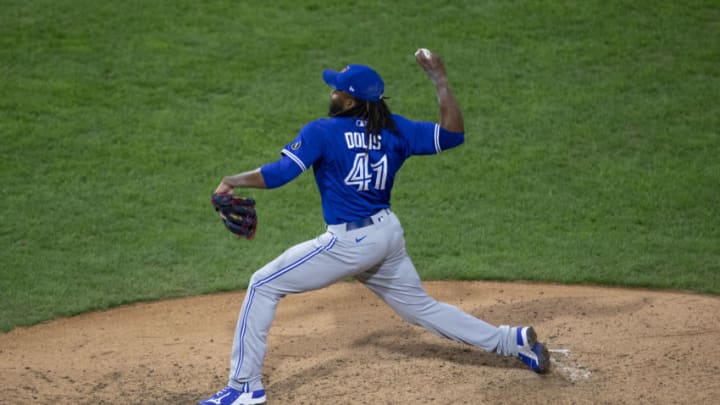 PHILADELPHIA, PA - SEPTEMBER 18: Rafael Dolis #41 of the Toronto Blue Jays throws a pitch in the bottom of the sixth inning against the Philadelphia Phillies during Game Two of the doubleheader at Citizens Bank Park on September 18, 2020 in Philadelphia, Pennsylvania. The Phillies defeated the Blue Jays 8-7. (Photo by Mitchell Leff/Getty Images) /
At Jays Journal, we are doing year-end report cards for each player on the Blue Jays Roster for 2020. Today we are going to look at Rafael Dolis.
When the Blue Jays signed a mostly unknown reliever that had spent the last 4 years of pro ball in Japan, very few people thought he would become one of, if not, their highest-leverage reliever down the stretch. But Rafael Dolis took his anonymity and ran with it.
He could be almost unbearable to watch at times with the speed at which he pitched resembled a human rain delay. But at the same time, a case could be made that Dolis was the best reliever the Blue Jays had this season on the whole.
Dolis' Pitch Mix
According to Baseball Savant, Dolis primarily threw three pitches; the sinker(60.4%), the slider(20.3), and the split-finger(18.6). He did mix in a grand total of 3 four-seam fastballs, but that could be as simple as a few mislabeled pitches.
More from Toronto Blue Jays News
Dolis' three main pitches produced ground balls and he was successful (according to his pitch charts) at keeping the ball down in the zone.
Against lefties, he limited his use of his slider and increased his use of split-finger. Against righties, it was the reverse. But all in all, he used his sinker against both righties and lefties as a dominant out-pitch.
Despite being his most used pitch, the sinker did not have a ton of swing and miss to it. He used it mostly to induce weak contact, in which it produced the lowest average exit velocity of any of his pitches, and earlier in counts. His secondary stuff accounted for most of the swing and miss in his arsenal.
Stat Breakdown
As mentioned above, Rafael Dolis could be considered the best reliever the Blue Jays had this year on the whole. He was consistent and reliable the entire year. He started as a leverage reliever and moved into a partial closer role by the end of the season due to injuries to Romano and Giles.
With a minimum of 15 innings pitched, Dolis lead all Blue Jays relievers in fWAR (0.6), k/9(11.63), hr/9(0.38), exit velocity(85.4), ERA(1.50), FIP(3.02), and xFIP (4.01).
His hard-hit percentage was a staggering 27.8% which ranked him in the top 7% of all pitchers in the MLB in 2020.
He did a great job of keeping the ball in the park when it got put in play and striking guys out. It is difficult to draw lasting conclusions from such a small sample size but I am hopeful the Blue Jays will pick up his option and he will be a large part of the team's bullpen next season with those numbers.
Grade
Rafael Dolis surpassed almost everybody's expectations coming from obscurity and ending up being arguable the Blue Jays most reliable reliever. As I said before, he could be painful to watch at times and it seemed like any inning he pitched may never end, but who am I to complain, he was very effective with his slow pace.
His numbers really jump off the page considering most guys with his soft contact, ground ball type pitch mix do not get the number of strikeouts that he accrued in 2020. I really like what he showed us this season.
He was not perfect, despite all my praise, so I cannot give him a perfect grade. He did blow a  save and walked 14% of the batters he faced (MLB average was 8.3%).
Grade: B+