Toronto Blue Jays 2020 Report Card: Danny Jansen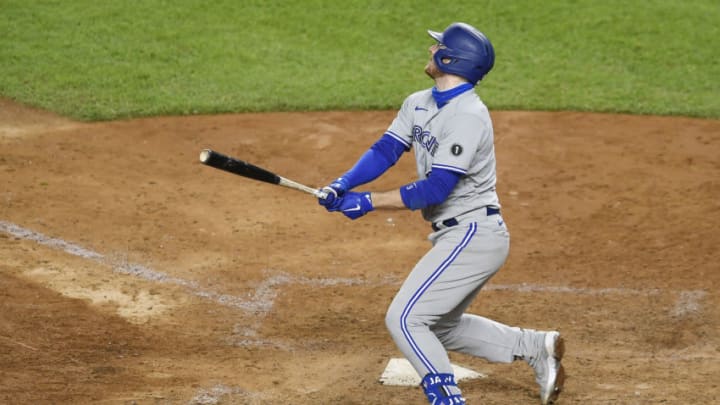 NEW YORK, NEW YORK - SEPTEMBER 16: Danny Jansen #9 of the Toronto Blue Jays watches the ball during the eighth inning against the New York Yankees at Yankee Stadium on September 16, 2020 in the Bronx borough of New York City. (Photo by Sarah Stier/Getty Images) /
Jays Journal contributors will be authoring Toronto Blue Jays report cards based on how each player performed in 2020. In this edition, we take a look at Danny Jansen.
When Danny Jansen was preparing for the 2020 season in Spring Training it looked as though he was going to have a breakout season, however, COVID hit and the baseball world was set upside down.  When the season restarted in July he struggled to find the same performance he was having in the Spring.
Danny Jansen entered his second full season with the Blue Jays and now in consecutive seasons, he was anointed the number one catcher.  A fan favorite, Jansen was a former 16th round pick that was having an average minor league career until in 2016 when it was determined he had a vision problem.  Jansen was prescribed glasses that he wore for every game and his career took off.
Jansen had a brief late-season stint in 2018 that gave the team enough confidence to move forward with him as the teams' catcher of the future.  During that stint, in 207 innings behind the plate, he never allowed a passed ball and while he threw out just 5 of 33 baserunners he was getting the reputation from the pitchers of being a good receiver.  It also didn't hurt that he posted a nearly .350 OBP over his 95 at-bats.
More from Jays Journal
In 2019, Jansen struggled at the plate batting just .207, but he did hit 13 home runs and nobody was concerned because his focus was learning the Blue Jays pitchers.  His defensive side of the game was showing great skills as he threw out 31% of base runners which was above the league average and he again showed he could protect the plate by allowing just four passed balls over 852 innings.  Expectations for Jansen in 2020 was that he would continue his superb defensive skills and get his offence going a little better.
During Spring Training 2020, Jansen came out on fire at the plate.  When COVID caused the season to be cancelled Jansen was 9 for 17 with four home runs and had a .600 OBP.
When the shortened season started in July, no player appeared to be affected more by the layoff than Jansen.  He started off well going 4 for 11 with a pair of walks and a home run through his first three games; however, things went south at the plate after that as he went 0 for 18 over his next six games including nine strikeouts.  Jansen would finish the season with a .183 AVG, however did lift his OBP by 34 points from the season before.
Behind the plate, Jansen struggled quite a bit more from 2019.  He threw out just 23% of base stealers which was down under the league average.  He also went from averaging a passed ball every 213 innings to 114 innings in 2020.
Top Highlights of the Season
If there is a team you want to see a player do well against, it would be the New York Yankees.  Jansen finished the season with 22 hits and eight of them came against the Yankees.  Over six games against the Pin Stripes, Jansen went 8 for 19 that included four home runs and seven RBI.  His success against the Yankees was capped off by a 4 for 4 effort on September 23 where he slugged a pair of home runs and a double.
Jansen was able to take a bit of success into the offseason as he got his first taste of Post Season baseball against the Tampa Bay Rays.  Jansen went 2 for 5 in the series with a pair of home runs.  During a season he struggled so much at the plate, going into the offseason after having a successful personal finish it could help with confidence.
I don't think there is any question that Danny Jansen will remain the Blue Jays starting catcher going into 2021, but how is your confidence in the young catcher?
Overall Grade: C-