Blue Jays chances of playing 2021 season in Toronto just got better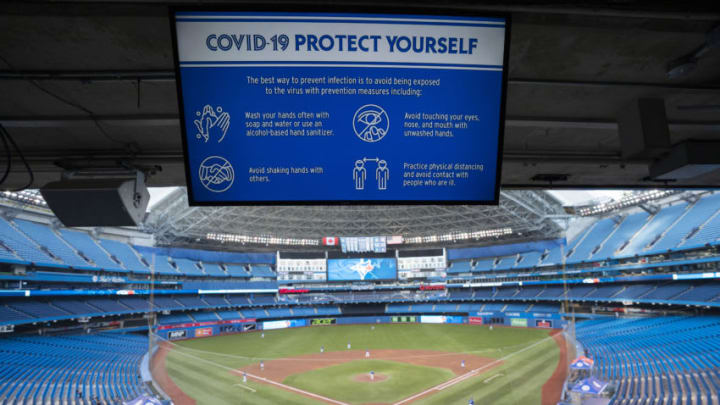 TORONTO, ON - JULY 09: A Covid-19 warning sign is seen over the diamond at Rogers Centre on July 9, 2020 in Toronto, Canada. (Photo by Mark Blinch/Getty Images) /
With the new measures for international travellers taken by the Federal government, the Toronto Blue Jays may be able to play the 2021 season in Canada.
With the COVID-19 pandemic ravaging around the world, it has put many things on pause or into a modified environment, which has included professional sports and baseball.
The 2020 baseball season even started late with Opening Day taking place end of July, and Spring Training back in March was halted halfway through.
When the baseball season was given the green light, the Blue Jays were left without a set place to hold training camp. They were hoping to have training camp hosted at the Rogers Centre, which was ultimately approved by the federal government. Part of the reason why they were allowed was because there's a hotel attached to the stadium to allow players to quarantine, which was mandatory for non-essential travel crossing the United States-Canada border.
More from Jays Journal
Even though they were allowed to host training camp at their home field, the federal government denied their appeal to host regular season games on Canadian soil largely due to the quarantine act. Come next year though, this may not be an issue.
Starting in November, the federal government, as well as the municipality of Calgary, are implementing a way to test international travellers for COVID-19 at the airports. Ontario Premier Doug Ford stated that if the trial run for this works, he would like to implement this procedure in Ontario airports, including Pearson International Airport.
If this implementation turns out to be successful, it could allow for the Blue Jays to host their regular season games in Toronto as opposing teams would be tested for COVID-19 at the airport.
There is a catch to this though. While if tested negative upon arrival you would be allowed to bypass quarantine, you have to be re-tested on the sixth or seventh day in the country. This may not be an issue for the Blue Jays, but it would be for opposing teams as they only stay in Toronto for three or four days before they head off to their next destination.
This is all speculation now as this scenario first has to be successful and baseball season is still about five months away with the Jays home opener taking place April 8th.
Despite it being mostly speculation at this point, this is a step towards possibly having big league baseball back in Toronto and on Canadian soil.