Toronto Blue Jays sign four International prospects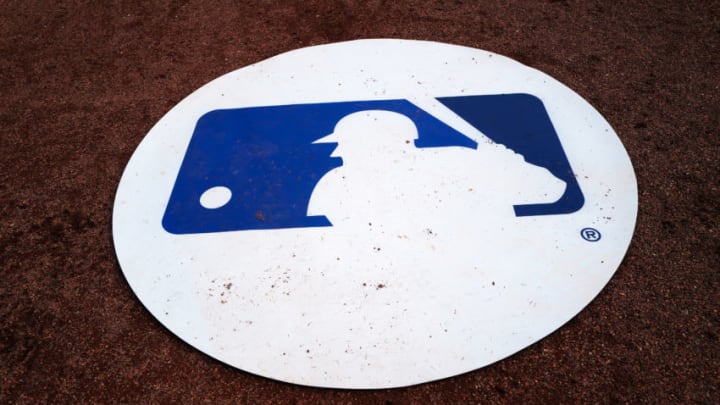 DUNEDIN, FLORIDA - FEBRUARY 27: MLB Logo on the batting mat during the spring training game between the Toronto Blue Jays and the Minnesota Twins at TD Ballpark on February 27, 2020 in Dunedin, Florida. (Photo by Mark Brown/Getty Images) /
The Toronto Blue Jays inked four international free agent pitchers as the signing deadline loomed.
The Blue Jays signed International free agent pitchers Kendry Rojas, Johan Simon, Jeury Hiciano, and Geison Urbaez just before the October 15th, 2020 deadline passed. The signing period was extended due to the COVID-19 pandemic.
There is little in terms of information on the four newest Jays, however, Hiciano is a right-handed arm that reportedly sits consistently around 91-93 miles per hour but has hit 95 on occasion.
Rojas is a 17-year old southpaw who hails from Cuba while the other three hurlers have Dominican Republic roots.
More from Toronto Blue Jays News
The 2021 signing period won't begin until January 2021 having been pushed back from July 02nd, 2020 but it is expected that the Jays will land the 10th available free-agent in shortstop Manuel Beltre.
Beltre has a tireless work ethic who is very active posting on his Instagram account while sporting Blue Jays swag. It is being reported that the Dominican Republic native will fetch somewhere in the neighborhood of a $2-3 million signing bonus.
Along with Beltre, it is anticipated that Toronto will also sign 40th ranked shortstop Martin Gimenez from Venezuela. Baseball America predicts Gimenez to hit for power once he fills out and that he could slide over to third base or one of the corner outfield spots defensively.
According to Baseball America, the Jays have $5,348,100 in International bonus money to spend on the upcoming crop of free agents. This total was also prior to Toronto acquiring International bonus pool money in the Justin Miller swap with the Cincinnati Reds back in September.
The Jays have not only been very active but successful in their scouting on the International scene. There are a plethora of high upside free agent signings scattered among their top organizational prospect ranks.
It is never a bad thing to stockpile arms in hopes of catching lightning in a bottle on a lesser-known kid.