Blue Jays: My experience in an empty Rogers Centre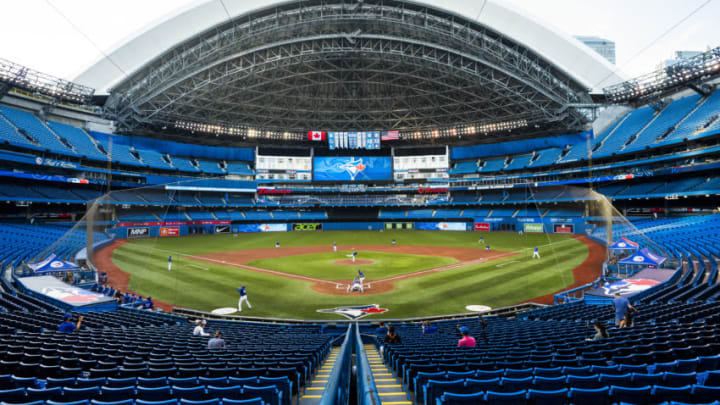 TORONTO, ON - JULY 09: Toronto Blue Jays players take part in an intrasquad game at Rogers Centre on July 9, 2020 in Toronto, Canada. (Photo by Mark Blinch/Getty Images) /
A few years ago I got to experience what the MLB players did in 2020, being in an empty stadium without the fans.
As players across Major League Baseball played games in front of empty seats, although filled with cardboard fans, the noise was largely silent, atypical from an ordinary MLB baseball game.
No one thought this day would ever come as baseball is seen as a form of entertainment and while the stadium, in the Toronto Blue Jays case, the Rogers Centre, is not always filled to capacity, it's usually packed in the 100 and 200 levels, behind the plate, down the foul lines, and behind the fence where fans hope to catch a game ball. That couldn't happen this year though as the COVID-19 pandemic prevented fans from attending games and the Blue Jays from playing on home turf in the Rogers Centre.
Lots of fans must be wondering what it's like for the players to play in empty stadiums without the typical game day crowd noise. I might be able to provide some insight to what it's like from my experience being in a game environment at the Rogers Centre.
More from Jays Journal
On May 8th 2016, I was honoured to be selected as one of four umpires to work a game at the Rogers Centre between the Thornhill Reds and Royal York Cardinals with the players being born in the year of 1999.
The seats were sparsely populated with less than 100 people there, consisting of players parents, siblings, and grandparents for this special occasion.
I was the third base umpire and the youngest of the four umps. In the 2nd inning, a player on the Reds attempted to go for a triple but was tagged out, so I called him out emphatically as it was a close play. After the game, an employee who works for the Blue Jays told me he was able to hear me all the way from the walking area on the 100 levels and that he loved how I called it.
The fact that he was able to hear me that far away shows how the environment is very quiet and is probably similar to what the players experienced during the 2020 season. With no crowd noise, the players were probably able to hear even the smallest peep of noise from whatever the source was.
To put it into perspective a bit, the Chicago Cubs admitted to chirping at their opponents, which opposing teams were able to hear as it was so quiet.
While fans won't really know what it's like to play a major league game in front of an empty stadium unless a player comes out and talks about it, umpiring at the Rogers Centre with far less than 1% of the seats filled is as close as it can get.