Blue Jays being handed a playoff spot by the competition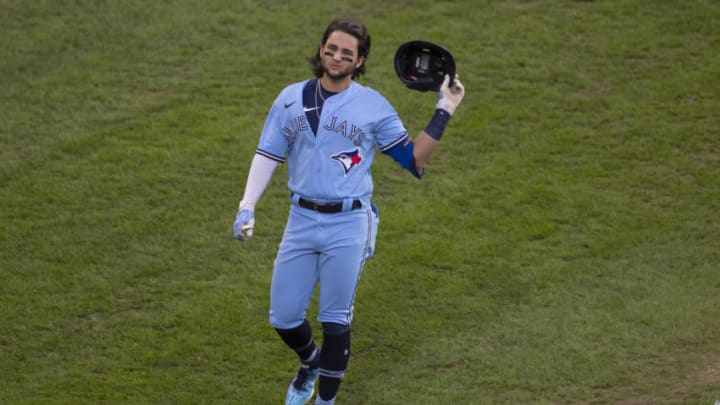 PHILADELPHIA, PA - SEPTEMBER 18: Bo Bichette #11 of the Toronto Blue Jays reacts after grounding into a double play to end the bottom of the sixth inning against the Philadelphia Phillies during Game One of the doubleheader at Citizens Bank Park on September 18, 2020 in Philadelphia, Pennsylvania. The Phillies defeated the Blue Jays 7-0. (Photo by Mitchell Leff/Getty Images) /
The Blue Jays have been downright awful lately, but thankfully their closest competition for a Wild Card spot hasn't been much better.
With the awful way the Blue Jays have been playing these days, it feels like they're throwing away their playoff chances. Oddly enough, that's not exactly the case.
They entered their three-game series in New York with a 0.5 game lead over the Yankees for second in the AL East, and that quickly evaporated after they were swept. The Blue Jays are now in a Wild Card spot, sitting in 7th ahead of the Astros to round out the playoff picture.
If we look at the post-season race, the Blue Jays have a handful of teams to worry about with nine games left to go. As for the Astros, they're 1.0 back of the Jays, but they also lost again on Friday night. In 9th and just outside of the playoff picture, the Mariners are 4.0 games back of the Blue Jays, and they also lost on Friday. Next would be a tie between Baltimore and Detroit at 4.5 back, and you guessed, they took losses last night as well.
More from Jays Journal
It wasn't just Friday either, with most of these same clubs struggling at the same time as the Blue Jays. The Mariners have lost six out of their last nine, the Orioles have dropped nine of their last eleven, and the Tigers are the worst of all at just at 5-13 for September. Even the Astros are just 4-11 over their last 15, and haven't been able leapfrog the Jays while they've been fading.
There's no disputing that the Blue Jays have been bad lately, but at 8-10 for September they're outpacing their closest pursuers this month. The AL playoff race in general isn't exactly a strong argument for keeping the expanded post-season beyond this year, with the race for the last two spots turning into more of "who wants it?" scenario lately. That said, it has been working in the Blue Jays' favour, even in the midst of a tailspin.
Of course, that won't matter much if they can't pull themselves out of their current rut before the playoffs begin. Hopefully they can take control of their own destiny and earn their place in the post-season over the last nine games here, but even if they continue to struggle, they may squeak into the dance anyway.