Blue Jays: Just plain ugly in the Bronx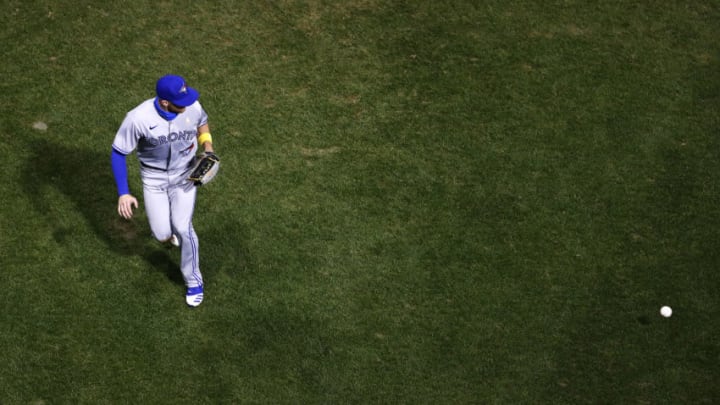 BOSTON, MASSACHUSETTS - SEPTEMBER 05: Derek Fisher #23 of the Toronto Blue Jays fields a ball in the outfield during the fifth inning of the game against the Boston Red Sox at Fenway Park on September 05, 2020 in Boston, Massachusetts. (Photo by Omar Rawlings/Getty Images) /
The Toronto Blue Jays finished off arguably the worst pitching performances in a series in team history. Over a three-game set, the Blue Jays were outscored 43-15 and fell 2.5 games behind the Yankees for the second spot in the Division.  Here is a look at the bad, the worse, and the ugly of that series.
The Good
We do have to find some good in the series and a very easy decision goes to Lourdes Gurriel Jr.  Gurriel Jr went 7 for 11 (.636) with four extra-base hits, three of them being home runs in the series, and has now raised his season average to .308. His top performance came in the final game of the series when he went 4 for 4 with two of the home runs and a double.
It was also nice to see Danny Jansen get his bat going in the final game when he went 3 for 4. Jansen is a very likable player which makes it a little easier to overlook the troubles he had at the plate this year. If he can carry this performance going forward it would greatly improve the teams' chances.
The last thing I want to mention is a reminder that the Blue Jays are only really in the second year of the development process. The team finished 38 games below .500 last year and are now competing for a playoff spot this season.
More from Toronto Blue Jays News
The Bad
Where do you start?  For me, it will be Tanner Roark, the veteran pitcher who was signed to a two-year deal worth 12 million per year has been disastrous this season and he had his worst performance of the season on Wednesday night. In just four innings, Roark allowed four home runs and six earned runs. Roark has pitched five complete innings just four times this year, which should be the minimum he gets too.  He has voiced his displeasure about not going deeper into games, but he is averaging almost 3.5 home runs over nine innings and now has an ERA of 6.41.  He has given up multiple home runs in five of his nine starts.
Chase Anderson started the season late but was decent in short inning performances, however, when the calendar turned to September he has not been good. Thursday night he came into the game after the opener Julian Merryweather lasted just one inning.  Anderson pitched just 2.2 innings giving up eight hits, seven runs, and five home runs. Over his last three performances, he has pitched a total of just 9.1 innings, has allowed 17 runs and 9 of which were home runs. He has a team option at the end of the season for 9.5 million and he is making it hard for the team to want to use that option.
The Ugly
After looking at some quick numbers on baseball-reference.com I found that Derek Fisher has caught 69 fly balls while wearing a Blue Jays uniform and he has dropped four other ones.  However, one of those "dropped" balls, wasn't even a drop as he took it square on the face.
https://twitter.com/B_R_R_D/status/1306013326628052992
On Tuesday night, Fisher settled under a lazy fly ball to right field and just flat out dropped it. Later in the inning, he was a little too easy-going in right field and let one drop over his head, which wasn't marked for an error.  Clayton Richer wrote a piece the other day that he should never set foot in the outfield again, and I can't argue with him.
You never want to see a player get injured, but the next day in batting practice Matt Shoemaker plunked Fisher in the leg and sent him to the injured list.