Blue Jays: Best way to deal with Masahiro Tanaka may be to sign him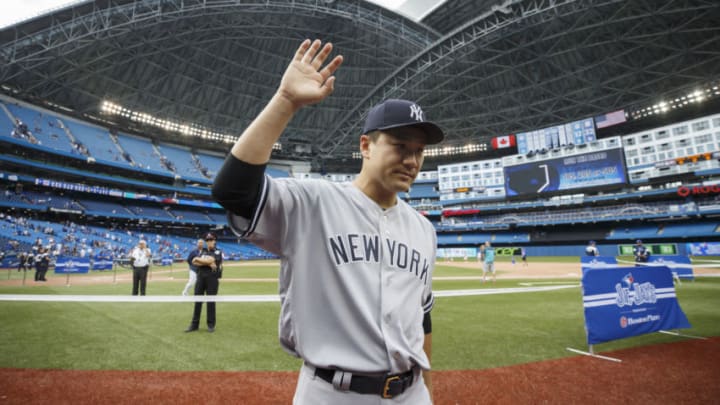 TORONTO, ON - AUGUST 11: Masahiro Tanaka #19 of the New York Yankees waves to fans as he leaves the field following a 1-0 victory in MLB action against the Toronto Blue Jays at Rogers Centre on August 11, 2019 in Toronto, Canada. (Photo by Cole Burston/Getty Images) /
Masahiro Tanaka has been a tough match-up for the Blue Jays for many years, and the best way to stop him may be to sign him this off-season when he becomes a free agent.
Last night marked the 22nd time the Blue Jays have squared off against Masahiro Tanaka. The seven-year veteran joined the Yankees in 2014, and he's been a thorn in the Blue Jays' side ever since, just as he was last night when he picked up the win with a seven-inning effort.
The 31-year-old likely has several productive seasons left in him, and I imagine the Yankees will be interested in retaining him. That said, they have several other big stars to re-sign over the next couple of years, so it's possible they may have to reluctantly let him go. If that happens, the Blue Jays should be among the first to call Scott Boras and see if there's a fit.
The Blue Jays have a lot of talented starting pitchers in their organization, but it's hard to say how many of them will be ready to thrive in 2021. A few months ago that may have been okay, but there's a solid argument to be made that this year's performance has sped up their rebuild a bit. Regardless, they were always going to need another high-end starter to join Hyun-Jin Ryu, and that's especially the case after the way this season has gone. Nate Pearson didn't have the year we'd hoped to see, mostly due to an injury that sidelined him, and various ailments have taken out Matt Shoemaker and Trent Thornton as well. Tanner Roark has really struggled, and others like Taijuan Walker and Robbie Ray will be free agents at season's end.
More from Jays Journal
Assuming the Blue Jays do end up shopping for another free agent starter, why not look into what it would cost to bring Tanaka to Toronto? To be clear, he's not necessarily an ace calibre arm, but he should a capable number two for a few more years at least. Prior to last night's start he had a career record of 77-45 (78 wins after last night) with a 3.73 ERA and a 1.124 WHIP over seven seasons and 171 starts, and he's been solid again in 2020.
He's also been fairly durable, despite the various arm injuries he's dealt with over the years. There were times a few years ago that it looked like he might need elbow surgery, but he managed to use rehab to avoid it, and he's thrown at least 150 innings in every year of his MLB career with the exception of his rookie campaign. He gives his team a chance to win the vast majority of the time he's on the mound, and that's the type of starter the Blue Jays could really use.
This season Tanaka is making 23 million in the final year of the huge 7-year, 155 million dollar pact he signed to bring him to North America prior to the 2014 season. I sincerely doubt that he'll meet or beat those marks with his next contract, but it's not out of the question that he could make similar money on an annual basis. In fact, something a little shy of the four years and 80 million that Ryu received last winter could be in the ballpark. Ryu had a much better resume, but Tanaka is also a year younger.
Would that be a worthwhile pursuit for the Blue Jays? In theory they would be getting a major boost to the rotation, and it also helps that he'd be leaving a division rival. You know that Boras will drive a hard bargain and likely nudge his client toward the highest bidder, but if the Blue Jays want to be that team, the opportunity may very well come up in a few months.