Blue Jays: Who's the PTBNL they gave up for Taijuan Walker?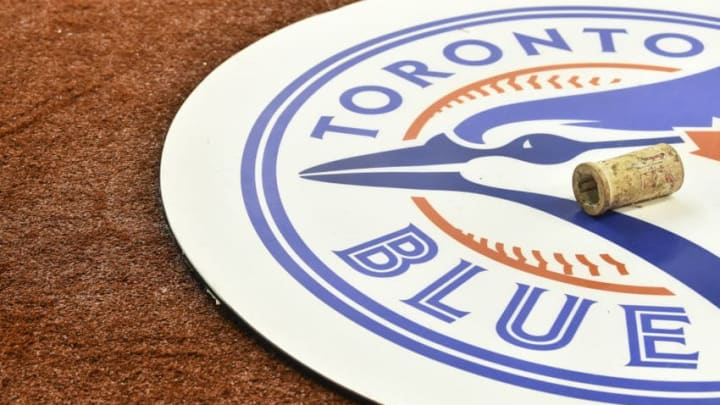 MONTREAL, QC - MARCH 26: A Toronto Blue Jays emblem is shown on the field against the Milwaukee Brewers during MLB spring training at Olympic Stadium on March 26, 2019 in Montreal, Quebec, Canada. The Toronto Blue Jays defeated the Milwaukee Brewers 2-0. (Photo by Minas Panagiotakis/Getty Images) /
The player going the other way to the Seattle Mariners is apparently among the top 30 prospects in the Toronto Blue Jays organization
The Toronto Blue Jays made two trades with the Settle Mariners this week. The first one saw the Blue Jays acquire Daniel Vogelbach for cash considerations. The sum the Jays are sending the Mariners way will probably never be revealed as these types of deals are never reported.
The second and more recent trade between the Blue Jays and Mariners was Canada's team acquiring Taijuan Walker for a player to be named later. According to MLB analyst Jim Bowden, the player to be named later is among the top 30 prospects in the Jays organization.
Originally, there was a rule stating only players among each team's 60 man player pool can be traded although they later altered that rule to allow players not named to training camp to be apart of trades.
As the player to be named later has been narrowed down to 30 players and we know for a fact that this player is not among the 60 invited to training camp, we can speculate in regards to who the return might be.
Further, baseball writer Joe Doyle who writes for Mariners sites has speculated that the player will be a position player.
More from Toronto Blue Jays News
With what we know, we can narrow it down to who it might be. 14 of the Jays' top 30 prospects are pitchers meaning they are not the ones heading to Seattle. Among the top 30 that are not pitchers, Austin Martin, Jordan Groshans, Alejandro Kirk, Santiago Espinal, Kevin Smith, and Riley Adams are among the 60 in the Jays player pool. This means they are not headed to Seattle either as if they were, it would have been announced.
This leaves us with the following players of who could have been the return for Walker: Orelvis Martinez, Gabriel Moreno, Miguel Hiraldo, Otto Lopez, Griffin Conine, Leonardo Jimenez, Estiven Machado, Dasan Brown, Rikelvin De Castro or Will Robertson.
I highly doubt it is any of Martinez, Moreno, or Hiraldo as they are ranked in the top 10 among Jays prospects and it's extremely unlikely the front office would part ways with a top 10 prospect for a rental. I wouldn't suspect that it would be Lopez (15) or Conine (16) either as they would probably be ranked too high for a rental either.
That leaves us with Jimenez, Machado, Brown, De Castro or Robertson. I will go ahead and eliminate Brown as the Jays likely view him as a potential homegrown talent as he hails from Mississauga, Ontario.
Despite the outfield trio of Lourdes Gurriel Jr. Randal Grichuk and Teoscar Hernandez exceeding expectations this year, the outfield still has question marks regarding its future. With the Jays potentially in need of outfielders down the road, I would assume Robertson is not the return either.
That now leaves us to three players that could be the return for Walker: Jimenez, Machado or De Castro. All three players are middle infielders which they are all currently blocked at the big leagues by Bo Bichette and Cavan Biggio. Eventually, Groshans and possibly Martin will be part of the infield leaving them nowhere to play.
Jimenez is the Jays 17th ranked prospect and can play on either side of second base. The Jays signed him as an international free agent for $825,000 in 2017. In the minor leagues, he's combined to slash .278/.358/.360 and has yet to leave the yard once. He's reached Single-A and has an estimated time of arrival (ETA) of 2022.
Machado was signed for $775,000 last international free agent signing period and is the Jays 18th ranked prospect. At the age of 17, scouts are saying he'll need a lot of time to develop in the minors and isn't expected to reach the majors until 2024.
Like Machado, De Castro was also signed last year as an international free agent albeit for $1.2 million. Also 17 years old, he isn't expected to reach the big leagues until 2024 although he's been lauded for his defence and is compared to former Blue Jays shortstop Jose Reyes.
It really could be any of the three but if I had to guess, I think Jimenez is heading the other way. The Mariners have two top prospects on the verge of reaching the majors and would probably like to compete sooner rather than later in order to give Mariners fans competitive baseball as they haven't reached the playoffs since 2001.
Another reason why I think Jimenez is the return is that they currently have a shortstop in J.P. Crawford and although he doesn't contribute much at the plate, he's gifted defensively. They also currently have Dee Gordon as their second baseman whose contract ends after next season.
A top prospect for Walker is pricey, especially considering he's a rental, but that's sometimes the price you have to pay to buy. Also, Walker was targeted by other teams on the market including the New York Yankees.
So far this season, Walker is 2-2 with a 4.00 E.R.A. with 25 strikeouts while walking only eight in 27 innings for an opponent average of .210. If the Jays end up signing Walker to an extension this offseason, then the return won't matter but if he signs elsewhere, it might be seen as a bit of an overpay.