Blue Jays: Was there a missed opportunity with Mookie Betts?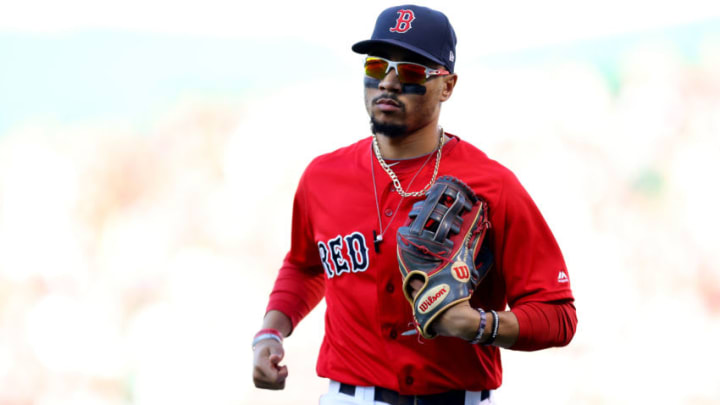 BOSTON, MASSACHUSETTS - SEPTEMBER 29: Mookie Betts #50 of the Boston Red Sox runs to the dugout during the fifth inning against the Baltimore Orioles at Fenway Park on September 29, 2019 in Boston, Massachusetts. (Photo by Maddie Meyer/Getty Images) /
It's far too late now, but in hindsight should the Toronto Blue Jays have pursued a trade with the Boston Red Sox for Mookie Betts?
Mookie Betts is one of the best players in baseball. He could arguably be considered the second best player in the game behind Mike Trout. He can run, hit, field… he can basically do it all.
As a member of the Boston Red Sox, he wrecked havoc against the Toronto Blue Jays as he was always a tough out to get. What was even worse was that they had to face him 19 times over the season since the Red Sox and Blue Jays play in the same division.
This past offseason, the Red Sox were looking to shed salary as they were over the luxury tax and ownership wanted to get under that number and avoid financial penalty. The Red Sox had and still have many pricey players, but some were going to be hard to move due to performance and salary.
More from Jays Journal
While not what they wanted to do, the only way they were able to get under was by trading their superstar in Betts. Betts was set to earn $27 million in his final year of arbitration and by trading him along with David Price who was set to earn $32 million, the Red Sox were able to get under the luxury tax threshold.
Before Betts was traded to the Dodgers, the Padres were also linked to the outfielder and so were the Mets. What if the Blue Jays had put themselves among those teams?
While never linked specifically to Betts, the Jays were linked to Price and were exploring trade options for him, but it doesn't sound like it got any further than that. Perhaps if the Jays went more into potentially acquiring Price, they could have maybe expanded the trade to involve Betts.
The Jays would have been able to afford both Price and Betts financially as during offseason pressers, Mark Shapiro and Ross Atkins boasted about their financial flexibility and showed that by signing Ryu and Roark to a combined $105 million. They could have also given the Red Sox a decent return too, possibly better than what they got from the Dodgers. The Red Sox got three hitting prospects in outfielder Alex Verudgo, middle infielder Jeter Downs and catcher Connor Wong.
The Dodgers only got a mediocre return at best and didn't even get exactly what they needed. While they got Betts' replacement in Verdugo, Downs may not have a place to play in the Red Sox loaded infield, and Wong likely won't have a path to regular playing time until at least 2023, as the Red Sox have their current catcher Christian Vazquez under control until then. The Red Sox also really needed pitching prospects as they are thin on arms.
While top prospects Nate Pearson and Jordan Groshans would for sure be off limits, the Blue Jays could have given the Red Sox a better offer than they got from the Dodgers where Boston would get players that play the position they need.
They could have made an offer of something like this:
The Red Sox would get Hernandez to replace Betts who is under contract until 2023 and has yet to go through arbitration. They would also get three prospects in Woods Richardson, who projects to be a solid starter in a major league rotation, Moreno who isn't expected to reach the majors until at least 2022, and Hiraldo who could be the Red Sox future second baseman.
By looking at the Jays major league roster and minor league system, the only player or prospect that might have a significant impact on the Blue Jays could be Woods Richardson. Betts would immediately replace Hernandez, the Jays have Jansen/McGuire and Alejandro Kirk/Riley Adams as catching depth in the organization, and Hiraldo has no place to play in a loaded Jays infield and would have to force his way into the picture.
In return, the Blue Jays would get arguably the second best player in the MLB, a solid starter and some money since they would be taking on a combined $59 million. The only thing is, the Blue Jays would only do this deal if they knew they had a chance to lock up Betts past this season, and that may not have been on the table anyway. The Jays have a lot of financial flexibility as mentioned before, so it definitely could have been a possibility if Betts were open to the idea.
There is one thing that has to be taken into consideration and that is that the Blue Jays and Red Sox play in the same division. The Red Sox may not have wanted to trade Betts to a division rival even if they got the best offer. Betts is simply that good of a player that even if the Blue Jays had the best offer, the Red Sox still may not have done it and risk him playing 19 games against them per year, rather than in their uniform.
Did the Blue Jays miss out on attempting to trade for Betts? Would you have done the proposed deal above?