Blue Jays: Pearson, Acuña match-up highlights series against Atlanta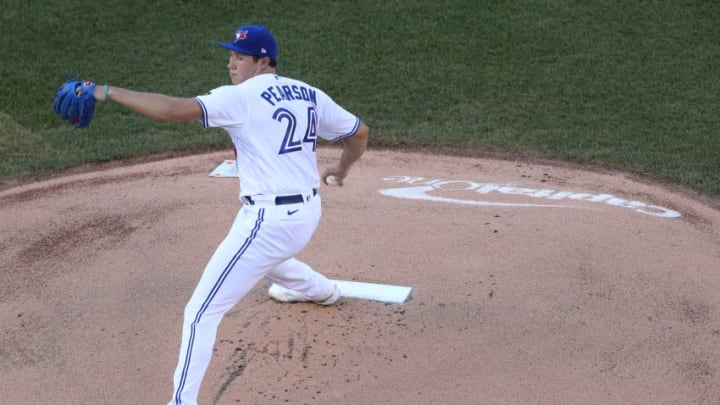 WASHINGTON, DC - JULY 29: Starting pitcher Nate Pearson #24 of the Toronto Blue Jays works the first inning against the Washington Nationals at Nationals Park on July 29, 2020 in Washington, DC. The Blue Jays are hosting the Nationals for their 2020 home opener at Nationals Park due to the Covid-19 pandemic. The Blue Jays played as the home team due to their stadium situation and the Canadian government's policy on COVID-19. They will play a majority of their home games at Sahlen Field in Buffalo, New York. (Photo by Patrick Smith/Getty Images) /
The Toronto Blue Jays will be well-rested and ready to go when they play against the Atlanta Braves.
The Toronto Blue Jays (3-4) have spent the past five days working out in Washington. The Blue Jays will be ready to go when the play the Atlanta Braves (7-4) for the opener of a three-game interleague series. The team never left for its scheduled trip to Philadelphia over COVID-19 issues.
Toronto will be rested, but maybe a bit rusty when they travel south to Truist Park. Meanwhile, Atlanta has played 11 consecutive days, finishing a four-game set against the New York Mets. The Braves won three of those games, but lost promising pitcher Mike Soroka for the remainder of the season.
Toronto is still finding their game, while Atlanta is just a step ahead. It's Nate Pearson, Vladimir Guerreo Jr., and Bo Bichette against Ronald Acuña Jr., Ozzie Albies, and Freddie Freeman.
More from Jays Journal
There will be lots to look out for, but let's look at the pitching matchups for the series.
The Braves won three of four meetings against the Blue Jays in 2019.
Tuesday, August 4
RHP Matt Shoemaker 0-0, 1.50 ERA, 4K vs. LHP Max Fried 1-0, 2.29 ERA, 12K
First pitch: 7:10 pm EDT (Radio Sportsnet590, Watch SNET-1)
Matt Shoemaker made his season debut for the Blue Jays on July 25. The right-hander allowed one run on six hits in six innings pitched against the Tampa Bay Rays. Shoemaker is 4-4 with a 3.38 ERA in nine interleague starts. It will be the first time he faces Atlanta.
Max Fried will be making his first career appearance against Toronto. Fried is 4-4 with a 2.22 ERA in four interleague starts. The left-hander gave up one lone run and seven strikeouts in 6 2/3 innings against the Rays. Fried, who won 17 games last season, has developed into a top-of-the-rotation pitcher.
Wednesday, August 5
LHP Hyun-Jin Ryu 0-1, 8.00 ERA, 9K vs. LHP Sean Newcomb 0-0, 8.22 ERA, 5K
First pitch: 7:10 pm EDT (Radio Sportsnet590, Watch SNE360)
Hyun-Jin Ryu last pitched Thursday against the Washington Nationals. Ryu struggled in his second start, where he allowed five earned runs on nine hits with five strikeouts in just four innings pitched. Last season, Ryu faced the Braves in two starts, winning and losing in each start.
Sean Newcomb has pitched more like an opener than a starter. The lefty was an effective pitcher in 2018 and 2019, but Newcomb has pitched fewer than five innings in two starts. His command continues to be a cause of concern as Newcomb allowed six earned runs on six hits in 4.1 innings pitched.
Thursday, August 6
RHP Nate Pearson 0-0, 0.00 ERA, 5K vs. RHP Touki Toussaint 0-0, 8.10 ERA, 11K
First pitch: 7:10 pm EDT (Radio Sportsnet590, Watch SNET-1)
Nate Pearson made his highly anticipated major league debut against the Nationals. Despite the Blue Jays losing 4-0, Pearson managed to hold the defending champions scoreless over five innings.
Touki Toussaint could find himself at the back-end of the Braves pitching rotation. The right-hander seems to be finding his groove, and further success could allow him to stay in a depleted rotation. With Soroka out, Toussaint earned himself another start after throwing four scoreless innings against the Mets.