Blue Jays: Vladimir Guerrero Jr. will make a good first baseman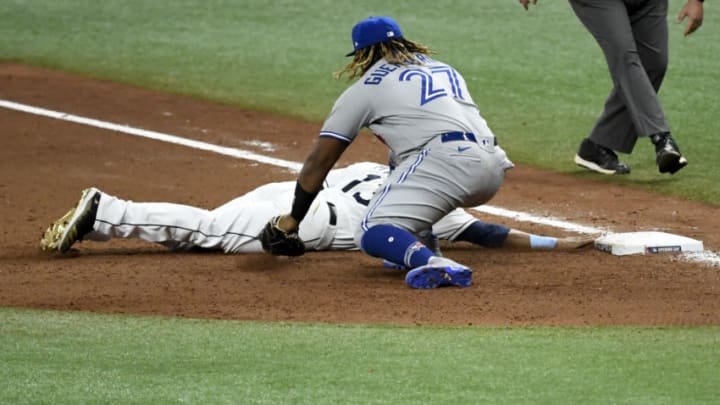 ST PETERSBURG, FLORIDA - JULY 24: Manuel Margot #13 of the Tampa Bay Rays slides safely under the glove of Vladimir Guerrero Jr. #27 of the Toronto Blue Jays on a throw over from Rafael Dolis #41 (not pictured) during the eighth inning on Opening Day at Tropicana Field on July 24, 2020 in St Petersburg, Florida. The 2020 season had been postponed since March due to the COVID-19 pandemic. (Photo by Douglas P. DeFelice/Getty Images) /
It's a new position for Vladimir Guerrero Jr., but the Blue Jays believe he'll eventually make a good first baseman, and so do I.
For most of last season, the conversation around Vladimir Guerrero Jr's defence was about whether or not he could stick at third base. We heard about his "great hands", his strong throwing arm, and were reminded about the fact that he was a 20-year-old whose glove was having a hard time keeping up with his elite prospect bat.
Fast forward to this season and the Blue Jays decided that the young phenom would be better off focusing on what he does best, hitting the baseball. Having him split his time between first base and DH takes some defensive pressure off of Vlad Jr., and we've seen the strategy work in the past with others like Edwin Encarnacion (who also moved from third to first), and even Lourdes Gurriel Jr. last year when he moved from second base to left field.
It hasn't been an encouraging start at the plate for Vlad Jr., but so far he's looked pretty solid at first base. There have been a few hiccups, mostly with the young slugger knowing when to pursue a ground ball and when to cover the bag, but he's also made some nice plays at the cold corner, and to me it's been an encouraging sign for his potential there.
More from Jays Journal
It used to sound like a phrase used to defend his potential at third base, but it is true that Vlad Jr. has some "nice hands" on defence. He's shown a pretty smooth transition with handling throws from across the diamond, and has even made some nice picks out of the dirt on some low throws. After having spent his entire professional career at the hot corner, he doesn't have any issue with staying on a ball, and he's been a helpful asset to his fellow infielders in that regard so far.
The biggest criticism of his defence at third base was how quickly he could move to the ball, both laterally and while charging in. Those skills will still be relevant to him as a first baseman, and he'll need to continue his work in those areas, but the speed required as a first baseman isn't the same. More importantly, and as we've already seen, he'll need to learn the instincts of reacting to the ball and knowing when he should go directly to first to receive a throw.
https://twitter.com/MLBONFOX/status/1283818510590726147
That's going to come in time, and we need to be patient with the 21-year-old as he makes a few mistakes, as that's just part of learning a new position, especially on the fly at the highest level. I have nothing but confidence in his ability to make those adjustments. He's been immersed in the game throughout his entire life, and his natural baseball instincts are sound. No, he hasn't reached the potential or met the hype (yet) that he arrived with, but don't forget that he's still just 21 years old. He's still learning about life as a big leaguer, and now he's doing it in the midst of a global pandemic. I don't mean to sound like I'm defending him here, but I also think it's important to keep perspective and try to have some patience.
Hopefully the talented slugger will be able to find his groove sooner than later with the bat in his hands. As for his defence, he gets a passing grade from me so far, and I'm very confident that he's only going to improve at first.