Toronto Blue Jays News
Blue Jays: We will miss you, Home Plate Lady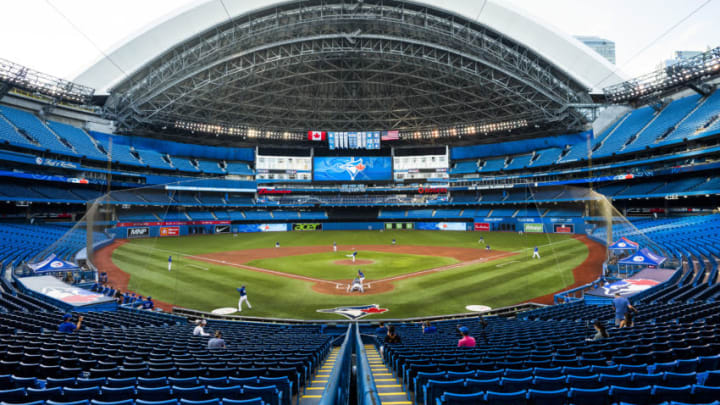 TORONTO, ON - JULY 09: Toronto Blue Jays players take part in an intrasquad game at Rogers Centre on July 9, 2020 in Toronto, Canada. (Photo by Mark Blinch/Getty Images) /
Fans of the Toronto Blue Jays have come to recognize a familiar face behind home plate at the Rogers Centre. She's known as the "Home Plate Lady."
Mention the "Home Plate Lady" to any Toronto Blue Jays fan; they'll likely know who you're talking about. Well, they'll be able to picture her, and no one seems to know her name or who she is. The mysterious woman has had the best seat in the house for over a decade.
Whether Blue Jays fans are at home, or out watching the game, the second you see that familiar face on TV, it's a quick reaction like the Rick Dalton pointing meme. You excitedly point and shout, "Hey, it's the Home Plate Lady!" anytime she's at her usual spot behind home plate.
https://twitter.com/RepublicOfK/status/719908211743133700
Unfortunately, due to the COVID-19 pandemic, and the Blue Jays denied approval to play in Toronto, fans won't be seeing her presence at home games. I will say that this year has been weird enough, and it will be strange not to see our favourite fan behind home plate.
"Home Plate Lady" will be missed this season.
She's notably seen in the second row of the 'In the Action' seats closest to home plate. We may not know her name, but loyal fans know her face, especially with some viral clips that made her famous.
https://twitter.com/BlueJays/status/1112894464186634240?ref_src=twsrc%5Etfw%7Ctwcamp%5Etweetembed%7Ctwterm%5E1112894464186634240%7Ctwgr%5E&ref_url=https%3A%2F%2Fca.sports.yahoo.com%2Fnews%2Ffan-behind-home-plate-stealing-the-show-at-blue-jays-games-013130719.html
Her reaction was priceless and quite comical at that. Then, she quickly became a league-wide star. Some have dubbed her "Grandma Blue Jay" or "Baseball Grandma." The mystery behind who "Home Plate Lady" is gone so far that fans have created three fake Twitter accounts. @Homeplate_Lady on Twitter is the most frequent user of the three accounts.
She's not only a fan craze on Twitter but elsewhere too. Fans even made "The Lady behind the home plate at Blue Jays games" Facebook page. As you can tell, she's a pretty big deal here in Toronto.
Even though she has the best seats in the house, "Home Plate Lady" was present for some memorable moments at the Rogers Centre.
Wherever the Blue Jays end up calling "home" this season, there needs to be a cardboard cutout of her in the stands. Whenever fans can be back at sporting events, hopefully, Blue Jays fans will see a familiar face behind the home plate someday soon.
We will miss you, "Home Plate Lady," stay safe and cheer on the Blue Jays from the comfort of your home.