Blue Jays: Let's get something clear for the non-Jays fans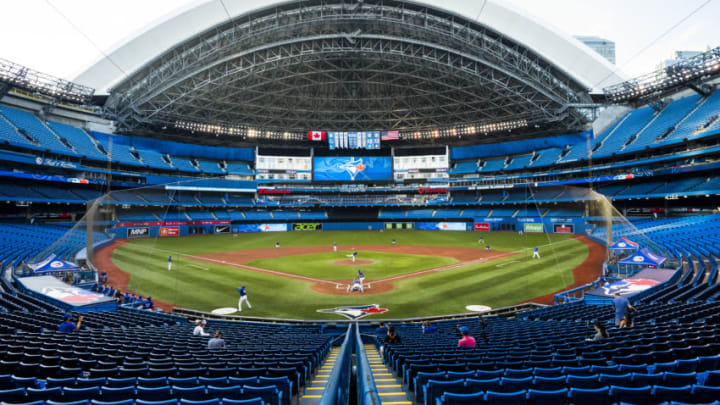 TORONTO, ON - JULY 09: Toronto Blue Jays players take part in an intrasquad game at Rogers Centre on July 9, 2020 in Toronto, Canada. (Photo by Mark Blinch/Getty Images) /
With the announcement that the Blue Jays won't be playing in Toronto this year, it brought all kinds of opinions on social media. Let's get one thing clear.
When the news came down that the Blue Jays were denied their exemption request to play their home games in Toronto this year, understandably there were mixed reactions from the fan base on social media. As Canada's only MLB team, no one likes the idea of the team having to relocate.
However, there was another section of the fan base (a much larger one by my count) that both understands and even supports the decision by the Federal government. We'd all like to see life return to normal and for there to be professional baseball in Canada right now, but there are more important things going on in the world. With the proposal including other MLB teams having to cross the border on a timely schedule, and some of them coming from Covid-19 hotspots in the United States, it was a plan that just didn't work for the government. With the way that the league has bungled testing so far, it's hard to blame them.
After the announcement, many of the prominent sports writers that cover the Blue Jays expressed their thoughts on Twitter, with the vast majority supporting the decision and doing their best to provide an explanation. Naturally that was met with varying levels of rational reactions, but that's just the way social media goes with the general public.
More from Jays Journal
I expect something like this to be a bit of a dividing issue among the Blue Jays fan base, but I was surprised by another reaction I saw from baseball fans outside of the team's circle. For one reason or another, it seems that some folks view this as us not appreciating our beloved baseball team, or even a sign that we Canadians don't deserve a MLB franchise. This isn't really an argument even worth having, but I felt like it was worth pointing out because of the reaction I saw from my fellow Blue Jays. It turns out it's a bit of a hot topic for some of us, and I spent a good part of my Sunday evening having a laugh.
For example, former big league reliever Brad Ziegler sent out a tweet suggesting that the league consider moving the Blue Jays to a place like Charlotte. He later added to the thread that he had been joking with the initial statement, but Canadian baseball fans had already taken their shots at him by then.
I don't know whether Ziegler was joking or not, but it honestly doesn't matter to me either way. The league obviously isn't going to punish the Blue Jays for a decision made by the Canadian federal government, especially in the midst of a global pandemic. It's also not a reflection of how supportive the government is of having a MLB team in Canada, or how the fan base feels about the Blue Jays, even if many of us understand the support the idea of them having to relocate this year.
That should all be fairly common sense, but after scanning through Blue Jays social media over the weekend, it was a point that many felt needed to be hammered home. With that said, whether they're playing in Pittsburgh, Buffalo, Dunedin, or somewhere else this year, we'll be watching at home, and looking forward to when we can all gather at the Rogers Centre again. Just don't say we don't appreciate our Blue Jays. Apparently we don't take very kindly to that sorta thing.