Blue Jays: How long will it be before Austin Martin hits the big leagues?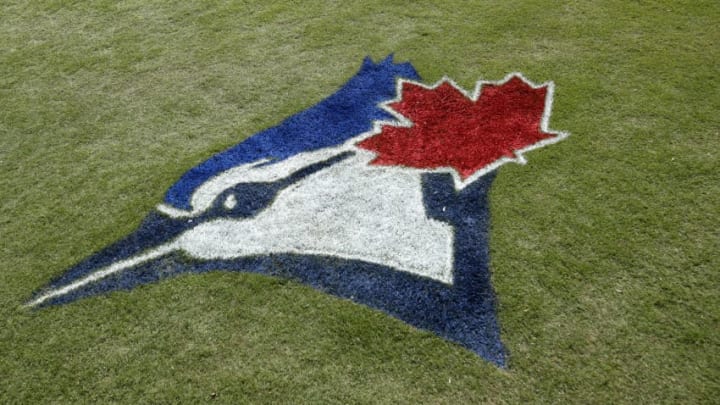 DUNEDIN, FL - FEBRUARY 24: General view of the Toronto Blue Jays logo painted in the grass prior to a Grapefruit League spring training game against the Atlanta Braves at TD Ballpark on February 24, 2020 in Dunedin, Florida. (Photo by Joe Robbins/Getty Images) /
The Blue Jays were fortunate to draft Austin Martin with the fifth overall pick in last week's draft. When will see him in the big leagues?
As you've no doubt heard by now, the Blue Jays hit a potential home run in the first round of last week's MLB draft when they selected Austin Martin with the fifth overall pick. Martin was not expected to last past the top two, and many scouts argued that he was the best player from the class. There are no guarantees with prospects in baseball, but at the moment this looks like a huge win for Ross Atkins, Shane Farrell, and the Blue Jays front office.
I was among a few different Blue Jays fans who tweeted about a future lineup that we could see in Toronto, and one that would include Martin at some point. It's very exciting to think about another impact player joining the likes of Vladimir Guerrero Jr., Bo Bichette, Cavan Biggio, and more at the big league level, especially when he could be a high-quality homegrown outfielder. However, dreaming on that future lineup led me to asking another question: When will we see it happen?
Obviously the current state of the world due to the Coronavirus pandemic isn't helping things, as Martin's development will have to wait for the time being. His college season was unfortunately interrupted after just 16 games this year (where he was slashing .377/.507/.660 across 69 plate appearances), and it doesn't look like there's much chance of the minor leagues firing up in 2020 for him to gain some valuable experience. All that said, his road to the big leagues should still be shorter than the rest of the Blue Jays' young core.
More from Jays Journal
You might be thinking, "it took Bo and Vlad a while to work their way through the minor league system", and you would be correct about that. However, the circumstance are different, as those two went pro right away rather than heading to college. The pair started the 2017 season in Low-A with the Lansing Lugnuts, when Vlad Jr. was just 18, and Bichette had just turned 19. By the end of that year they were in High-A with the Dunedin Blue Jays, advancing together to Double-A the following year, and both making their MLB debut in 2020. Vlad Jr. was 20 when he reached the highest level, and Bichette was a year older at 21.
As for Martin, he spent his age 19-20 seasons in college and would have played his Junior year at 21 in 2020. In theory he should be much further along than the teenage Guerrero Jr. and Bichette were when they joined the organization, although he's not going to be ready to jump directly to the big leagues.
How long does it take for a college player to work through the MiLB ranks? Obviously that's a different answer for every prospect, but I thought I'd look at some of the best examples from recent history. At the top of the list would likely be Buster Posey, who played at Florida State from 2006-2008. Posey made a very quick jump, making his MLB debut and playing seven games with the Giants in 2009, and taking over as the primary catcher in 2010.
Another example would be Kris Bryant, who played college baseball in San Diego from 2011-13. He played one full year in the Cubs' minor league system in 2014, and then infamously started his 2015 campaign in Triple-A before making his MLB debut and going on to win the NL Rookie of the Year award. Not every player is going to rise through the ranks at the speed of a Posey or a Bryant, but Martin has the chance to be that type of talent.
Without a 2020 season, chances are Martin will need to spend most or even all of 2021 in the minor leagues. That may have been the case anyway depending on how he developed, but it's probably not that fair to expect him to make the jump by the end of next season after not getting the chance to development much this year.
As I mentioned above though, Martin will be the one that ultimately answers this question, and I'm sure the Blue Jays are eagerly anticipating when he'll be ready to join the rest of their talented young core.