Toronto Blue Jays select CJ Van Eyk in the 2nd round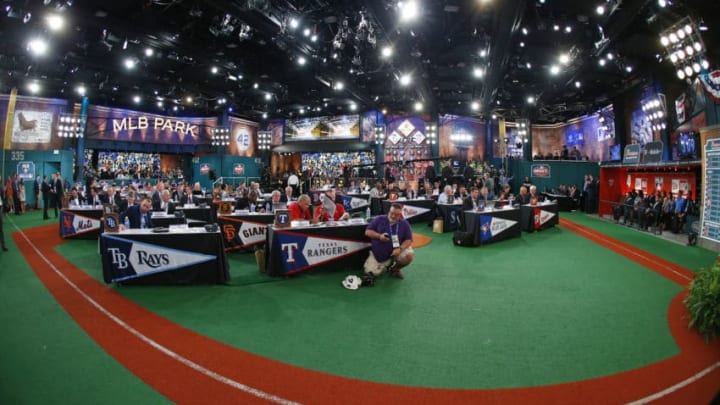 SECAUCUS, NJ - JUNE 5: Representatives from all 30 Major League Baseball teams fill Studio 42 during the MLB First-Year Player Draft at the MLB Network Studio on June 5, 2014 in Secacucus, New Jersey. (Photo by Rich Schultz/Getty Images) /
Toronto Blue Jays selected CJ Van Eyk with their second-round pick. 
The 2020 draft is more important than any recent draft because it only consists of five rounds this year. With the Blue Jays 2nd round pick being the 42nd overall pick, they selected RHP CJ Van Eyk out of Florida State.
General information
Height: 6'1
Weight: 198 pounds
Age: 21
Throws: Right
Van Eyk's scouting grades (MLB Pipeline)
Fastball: 55
Curveball: 60
Changeup: 50
Control: 45
Overall: 50
Van Eyk has a typical three pitch arsenal of a fastball, curveball and changeup. His fastball usually hits 93-94 MPH while topping out at 95 MPH. He is also able to control his fastball pretty well, which allows him to place it where he wants it. His curveball has solid movement and it's close to a 12-6 curveball, but with more of a downwards spin as the ball reaches closer to the plate. His curveball usually ranges in the upper 70s, but something special about him in regards to his curveball is that he is able to add or subtract a few miles per hour if he wants to. His changeup needs some work but his arm action is good as he is able to throw hitters off balance.
College stats 
In his freshman year, he mainly pitched out of the bullpen, pitching 19 games with only five of them being starts. He went 7-0 with a 2.86 ERA. He threw 56.2 innings while striking out 71 batters compared to 42 hits given up, although he did have some trouble with command as he walked 30 batters.
In his sophomore season, he transitioned into a full-time starter starting 17 games with a 10-3 record with a 3.80 ERA. In 94.2 innings, he struck out 120 with ratios per 9 innings of 7.8 hits, 3.7 walks and 11.4 strikeouts.
This year in his junior season that was cut short due to the Coronavirus Pandemic, in four starts he went 1-1 with a 1.31 E.R.A. in 20.2 innings. He struck out 25 while giving up 11 hits and 12 walks.
Over his three-year college career that spanned 40 games (26 starts), he had a record of 18-4 with a 3.19 E.R.A. while striking out 216 batters over 135 hits given up with 81 walks in 170 innings.
Role in Jays organization
The Jays will stretch him out and allow him to work his way up as a starting pitcher assuming he succeeds in that role, but he is another pitcher added to their improved pitching depth in the minor leagues.
He will be competing with guys like Anthony Kay, Simeon-Woods Richardson, T.J. Zeuch, Ryan Borucki and others for rotation spots. If he breaks the major leagues as a starter, he would most likely be a mid-rotation arm behind guys like Hyun-Jin Ryu, Nate Pearson and Alek Manoah, but if there's no room for him in the rotation, he could be a strong bullpen arm.
With baseball not being a sport where draftees make an impact right away, the Jays will give him time to develop in the minors to bring out the best in him. It's fair to assume that he'll have an ETA of 2023, but he could arrive at the big leagues earlier or later which depend on a variety of factors.
Welcome to the Blue Jays CJ!!!