Toronto Blue Jays News
Blue Jays: Get To Know First-Round Selection Austin Martin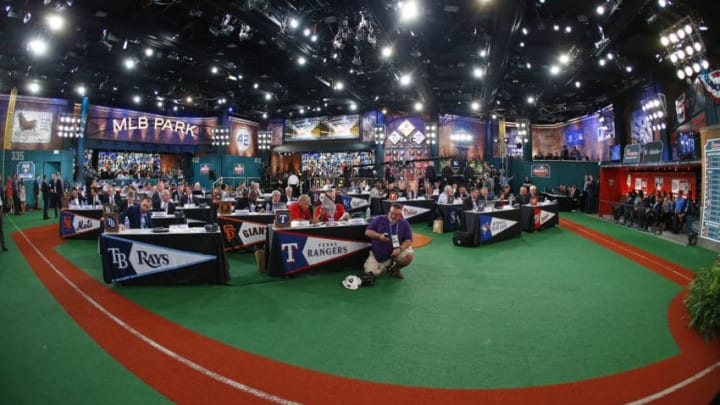 SECAUCUS, NJ - JUNE 5: Representatives from all 30 Major League Baseball teams fill Studio 42 during the MLB First-Year Player Draft at the MLB Network Studio on June 5, 2014 in Secacucus, New Jersey. (Photo by Rich Schultz/Getty Images) /
The Toronto Blue Jays selected Austin Martin with the fifth overall pick in the 2020 MLB June Amateur Draft. Yes, Martin was available at number five.
Chris Henderson reviewed the series of events that led to Austin Martin slipping into the welcoming arms of the Blue Jays. This article will profile the player by drawing upon the summaries published by Baseball America ("BA"), Baseball Prospectus ("BP"), and MLB.com.
For reference purposes, Table 1 contains FanGraphs Tool Grades; Table 2 reflects FanGraphs Future Value Chart.
Background
Martin is a 21-year-old infielder/outfielder, stands 6'0″, weighs 185 pounds, bats right, and throws right. He was selected in the 37th round by Cleveland in the 2017 MLB June Amateur Draft but elected to enroll in Vanderbilt University. In his college career, his slash line was .368/.474/.532. During that career, he played 56 games at third base, 13 at second, 12 in centerfield, and four at first. Martin finished the 2020 campaign as a centerfielder
More from Toronto Blue Jays News
BP provided a nice teaser for Blue Jays fans.
"Rarely do you find a do-everything multi-positional player with such offensive upside the way Martin presents."
Hitting
BA gushed about Martin's hitting. He has "some of the best pure hitting ability in the class, with eye-popping bat speed, excellent contact ability, and impressive plate discipline." During 2019 and the shortened 2020 season, he showed signs of more power.
BP also recognized Martin's developing power. They said that he was "using a naturally lifting swing that he doesn't have to increase effort to generate bat speed'. BP continued, "the single-best ability Martin possesses is an uncanny knack to recognize pitches with laser precision of the strike zone. In 15 games before the shutdown, he struck out only twice and had a total of four swinging strikes".
MLB.com assigned a 65-grade to Martin's hitting and a 50-score for his power.
Defence
Concerning his play in centerfield, BA reported that "while he doesn't have elite speed or the best first step, he has the instincts and athleticism to handle the position." Martin, who is not a burner but is a plus runner, "has the defensive ability to become an asset at a premium position, whether that's in center field, third base or second."
BP noted that Martin "never got the chance to settle into one position for the Commodores, not because he couldn't find a home, but because he could play anywhere." BP reported that "many evaluators believe he could play shortstop if given the opportunity."
MLB.com gave a 55-grade to Martin's overall defence, a 55-grade for running, and a 50-score for his arm.
Concerns
Some evaluators believe that Martin can play shortstop. However, that is an educated guess because he was not Vanderbilt's shortstop. Most scouts are of the view that he will play another position.
BP admittedly searched long and hard for negatives. "If we want to narrow down what deficiencies might hinder Martin's prospect status, you could say his size might be the only area of concern. It's an athletic frame, yet, at 6 feet tall, he's likely to maintain his current slim build without much in the way of muscle gains. Any substantial growth in mass would be detrimental to his style of play to sacrifice for more raw power".
Furthermore, BP highlighted that "while his defensive versatility adds a lot of value," he has not "been given a chance to take ownership of one particular spot on the diamond." Therefore, scouts have had difficulty projecting what position he will ultimately play.
Keith Law of the Athletic informed his readers that Martin had some arm issues at the beginning of the 2020 campaign. Law's opinion is that this prospect is "going to end up at a skill position — center, third, second, maybe shortstop if his arm is back to normal."
Future value/rank
Martin was the #2-ranked player on each of BA's, BP's, and MLB.com's prospect list. MLB gave an overall 60-grade.
BA acknowledged that "there are questions about his future defensive home." However, they conclude that "Martin's offensive resume is as impressive as any in the country." Furthermore, he has "the ability to hit for a high average, draw plenty of walks, hit for extra bases, and also be a disruptive runner on the bases. His profile is as complete as it gets in the 2020 class".
According to BP, if the power develops, his "professional approach will allow for selectivity when using a power stroke." BP believes that "you're looking at a player who is average to better at all five tools. With only the slightest difference between likely future outcomes, Martin narrowly misses the top spot of our pre-draft rankings".
Law's opinion is that Martin is "the best overall prospect due to his combination of performance, athleticism and all-around quickness."
The last word
To quote Bob Cole, the retired NHL play-by-play broadcaster, "Oh baby."