Toronto Blue Jays News
Blue Jays: Why did Austin Martin fall to the fifth pick?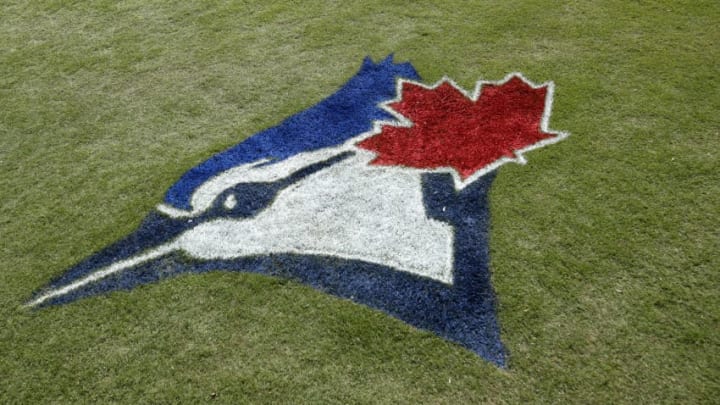 DUNEDIN, FL - FEBRUARY 24: General view of the Toronto Blue Jays logo painted in the grass prior to a Grapefruit League spring training game against the Atlanta Braves at TD Ballpark on February 24, 2020 in Dunedin, Florida. (Photo by Joe Robbins/Getty Images) /
Some scouts think the Blue Jays got the best player in the draft last night in Austin Martin. Why did he fall to fifth overall?
One of the things that I really enjoy about the MLB draft is that it can be fairly unpredictable, and last night's first round was no exception.
Coming into the draft, I believed the Blue Jays would be choosing between three, or maybe four players, but I never expected they could end up with Austin Martin. My assumption was that it would come down to a choice between (and depending on who was available) Emerson Hancock, Zac Veen, Max Meyer, and Nick Gonzales. Indeed, the Blue Jays did have a chance at three of those four, but the rest of the draft board really threw off virtually everyone's expectations.
So what happened? Well, starting at the top, the Tigers picked the player that pretty much every mock draft expected, taking Spencer Torkelson first overall. Things started to get weird when the Orioles went against expectations after that, taking Heston Kjerstad with the second pick. Admittedly, my jaw pretty much hit the floor when I saw that pick announced, as I thought it was a virtual lock the Orioles would take Martin. Based on the reactions I saw from baseball writers on Twitter last night, I was far from the only one surprised.
More from Jays Journal
Without talking to the Orioles front office about their rationale, I can't say for certain what they were thinking with this pick. However, slot bonus money has become a bigger part of the draft picture over the last few years, and it's assumed that the Orioles chose Kjerstad over Martin in part because they will likely be able to sign him for less. That makes a little more sense when you consider that the Orioles also have a compensation pick in the first round, choosing 30th overall as well. Taking Martin would have limited the money they had to sign others, so there's at least a reasonable rationale here. It's believed that it'll take at or above the 6.18 million slot bonus to sign Martin, who is unfortunately represented by Scott Boras.
Moving on from the Orioles, it appeared that Miami Marlins would have a chance to add an impact bat to their organization. However, after weeks of most writers linking them to Asa Lacy with the third overall pick, the Marlins made a bit of a surprising decision as well, taking Max Meyer with their selection instead. Meyer's stock had really been rising recently, and he had been linked to the Blue Jays as well, but I don't think many saw him going in the top three. That said, the Marlins clearly prioritized pitching, and they drafted an excellent arm in Meyer.
https://twitter.com/mason_mcrae/status/1270911752138625024
At this point I was extremely excited, and started to feel like there was a chance that the Blue Jays could maybe get Martin with the fifth pick. All they needed was for the Royals to also prioritize pitching, and thankfully that's what happened. To be fair, Lacy was viewed by many as the top starting pitcher from this draft class, and he wasn't expected to be available at number four. I'm sure the Royals had some difficult internal discussions, but they ultimately decided to add to their pitching pool as well.
That left the Blue Jays with what I hoped would be a pretty easy decision. Yes, adding an arm like Hancock would have been extremely tempting, and Veen looks like his talent will be off the charts in time as well, but there should have been little doubt at this point. There are many scouts that believed he could have went first overall, and I'm not sure I saw a mock draft that had him below second. And when you consider that he's a potential 5-tool player who could be exactly the type of outfielder this young core needs going forward, the fit was too perfect to pass up.
We never really know how well a team has done in a draft until several years later, and the 2020 class will be no exception. That said, it appears that the Blue Jays hit a home run with this year's first round, and hopefully their luck will continue later tonight when rounds 2-5 take place.