Blue Jays: MLB owners appear content on ruining the season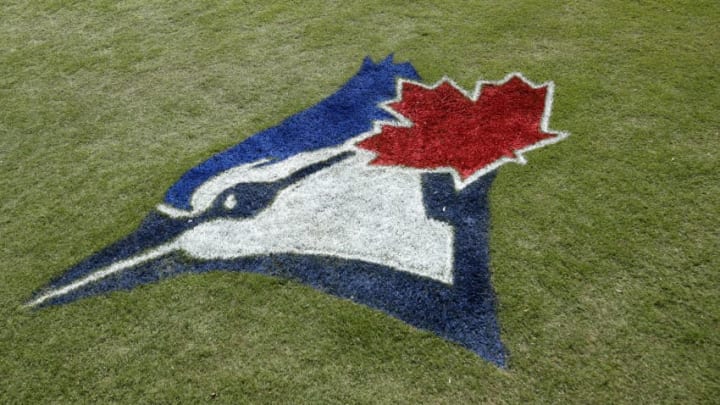 DUNEDIN, FL - FEBRUARY 24: General view of the Toronto Blue Jays logo painted in the grass prior to a Grapefruit League spring training game against the Atlanta Braves at TD Ballpark on February 24, 2020 in Dunedin, Florida. (Photo by Joe Robbins/Getty Images) /
Once again it appears the MLB owners are content ruining the season.
The MLB owners most recent proposal to the MLBPA is for a 50-game season with full pro-rated salaries. The thought of such a short season is completely asinine and a complete waste of time at this stage of the game.
The owners have proposed a pair of offers thus far that was both an insult and a complete waste of time. With money being the sticking point, the players are at least willing to partake in a 114 game schedule which would make the campaign worthwhile.
The first proposal was for an 82-game schedule, however, the salary cuts were so extreme there was speculation the MLBPA would not even respond to the offer. The issue now comes down to the owners wasting valuable time at a critical point on the calendar.
More from Toronto Blue Jays News
It seems the owners would rather pack in the season than pay the players a fair percentage of their contracts. If you are the MLBPA, it makes it tough to negotiate when the owners won't play nice in the sandbox.
It is hard to fathom a worthwhile season having any less than 82 games, why would players want to risk injury or contracting Covid19 to play a 50-game season. Even if you win the World Series, it will have a huge asterisk next to it in the record books.
The owners keep harping on the per-game revenue loss if the games are played without fans but at some point, one of the two sides needs to do what is best for the sport. Good luck attracting fans to the ballpark next season, if they squander away the entire 2020 campaign.
For the longevity and health of the game, it is imperative the owners meet the players in the middle and ensure a season is played this summer. The fans and tradition of the sport at least deserve that.