Blue Jays: It's not too late to do right by most minor leaguers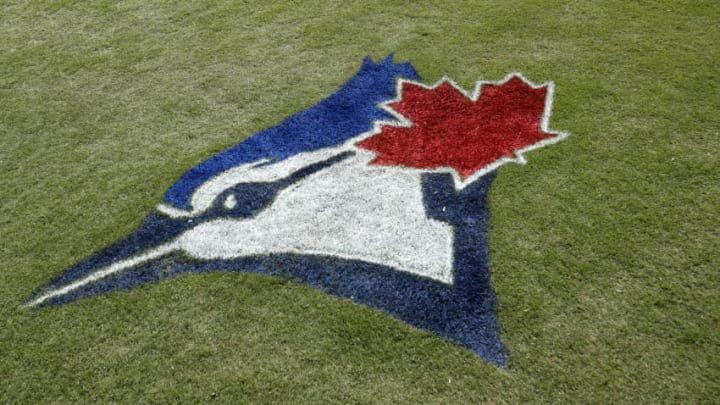 DUNEDIN, FL - FEBRUARY 24: General view of the Toronto Blue Jays logo painted in the grass prior to a Grapefruit League spring training game against the Atlanta Braves at TD Ballpark on February 24, 2020 in Dunedin, Florida. (Photo by Joe Robbins/Getty Images) /
So far the Blue Jays have committed to paying their minor leaguers until the end of June, and it's not too late to continue to set an example for the rest of the league.
It was a very difficult week for minor league baseball, as hundreds of players were cut from their organizations as a result of the Covid-19 pandemic, and the fact that there also assuredly won't be a MiLB season in 2020.
This is a very difficult situation for all sides to manage, and from most reports on the topic, it sounds like ownership groups worked together in order to make some of these decisions fairly wide-sweeping. That said, there have been various approaches taken to the situation by different clubs, and thus far the Blue Jays have impressed me. I also hope that continues.
On Saturday we got the news that the Blue Jays have committed to paying their existing minor leaguers until the end of June. There was no comment about the future beyond next month though, and my hope is the Blue Jays will continue to do the right thing, as they mostly have throughout this difficult process. In fact, they pretty much already have a model of what I would consider, "the right thing to do" after the comments made from Dayton Moore of the Kansas City Royals. They announced that they won't be releasing minor leaguers or furloughing any staff, and his rationale was very admirable.
More from Jays Journal
The Blue Jays could, and should do the same thing, and there are reasons to do so beyond just doing the right thing. This is a fairly unprecedented time, and by investing in your organization now, you're invariably going to make it stronger. That could give you a serious leg up on the competition compared to another franchise like the Oakland A's, who will stop paying their minor leaguers at the end of May.
The players they could retain could represent a worthwhile advantage, but more importantly, it would send a message to future players and prospects about being a part of the Blue Jays organization. That's something that the A's will likely have to work to recover from in the future, and it won't be an easy narrative to leave behind, Covid-19 or not.
So far, I've been impressed with the way that the Blue Jays handled ticket refunds, and how they've handled staff retention thus far. As awful as it is, it's understandable that some players have been released already, as has been the case across baseball. However, the franchise has an opportunity to join the Royals and to continue to set an example for the rest of the league, and I hope they do just that.