Blue Jays and the MLB/MLBPA Short-Season Dispute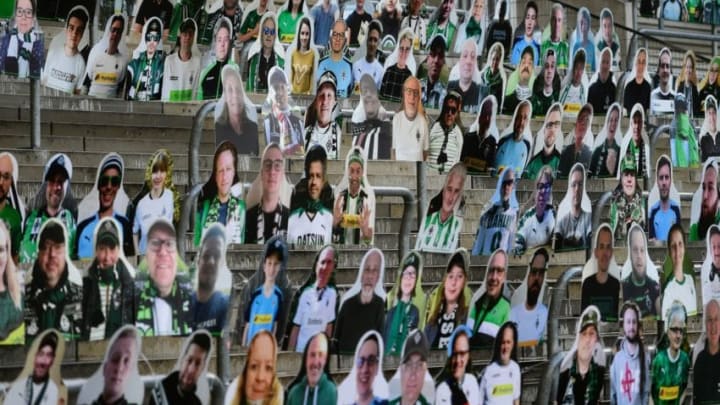 Cardboard cut-outs with portraits of Borussia Moenchegladbach's supporters are seen at the Borussia Park football stadium in Moenchengladbach, western Germany, on April 16, 2020, amid the novel coronavirus COVID-19 pandemic. - Large-scale public events such as football matches will remain banned in Germany until August 31 due to the coronavirus crisis, Berlin said on Wednesday, April 15, 2020, though it did not rule out allowing Bundesliga games to continue behind closed doors. (Photo by Ina FASSBENDER / AFP) (Photo by INA FASSBENDER/AFP via Getty Images) /
The MLB and MLBPA are currently in discussion about whether players should accept a further salary reduction if games are played without fans.  What are the arguments?
MLB and MLBPA signed a preliminary agreement in March about how player salaries (and service time, and the 2020 draft) would be addressed if there were a shortened 2020 season.  MLB is now seeking to expand on that agreement to cover the (highly probable) case of games with no fans in the stands.  What are the arguments, and the remaining (financial) issues?
Further salary reductions – the "discuss in good faith" clause
The original March agreement did not explicitly address what would happen if the league was forced to play games without fans in the stands.  But the agreement had a clause which stated that both sides agreed to "discuss in good faith the economic feasibility of playing games in the absence of spectators".
It is MLB's position that this clause was added to acknowledge that there would have to be further discussions if there were no fans in the stands.  MLBTR's position (at least for current negotiating purposes) is that it did not and that the March agreement was intended to be final.
Toronto Blue Jays /
Toronto Blue Jays
It is a general legal principle that, in interpreting a contract, all parts of that contract are to be given meaning if possible.  The assumption is that if the parties added a clause, they did so for a reason.  In this particular case, if MLBTR believed that the March agreement would not be affected if there were no fans, why did they agree to the inclusion of this clause?  Why not just leave it out entirely?
I might note that "in good faith" clauses are relatively common.  Often, when you sign a contract, there are hundreds of things that could go wrong (or right!) which would need to be addressed.  It would take too much time to work out a detailed plan for every possible contingency.  So, instead, the parties include general wording to the effect that if XXX happens, they will sit down in good faith and work out an acceptable compromise.   It appears to me that this is exactly what happened in the MLB/MLBTR case – they were aware of the possibility that they would have to play without fans, but did not want to hold up the signing of the agreement for something that might not happen.  So they "parked it", to address at a future time if necessary.
Fun with numbers
The players are suggesting that they should receive their full (pro-rated) salaries in the case of an empty-stands season.  How would that translate to a revenue split?
It has been estimated that, in a normal year, player remuneration comprises roughly 54% of total league revenue.
"In terms of the percentage that MLB has doled out in player salaries compared with other leagues whose capped systems require a percentage of that sport's related revenue to go back to the players as salary, the amount paid out—including benefits, etc.—is still the largest. In the NFL, the figure is 48.5%. For the NBA, it is approximately 50%."
It has also been estimated that ticket sales, concessions, parking, and all of the other revenue sources associated with having fans in the stands comprise roughly 40% of total team revenue.  So (remember your high-school algebra?) if the players continue to earn 54% of R, but R is then reduced by 40%, the player's share would become 54% of 60% or 90%.  And before you say that this leaves owners with 10% of revenue, remember that all of the other expenses associated with the team would come out of the owners' 10%.
The bottom line
It would be very difficult for owners to accept a scenario where players earn 90% of team revenues. But I suspect that the MLBPA understands this, and does not expect to achieve that outcome.  Instead, I see it as establishing an aggressive opening bargaining stance to strengthen their negotiating position (the technique is called anchoring, and it is used in many different situations).  I strongly suspect that a compromise will be found and that it will be found soon (my prediction = within a week).
Of course, financial issues are not the only ones under discussion.  Health and safety are paramount, and it is entirely possible that impasses in those areas could (if you pardon the expression) trump any financial agreement made.