Blue Jays may be forced to play games elsewhere in 2020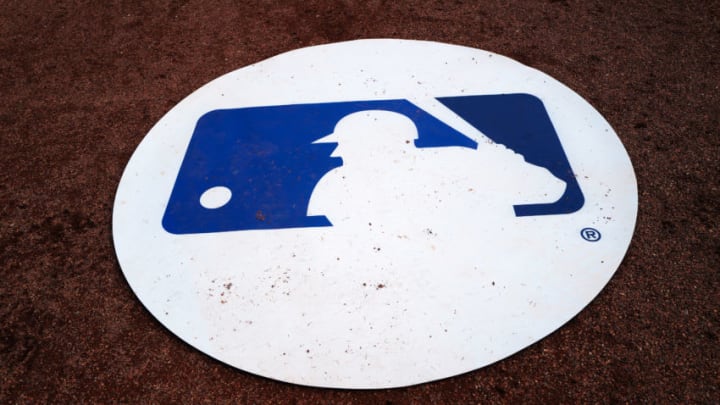 DUNEDIN, FLORIDA - FEBRUARY 27: MLB Logo on the batting mat during the spring training game between the Toronto Blue Jays and the Minnesota Twins at TD Ballpark on February 27, 2020 in Dunedin, Florida. (Photo by Mark Brown/Getty Images) /
The Toronto Blue Jays may be forced to play their home games at an alternate location if the pandemic restrictions are not eased by the time the season commences.
The Blue Jays are in a precarious situation being the only team not situated in the United States. The quarantine restrictions placed on people entering the country may affect the teams chances of playing their home games in Toronto this season.
Alternate arrangements are reportedly being discussed in the event that the pandemic restrictions prevent the Jays from playing north of the border. It would appear that their newly renovated spring training facility in Dunedin will be the likely landing spot especially if there are no spectators permitted at the games.
The other 29 teams play across 18 states and would not be subjected to border crossing restrictions. In the current times, teams entering Canada would have to self-quarantine for 14-days under the Quarantine Act.
More from Toronto Blue Jays News
There is hope that the curve will flatten in the interim and government restrictions will be subdued to allow for professional sports teams in Canada to continue their seasons. The border issue will also pose problems for Canadian teams playing in the NHL and NBA as well.
The initial MLB proposal sees the Jays playing in a 10-team division with their typical AL East foes along with the Phillies, Pirates, Mets, Nationals, and Marlins joining the fray.
The Jays fate is handcuffed by the pandemic and how it plays out in the coming weeks, however, it appears they have a Plan "A" and a Plan "B" in place and are prepared for either outcome. Whether it be Toronto or Dunedin, the organization will be prepared.
At the end of the day, with no spectators permitted into the stadium, the venue is not a huge issue. Meaningful Blue Jays baseball will be a welcome change regardless of where its games are played. Bring on baseball.