Blue Jays: The Best Broadcaster Baseball Team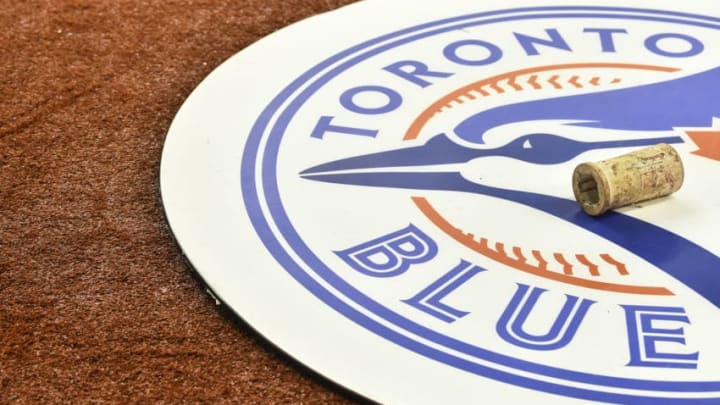 MONTREAL, QC - MARCH 26: A Toronto Blue Jays emblem is shown on the field against the Milwaukee Brewers during MLB spring training at Olympic Stadium on March 26, 2019 in Montreal, Quebec, Canada. The Toronto Blue Jays defeated the Milwaukee Brewers 2-0. (Photo by Minas Panagiotakis/Getty Images) /
Starting in 1977, many former MLB players have been part of the Blue Jays broadcast. Which of those players of the past would make the best Blue Jays broadcaster baseball team of all time?
The delayed start of the 2020 MLB season has forced people to write articles about the best this and the most important that. On your all-time Blue Jays team, who should be the starter? Roy Halladay? Dave Stieb? Was Roberto Alomar's home run against the Oakland Athletics in 1992 more important than Joe Carter's World Series-winning blast in 1993?
Those are questions that have been asked and answered. What important topic requires attention? Yep, broadcaster baseball. Which Blue Jays broadcasters, past or present, deserve to wear Blue Jays Broadcast Blue on the field? How good were they as media professionals? Let's find out.
Criteria
Given the seriousness of this subject, we have to apply a credible set of standards to the selection process. Accordingly, the criteria are as follows:
More from Blue Jays All-Time Lists
Names will originate from a source renowned for its accuracy and completeness. There is but one font of reliable data for this task: Wikipedia
The broadcaster needs only to have appeared on one Blue Jays broadcast as a play-by-play person or analyst, be it on television or radio.  (I'm looking at you, Whitey Ford)
The broadcaster must have played at least one game in the Majors. (Sorry, Mike Wilner, co-ed slow-pitch does not count)
Career fWAR is the deciding factor for each position
For a given spot, a player is eligible if they played at least one inning at that position
In total, there will be 11 players selected: one starter, eight position players, one designated hitter, and one relief pitcher.
Starting pitcher
Tom Cheek and Early Wynn (58.6 fWAR) were the first radio broadcasters for the Toronto Blue Jays. Wynn occupied the analyst seat from 1977 to 1981; Jerry Howarth replaced him before the start of the 1982 season. I don't remember a lot about Wynn as a broadcaster other than he had a southern drawl, which made him sound like a ballplayer. Also, I recall that his analysis was not always an example of the best form of the English language: not to the same level as Dizzy "He Slud into Third" Dean but enough to make a grade-school teacher occasionally cringe.
Other pitchers to note: Jack Morris; Whitey Ford; Tom Candiotti; and John Cerutti
Catcher
Alan Ashby (13.1 fWAR) played for the Blue Jays in their inaugural season. He was part of the broadcast team from 2007 until 2012. I thought he was an excellent broadcaster and was disappointed when he left to join the TV crew for the Houston Astros. I remember Ashby delivering an amusing line about Al Kaline during a 2012 radio broadcast of a Jays-Angels game. At the time, Mike Trout was leading the American League in batting average. Ashby stated that, if Trout were to capture the 2012 batting title, he would be the youngest player to do so since Kaline in 1955. Ashby then dryly added that Kaline's feat was so momentous that a battery type (alkaline) was named to honour the accomplishment. Now, that's a colour analyst!
Other candidates: Buck Martinez; Darrin Fletcher; and Joe Siddall
First base
There are slim pickings here in terms of play on the field. Tom Hutton (1.2 fWAR) was the TV colour analyst for the Jays from 1990 to 1996. He was solid in the TV booth.
The other player on the list was Kevin Barker, the noted Bundesliga prognosticator.
Second base
Rance Mulliniks (16.7 fWAR) played 91 innings at second during his MLB career and captured the open second-base position. Mulliniks was a TV analyst in the booth from 2005 until 2010. He started as a chatterbox in front of the microphone. However, Mulliniks improved in his final season with the Jays TV crew.
Shortstop
Tony Kubek (17.8 fWAR) was on the Blue Jays TV broadcast from 1977 to 1989. In addition to his work with the Blue Jays, Kubek was part of NBC's national coverage from 1966 until 1989. In my view, he was the best analyst to appear on a Blue Jays broadcast. An article in the Toronto Star put it best, "He educated a whole generation of Canadian baseball fans without being condescending or simplistic."
Third base
Pat Tabler (2.7 fWAR), and his 778 innings at third base, earned him the hot corner on Team Broadcast. He initially worked for TSN as an in-studio analyst and later moved to the booth in 2001. When asked if I like Tabler as a colour analyst, I typically reply, "I miss Kubek."
Leftfield
Gary Matthews (30.7 fWAR) was a radio commentator for the Blue Jays in the 2001-2002 seasons. Other than that, what can I tell you?
Centerfield
Joe Carter (17.1 fWAR) was part of CTV Sportsnet's Blue Jays broadcast for the 1999 and 2000 seasons. The Jays televised games are better with Tabler.
Rightfield
Jesse Barfield (39.0 fWAR) was the colour commentator for CBC's production of Blue Jays games during the 2007-2008 campaigns. As a broadcaster, Barfield had an elite throwing arm.
Designated hitter
Ken Singleton (44.4 fWAR) was a colour commentator for the Blue Jays in 1985 and 1986. He has been a part of the Yankees television team for over 20 years. I always appreciated Singleton's insights, which he delivered in a concise, professional manner.
Relief pitcher
Duane Ward (14.7 fWAR) started semi-regular appearances on Jays broadcasts beginning in 2014. He is also the only former reliever who has regularly appeared in the broadcast booth. Concerning his abilities as an analyst, they lie somewhere between Carter's and Kubek's.
How successful would Team Broadcast be?
For each of the players selected, I took their best fWAR season and summed the figures; the total is 45. Therefore, by adding the standard 48 games (which would be won by replacement-level players) to 45 gives you 93 wins. Team Broadcast can compete on the field! But if they are on the diamond, who would broadcast the games? I have that covered.
The last word
Starting in 1977, some excellent former baseball players have been a part of Blue Jays coverage. There are differing views regarding how good each of those players was as a broadcaster. However, there should be little doubt that this group would make an outstanding fantasy Team Broadcast.