Toronto Blue Jays News
Blue Jays: How do things look in various Power Rankings?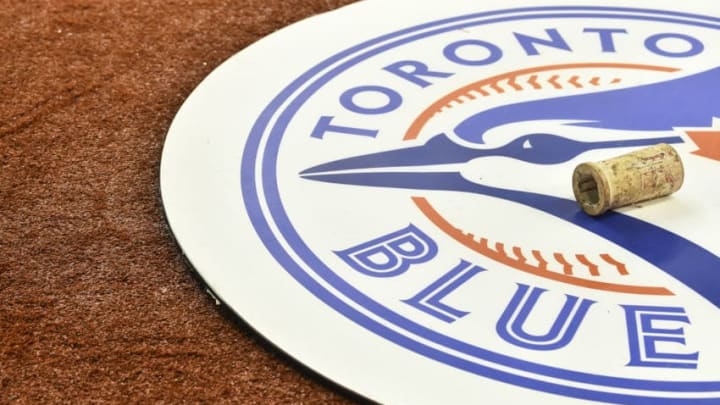 MONTREAL, QC - MARCH 26: A Toronto Blue Jays emblem is shown on the field against the Milwaukee Brewers during MLB spring training at Olympic Stadium on March 26, 2019 in Montreal, Quebec, Canada. The Toronto Blue Jays defeated the Milwaukee Brewers 2-0. (Photo by Minas Panagiotakis/Getty Images) /
If the season had started like it was supposed to yesterday, how did others view the Blue Jays in terms of Power Rankings to start the year?
Well, the original date has now come and gone for what should have been Opening Day for Major League Baseball, and the questions remain about when things may get fired up again.
In the meantime, I thought it might be fun to scour the internet looking to see how various writers ranked the Blue Jays going into the 2020 season, at least before it was held up by the Covid-19 virus pandemic. As you're likely aware, the Blue Jays finished with a record of 67-95 last season, which was 5th from the bottom of the whole league, behind just the Orioles, Royals, Marlins, and the Tigers.
That said, the Blue Jays should have a much improved roster when baseball returns, largely due to the work of the front office over the winter. They vastly improved the starting rotation depth chart, signing Hyun-Jin Ryu, Tanner Roark, and Shun Yamaguchi, while also trading for Chase Anderson, and retaining Matt Shoemaker, who missed most of last season after knee surgery. Charlie Montoyo's young team should see improvement after the valuable experience gained in the rookie campaigns of Vladimir Guerrero Jr., Bo Bichette, Cavan Biggio, and many more, who should take a step forward in 2020.
More from Jays Journal
Still, that doesn't mean the Blue Jays are going to shoot to the top of the league standings, and most of the Power Rankings I could find reflected that same belief. There is expected improvement to be sure, and maybe even a slight lack of awareness of the potential of this group, but most writers that I came across felt like the Jays fit in a similar place.
Starting with the rankings on ESPN, which are compiled by the votes from several different writers working there, and this version of the Power Rankings was published this week. That group of writers felt the Blue Jays would only take a small jump from #26 last season, up to #22 to begin this year.
Over at the Bleacher Report, the ranking is the same at #22 even with a fairly optimistic review of the season ahead. Their rankings were compiled around the middle of Spring Training, and published Joel Reuter on March 9th.
""After welcoming Vladimir Guerrero Jr., Bo Bichette and Cavan Biggio to the MLB roster last season, the Blue Jays are clearly a team on the rise.The pitching side of things is vastly improved after the offseason additions of Hyun-Jin Ryu, Tanner Roark, Chase Anderson and Shun Yamaguchi, while top prospect Nate Pearson has turned heads this spring with nine strikeouts in five no-hit innings. The future is bright, but they are likely still at least a year away.""
I think my favourite version that I found came from Matt Johnston at sportsnaut.com. Granted, this website isn't as noteworthy as ESPN or Bleacher Report, but they have the Blue Jays ranked at #21, just ahead of the Red Sox at #22. That may have sounded laughable a few months ago, but now that Mookie Betts has been traded to the Dodgers and Chris Sale is out for the season after having Tommy John surgery, it's not out of the realm of possibility at all.
Lastly, even though they were written back on Jan 5th, I'll include the list from MLB.com's Alyson Footer. That said, Footer only included her top 20 teams, but I still felt it was worth pointing out that the Blue Jays did not make this list. Granted, a fair bit has happened in the couple of months since, but the Blue Jays had done pretty much all of their free agent shopping by then.
While I initially thought that 21-22 on the rankings felt pretty low for the Blue Jays, I can see why pretty much all of the writers had them in the same ballpark. There are plenty of elite teams that will return very competitive rosters in 2020, if there's a season, and several others that made big improvements over the winter, like the Cincinnati Reds, and Chicago White Sox, for example.
If I'm going to make a prediction, I do think they can push to be inside the top 20 this year, looking for a more realistic leap in 2021 toward playoff contention. That means they'll have to leapfrog a few teams that are expected to be better than the Blue Jays this season, but with a greatly improved pitching staff and a lineup with several budding young stars, I think the Blue Jays could surprise a lot of people, even if most aren't seeing it just yet.