Blue Jays: What the service time decision means for now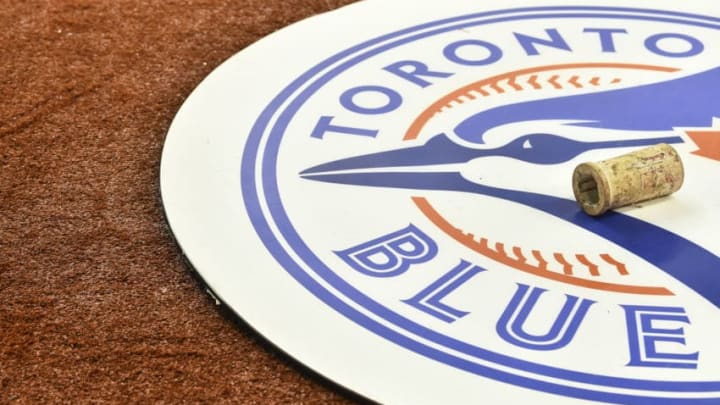 MONTREAL, QC - MARCH 26: A Toronto Blue Jays emblem is shown on the field against the Milwaukee Brewers during MLB spring training at Olympic Stadium on March 26, 2019 in Montreal, Quebec, Canada. The Toronto Blue Jays defeated the Milwaukee Brewers 2-0. (Photo by Minas Panagiotakis/Getty Images) /
The MLB office will have a lot to navigate through in the coming weeks, but they made one decision on service time on Wednesday. What does it mean for the Blue Jays?
Until we know more about how long North America will be put on pause due to the Covid-19 outbreak, we have to take things day by day for the time being. That applies to pretty much everyone, and it even includes the MLB office.
Debates will continue about what to do about the length of the season, the June draft, and many other variables involved in a regular MLB season, but for now the league office is going to address things as they come. To that end, a report came out on Wednesday morning from the Athletic's Ken Rosenthal (subscription required) that a decision has been made in terms of "service time" for MLB players, although it doesn't cover the entire situation just yet.
For now, the league and the player's association have agreed that any player that spends the entire season in the big leagues, regardless of how long the season ends of being, will earn a full year of service time. For those that are unfamiliar with the term, you can read all about it here if you like, but I'll also give you a quick summary. A player typically has to go through six or sometimes seven years of "control" with the team that drafts them before they can become a free agent, and they're not eligible for arbitration until they have three full seasons under their belts.
More from Jays Journal
For example, the Blue Jays debuted three players last season that will have seven years of contract control, particularly because they weren't on the roster at the beginning of the year. For Vladimir Guerrero Jr., Bo Bichette, and Cavan Biggio, that meant they were on track to become unrestricted free agents before the 2026 season. Now that this agreement has been put in place, that won't change as long as there is at least some sort of baseball season in 2020.
That much has already been agreed upon, and both sides will have to continue to monitor the situation and hope that they don't have a lot more puzzles to solve as the suspension play continues. For the time being, they haven't resolved what will happen if there's no season at all, and hopefully it won't come to that extreme. If it does, that's going to be a contentious argument from both sides, and there is real potential that things could get ugly. Let's hope it doesn't get there, for a variety of reasons.
How does this effect the Blue Jays for now? Well, it doesn't really change anything for guys like the trio I mentioned above. That said, it does mean that an elite prospect like Nate Pearson won't be able to start the season on the MLB roster and still have his team retain seven years of contract control. With that in mind, the whole issue of teams manipulating service time could become a bigger problem again, as it takes a regular excuse away from organizations. In the case of the Blue Jays, it will be hard to argue that they're trying to protect Pearson's innings count by starting his year in Triple-A, when he's already lost time on the mound with the state of things at the moment, and going forward for the foreseeable future.
The whole situation could change if this drags on into the summer, but for now at least the league and the player's association have come to an initial agreement.