Blue Jays: So far, no players or staff have needed a Covid-19 test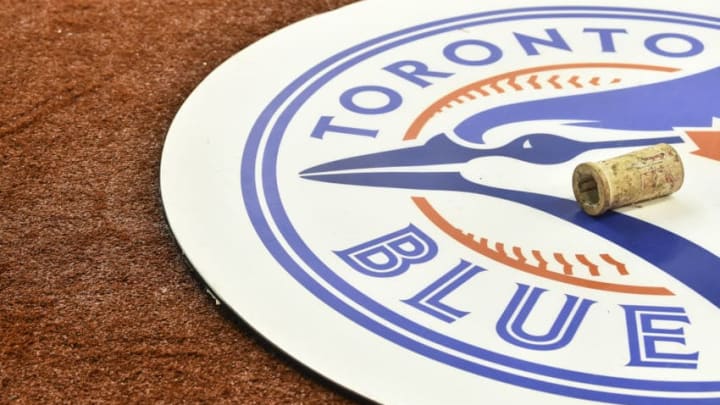 MONTREAL, QC - MARCH 26: A Toronto Blue Jays emblem is shown on the field against the Milwaukee Brewers during MLB spring training at Olympic Stadium on March 26, 2019 in Montreal, Quebec, Canada. The Toronto Blue Jays defeated the Milwaukee Brewers 2-0. (Photo by Minas Panagiotakis/Getty Images) /
It sounds like the Blue Jays have taken the proper precautions, as Mark Shapiro told reporters on Sunday that none of their players or staff have needed a test for Covid-19 just yet.
A much as it sucks that there is no baseball right now, it's definitely a good thing that the league was able to take a break before the Coronavirus was able to spread too far among MLB clubhouses. When you consider that every MLB team was either in Florida or Arizona, interacting with each other on and off the field for several weeks, it could have been an ugly situation.
For the Blue Jays, it sounds like the organization was able to take the right precautions in time as well, and according to Mark Shapiro on Sunday, so far there haven't been any players or Blue Jays staff that have had to take a test for the Covid-19 virus. That's a great sign for a number of reasons.
Obviously it wouldn't be a good thing if anyone were to get sick, but if the Blue Jays were successful (and lucky enough) in keeping the virus completely out of their clubhouses and facilities, that means there's a good chance that it's been contained within the organization. With an incubation period that can be as much as a couple of weeks, that's what can be so scary about a spring camp environment. You could be walking around and unknowingly spreading the virus for a long time.
Shapiro did mention that there's a desire for more widely available testing, but that for now they are following protocol, and thankfully no players or staff have showed enough signs of sickness to warrant a test by the current standards.
""The testing situation is one where we kind of just mirror the broader society. I think we all wish there could be broader access to testing, for the Blue Jays and for everyone. Right now we're working through protocol.We have not had anyone reach a point on the player personnel or staff side where their symptoms warranted testing. So at this moment, no Blue Jay staff or player, major or minor league, have been tested.""
Shapiro went on to mention that the vast majority of players have gone back to their respective homes for the time being, with just three holdovers who remaining who aren't able to go home right now in Hyun-Jin Ryu, Shun Yamaguchi, and Rafael Dolis. The organization continues to offer the trio support and whatever resources they can, but things are pretty limited right now.
So while it's a bummer that there's no baseball right now, especially in what would have the week of Opening Day, the good news is that none of the Blue Jays players or staff have gotten sick, at least so far.