Blue Jays: You can now adopt and sponsor an MiLB Player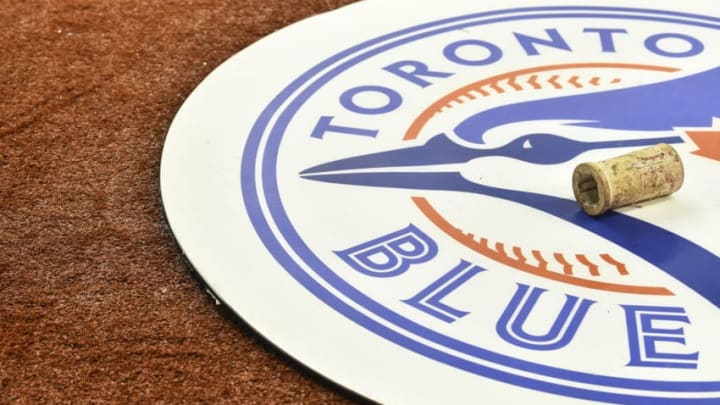 MONTREAL, QC - MARCH 26: A Toronto Blue Jays emblem is shown on the field against the Milwaukee Brewers during MLB spring training at Olympic Stadium on March 26, 2019 in Montreal, Quebec, Canada. The Toronto Blue Jays defeated the Milwaukee Brewers 2-0. (Photo by Minas Panagiotakis/Getty Images) /
You can now adopt and sponsor a struggling Toronto Blue Jays minor-league player as they chase their dream of playing in the majors.
It is no secret that minor-league baseball players are practically living below the poverty line throughout the various ranks on the farm. Professional baseball teams hardly compensate players accordingly with many players seeking secondary employment just to make ends meet.
The Blue Jays made good last season when they increased their minor-league player's paycheques by 40-56% depending on the level. Following the raise, Toronto minor-leaguers in Triple-A make an estimated $3,050 a month, Double-A players earn $2,550 per month while Single-A players just below at $2400 a month.
However, now that the season has been postponed there is again much uncertainty surrounding how many players will pay the bills in the interim. Players are being forced to return home with no timetable on when the minor-league season will commence.
More from Toronto Blue Jays News
With the help of the new "Adopt a MiLB Player" Program, you can financially assist a Blue Jays minor-league player through the grind of a long season. Michael Rivers created the assistance program just six weeks ago and has already found sponsors for nearly 170 minor-league players.
Sponsors will be put in contact with a player from their favourite organization via Twitter. The player can inform their prospective sponsor on their specific individual needs which can be fulfilled through cash, gift cards or even care packages.
According to Rivers, the expected commitment is $100-$150 dollars a month for the entire season. There is no expectation for the player to pay the sponsor back, however, that is also not out of the realm of possibilities.
""If you don't set a regular standard, there might be some guys who get taken care of for the season, but then their teammate just got something once, and it's not fair for that guy to watch others get more.""
There are currently four Toronto players involved in the program, so if you are interested in becoming involved in the sponsorship program and would like to financially assist a Blue Jays player, contact Michael via Twitter @AdoptMiLBPlayer.
Grab some buddies, adopt a player and lessen the financial hardship of a Blue Jays minor-leaguer as he climbs through the ranks on his journey to the majors.