Blue Jays: Should they pursue contract extensions?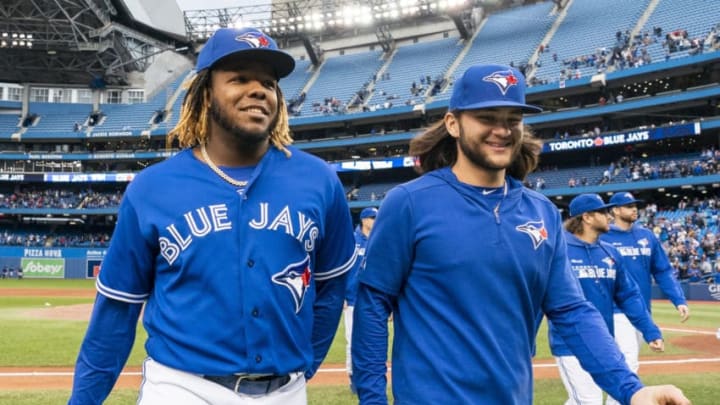 TORONTO, ONTARIO - SEPTEMBER 29: Vladimir Guerrero Jr. #27 and Bo Bichette #11 of the Toronto Blue Jays walk off the field after defeating the Tampa Bay Rays in the last game of the season in their MLB game at the Rogers Centre on September 29, 2019 in Toronto, Canada. (Photo by Mark Blinch/Getty Images) /
Some teams in the MLB have been extending contracts to their young players. Is this a strategy that could work for the Toronto Blue Jays?
A recent trend with some Major League Ball clubs has been working out long term extensions with some of their younger players.  Both the Atlanta Braves and the Chicago White Sox have signed several players in the past year. Let's take a look if this philosophy could work for the Blue Jays.
Before we discuss extensions I think it is important to understand the salary process that all MLB players go through.  Without getting into a long drawn out and downright boring article about the legalities of contracts, Cole's notes version is basically as follows. Teams and players are free to sign a contract at any time. In some cases, teams sign players to long term and thereby cost-controlled contracts even before the player plays a major league game. An example would be the Blue Jays Lourdes Gurriel Jr.or Scott Kingery of the Phillies.
Players without a contract and with less than 3 years of Major league service time are paid the league minimum which is negotiated in the MLB collective agreement. The minimum is currently just over $500,000.  Players with more than 3 years of service time but less than 6 years enter into the arbitration process. This process allows players to seek fair salary compensation largely based on comparison to similar players. After 6 years of Major league service time, a player becomes eligible for free agency.
More from Toronto Blue Jays News
So why would a player want to sign a contract extension?  For the player, it gives a guaranteed contract even in the event of injury or underachieving performance. It would also provide more money in the earlier seasons of their careers when they would otherwise be paid the league minimum.  At any point, a team could simply enjoy the cheap years of a player's career and then non-tender a contract as they become more expensive during the latter years of the arbitration process. An example of this is what happened to Kevin Pillar this past off-season. Pillar was entering his final year of the arbitration process and it was anticipated that his contract would be about 9+ million for one year. The Giants chose to non-tender Pillar thereby allowing him to sign as a free agent elsewhere. Pillar eventually signed with the Red Sox for just 4.25 million costing him millions.
Why would the team want to sign a contract extension?  Budgetary control is a big factor. The arbitration process can cause a player's salary to greatly fluctuate from year to year with substantial raises in the latter years. I'm sure part of the reason that Josh Donaldson was traded to the Jays was the cost uncertainty that the Oakland Athletics faced with Donaldson's arbitration salary.  With a team's ability to manage a payroll knowing what the core of the team is going to be making allows teams to better allocate their available resources to their current needs.  Teams often want to buy some of the player's free-agent years in return for taking the risk of a guaranteed contract.
If we look at the Atlanta Braves they were able to make two substantial contract extensions with Ozzie Albies and Ronald Acuna Jr.  Both contracts have been viewed as a win for the Braves. The contract that Ozzie Albies signed might be the most team-friendly contract ever. The deal is for 7 years and $35 million with 2 team options.  The contract for Acuna Jr is a guaranteed $100 million contract for 8 years and 2 team options which could lead him to free agency at age 30.  Let's remember at the time of the contract was signed that Acuna Jr hadn't even played a full MLB season.
Looking at the Chicago White Sox they have been even more active signing Yoan Moncada,  Tim Anderson, Eloy Jimenez, Aaron Bummer and Luis Robert to extensions.   In each case, the deals are all 6-year deals and include 2 team options for the first 2 years of free agency.   For the White Sox, these extensions have also allowed the team to forget about the hot button topic of service time manipulation and allowed Jimenez to start the season last year in the Major leagues and this year will allow Robert to do the same.
The Blue Jays obviously have several core young players that could be extension candidates. Would Vladimir Guerrero Jr. accept an Acuna Jr type extension?  I can't imagine Bo Bichette looking at an Albies type extension but would a Moncada type deal at 5 years and 70 million with a team option get him thinking?  How about Cavan Biggio with an Albies type deal?
Perhaps the biggest fly in the ointment could be when your father is a multi-millionaire. The Blue Jays haven't been shy about drafting or signing players with major league baseball bloodlines. In the case of Bo Bichette, Cavan Biggio, and of course Vladimir Guerrero Jr.all of their fathers had successful MLB careers. Figures provided by Baseball-reference.com has the following career earnings.
I would guess that when your families have that much money betting on yourself is probably the best route.
Well maybe Danny Jansen would be willing to talk or Nate Pearson could start the season in the Jays rotation with an MLB contract and avoid service time issues.
Share your contract extensions in the comments below.