Blue Jays projections: Bigger step in 2020- Bo or Vlad?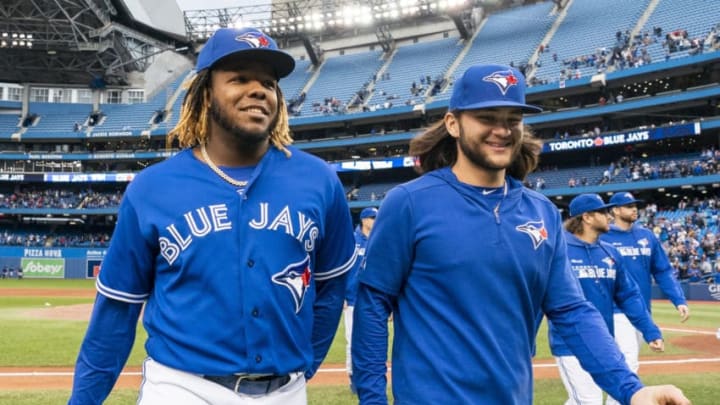 TORONTO, ONTARIO - SEPTEMBER 29: Vladimir Guerrero Jr. #27 and Bo Bichette #11 of the Toronto Blue Jays walk off the field after defeating the Tampa Bay Rays in the last game of the season in their MLB game at the Rogers Centre on September 29, 2019 in Toronto, Canada. (Photo by Mark Blinch/Getty Images) /
It should be an exciting sophomore season for Vladimir Guerrero Jr. and Bo Bichette. Which young Blue Jays star is projected to take a bigger step?
Now that we're just a week away from pitchers and catchers reporting to Spring Training, it's hard not to look at the current roster and start thinking about the season ahead, even if the Red Sox and Dodgers are still pulling off late-winter blockbusters.
There will be plenty of attention on the Blue Jays' off-season acquisitions, but the bulk of the excitement will focus on the talented sophomores on their roster, led by Vladimir Guerrero Jr. and Bo Bichette. There are plenty of others of course, but that duo has been anticipated in Toronto for a long time, and they showed the fan base why last season.
With that in mind, I was curious to see how the projection systems view the two budding stars, and which one they see taking a bigger step during the season ahead. These are just projections of course, and even if there is a fair bit of data that goes into them, it's impossible to predict things 100% accurately. Still, let's have a look at what they have to say about the dynamic duo.
Vlad Guerrero Jr. 
Steamer–        .295/.363/.501, 25 HR, 87 RBI, 3.6 fWAR
Rotochamp–  .296/.359/.496, 25 HR, 93 RBI
ATC–                 .295/.364/.496, 25 HR, 89 RBI
BaseballRef   .277/.347/.462, 16 HR, 63 RBI, 411 ABs
The biggest difference between baseballreference.com's projections and the other three is the latter factors in some anticipated time missed due to injury, giving him just 411 at-bats. Otherwise, the other three systems project some pretty solid growth for the 20-year-old, at least on offence.
Bo Bichette
Steamer–        .275/.328/.464, 24 HR, 74 RBI, 24 SB, 3.6 fWAR
Rotochamp–  .270/.322/.459, 19 HR, 67 RBI, 26 SB
ATC–                 .277/.322/.469, 22 HR, 72 RBI, 22 SB
BaseballRef– .291/.352/.532, 11 HR, 21 RBI, 278 ABs
More from Jays Journal
As was the case for Vlad Jr., baseball reference is conservative with the amount of games they're expecting from the youngsters. For Bichette, the other three systems are expecting big things from him, seeing him as a 20-20 candidate for his sophomore season, and Steamer sees him matching Vlad Jr's 3.6 fWAR projection.
Obviously these numbers are pretty limited and there are a lot of variables that could effect how things go for the pair. You don't get a lot in the way of defensive value other than the WAR numbers, and that should be Bichette's biggest advantage as Vlad Jr. continues to work at improving at third base. That said, Bichette isn't a finished product at shortstop either, even if he's a few steps ahead of Vlad Jr. in terms of value on defence.
The positive thing for the Blue Jays is that both Vlad Jr. and Bichette are expected to take significant steps toward MLB stardom during the upcoming season. The teammates will be working together toward the same goal of bringing the Blue Jays back to contender status, but you can bet there will be at least a little bit of a friendly competition for the "top dog" status in Toronto as well.
According to the projection systems, it should be a close race between Guerrero Jr. and Bichette, and it should be a lot of fun to watch.