Toronto Blue Jays: Post Betts Trade Power Shift in the AL East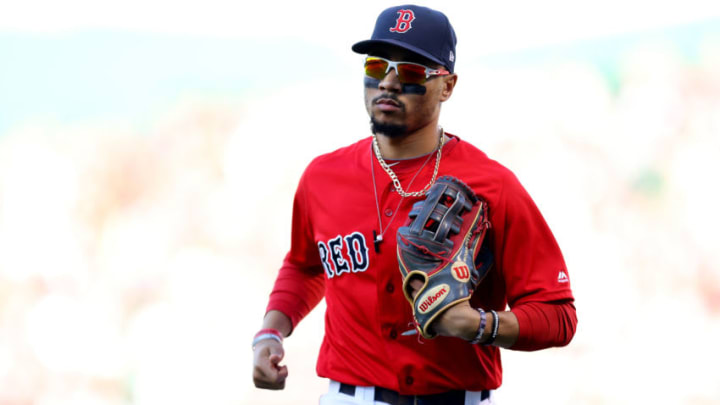 BOSTON, MASSACHUSETTS - SEPTEMBER 29: Mookie Betts #50 of the Boston Red Sox runs to the dugout during the fifth inning against the Baltimore Orioles at Fenway Park on September 29, 2019 in Boston, Massachusetts. (Photo by Maddie Meyer/Getty Images) /
ESPN MLB Insider Jeff Passan tweeted that the Dodgers have agreed to a blockbuster deal with the Red Sox that would send star outfielder Mookie Betts and starter David Price to LA.
Trade Outline
The basic framework of the three-team deal, in the works for weeks and which obviously involves a large salary relief component for Boston, is as follows:
To Dodgers: 2018 AL MVP Mookie Betts and 2012 AL Cy Young David Price
To Red Sox: 23-year old OF Alex Verdugo (from LA), 21-year old RHP Brusdar Graterol (from Twins)
To Twins: RHP Kenta Maeda (from L.A.)
Players Involved
Verdugo hit .294/.342/.475 with 12 homers in 106 games with L.A. last season. Graterol was among the Twins top prospects (#83 on the recently updated MLB top-100), and is known for a fastball that can reach triple digits, according to MLB.com.
RHP Kenta Maeda, 31, goes to the Twins and is signed through the 2023 season. He's posted a 3.19 ERA and 3.13 FIP as a reliever since 2017 (compared to a 4.12 ERA and 3.84 FIP as a starter across that same span), and has a 3.87 ERA with 9.8 K/9, 2.7 BB/9, 1.18 HR/9 and a 40.9% ground-ball rate over 589 career MLB innings.
The Dodgers can afford to take on much of the salaries of Betts and Price in trying to win their first World Series title since 1988, but they also enter 2020 with the third-best farm system in baseball, with five top-100 prospects according to MLB.com. That includes the #2 overall prospect in SS Gavin Lux, #23 prospect in RHP Dustin May, and #44 prospect in SS/2B Jeter Downs. None of them are involved in this trade.
In last week's Baseball Prospectus update of their top-100 prospects, unsurprisingly there were no Red Sox. MLB Pipeline only ranks one Red Sox prospect in their top-100, A Advanced league 1B Triston Casas at #77.
In LHH Verdugo, the Sox acquire a young outfielder who has already proven capable of hitting major league pitching. He was considered "one of the best pure-hitting prospects in baseball" by MLB.com ahead of the 2018 season, and was ranked the No. 19 prospect overall by Baseball Prospectus ahead of the 2019 season.
Graterol instantly becomes the best prospect in the Red Sox farm system, with a 99-mph sinker, 88-mph slider and four-seam changeup at just 21 years of age. In his 2019 big league debut,  he struck out 10 and gave up five runs on 10 hits and two walks over 9 2/3 innings. Graterol shredded the minors with 230 strikeouts and a 2.48 ERA in 214 innings over four seasons. Of his 51 appearances, 41 were as a starter.
Betts, 27, who agreed to a record $27 million in arbitration for 2020, becomes an UFA next offseason and there was no guarantee the Red Sox would be able to re-sign the former AL MVP and 4X Gold Glove winner (think Mike Trout's 12-year, $426 million deal with the Angels). He's also a 4X All-Star, 3X Silver Slugger and won the batting title in his 2018 MVP campaign, slashing .346/.438/.640/1.078 all just in six MLB seasons.
Price, 34, is owed $96 million over the next three seasons. After his World Series heroics with the Sox in 2018, Price struggled with injuries last season, posting a 4.28 ERA in 107 1/3 innings. He's a 5X All-Star and in addition to his 2012 Cy Young, has won the ERA title twice in his 12-year MLB career with Tampa, Detroit, Toronto and Boston.
The trade immediately makes the Yankees and Dodgers the "odds on" favourites to advance to the 2020 World Series. The Yankees signed ace Gerrit Cole and lost nothing devastating from a 103-win team. Now, the Dodgers have obtained Mookie Betts to join a largely unchanged 106-win roster, and the trades of Maeda and a separate trade of Joc Pederson to the Angels, plus the expectation that Boston is taking on about half of Price's remaining three years at $96 million means the Dodgers might not even go over the $208 million luxury-tax threshold.
AL East Fallout
New Red Sox chief of baseball operations Chaim Bloom immediately fulfills his mandate from owner John Henry to make the team younger and to free up salary cap space to get under the luxury tax threshold of $208 million for 2020. Spotrac sees Boston's updated competitive balance tax payroll at $192 million post trade assuming the Red Sox pick up $16 million of David Price's contract in 2020 and $48 million of the remaining $96 million over the next three seasons.
Trading away an AL MVP and their injury-plagued #2 starter suggests the Red Sox are re-tooling on the fly. This is in no way a tear down or a rebuild given a roster including Chris Sale, Jackie Bradley Jr., Eduardo Rodriguez, Xander Bogaerts, J.D. Martinez, Andrew Benintendi and Rafael Devers, but they do get younger with Verdugo under team control for the next five years and Graterol for the next six.
Does this open the door for the Blue Jays to compete for a wildcard slot in 2020?  Maybe, but unlikely. Pre-trade, MLB projected that Toronto will win 79 games in 2020. That could change given they face the suddenly less competitive Red Sox nineteen times this year. Should they go 14-5 now instead of 9-10 in their head-to-head matchup with Boston, that's potentially 5+ more wins.
It certainly doesn't hurt to lose two bWAR monsters from the AL East, with Betts at 6.8 in 2019 and at 42 over the past six seasons. His 2020 projected stats are .297/.386/.540/.926 with 27 HRs and 79 RBI.
Price had a 1.9 bWAR last season but generated 10.8 wins above replacement since 2016 with the Red Sox.
What do you think? Does this open up a path for the Jays to compete for a wildcard in 2020?