Toronto Blue Jays 2020 Top Prospects: #17 Kevin Smith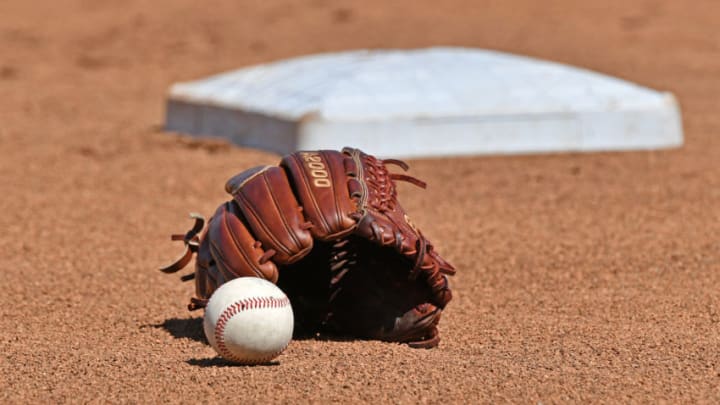 Omaha, NE - JUNE 24: A general view of a baseball and glove in the the field, prior to game one of the College World Series Championship Series between the Michigan Wolverines and Vanderbilt Commodores on June 24, 2019 at TD Ameritrade Park Omaha in Omaha, Nebraska. (Photo by Peter Aiken/Getty Images) /
The Jays Journal staff returns with our yearly Blue Jays Top 30 prospect rankings, the #17 spot goes to a middle infielder, Kevin Smith.
Name: Kevin Smith
Position: SS              Age: 23
Height: 5'11".           Weight: 188lbs
Throws: Right.          Bats: Right
Acquired: Drafted by the Blue Jays in the 4th Rd of the 2017 draft, 129th overall.
2019 Level: AA.        ETA: 2020
Kevin Smith's amateur/College and professional career has been a bit of a rollercoaster ride. Smith attended college at the University of Maryland in 2015 and produced two seasons that were lackluster. It wasn't until Smith attended the Cape Cod Summer League in 2016 that Smith started to put his name on many draft boards.
Smith was named an all-star and was the champion series MVP helping his team win the CCBL championship. Smith returned to Maryland for a third season and the successes that he had in the wooden bat Cape Cod league did not carry over. Smith fell in the 2017 amateur draft from a potential 1st round pick to where he was drafted by the Blue Jays in the 2017 amateur draft in the 4th round and number 129th overall.
More from Toronto Blue Jays Prospects
In 2017 Smith was assigned to Rookie ball with the Bluefield Blue Jays. Smith would play in 61 games and produce results similar to his collegiate career at Maryland. It wasn't until 2018 when Kevin Smith would burst onto the scene with the Lansing Lugnuts. By the end of the 2018 season, every Blue Jays fan would know the name Kevin Smith as he got off to a torrid pace and was scorching A level pitching to the tune of a .355 BA and .407 OBP. Smith earned a promotion to A+ ball and would cool down some but finished the season with a .302 BA and a .358 OBA between the two levels.
It was this 2018 season that got Smith noticed as a top prospect and he was named by Baseball America as their 91st best prospect on their pre-2019 top 100 prospects list. Kevin Smith was assigned to the New Hampshire Fisher Cats at the AA level to start what many believed to be a promising 2019 season. Smith, unfortunately, had issues with the more advanced pitching and struck out at a 32% rate and only managed a .209 BA and a .263 OBP. Smith then attended the Arizona Fall League where players can face some of the better prospects in baseball. Smith wasn't able to turn around his 2019 season as the strikeouts piled up. In a small sample of only 18 games and 67 plate appearances, Smith had a 56.7% strikeout rate and a putrid .095 BA.
Hitting
MLB.com rates Smith as a 45 hit grade on the 20-80 grade range. They also have his power graded at a 55. MLB.com states that Smith has plus raw power from the right side of the plate and he hits some of the most impressive home runs to the opposite field. As Smith's strikeout rates above illustrate he does have some swing and miss but if he could make some more consistent contact then those power numbers would surely ride and he has the potential to hit for both power and average.
Defense
Smith has been described by MLB.com as an above-average defender with soft hands, good range, and a plus arm. He has the defensive profile to continue at shortstop but could also cover third base. If Smith's bat could work back closer to even his collegiate averages of .267 BA and a .331 OBP with an increase in his power as he matures I think he could make a good center fielder with all of the logjams that the Blue Jays have in the infield.
Future
Kevin Smith debuted on the MLB.com top 30 prospects list at 25 in 2017. He had reached as high as 6th but he has slid down the list. In 2020 I would imagine that Smith will return to AA New Hampshire to start the season and see if he has made some adjustments that will lead to some success.
With a strong first half to 2020, we could see Smith move to AAA and even his first MLB appearance with a possible September callup. I for one am hoping that the Arizona Fall League was the bottom of the rollercoaster and we see some good things from Smith in 2020.
What Kevin Smith do you think will show up?