Toronto Blue Jays: Five Prospects to Watch in 2020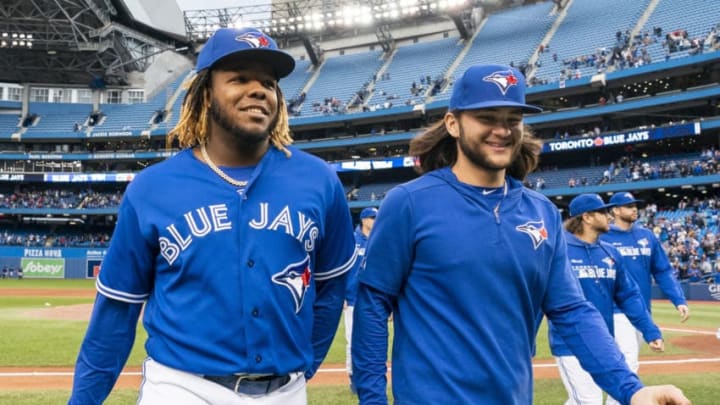 TORONTO, ONTARIO - SEPTEMBER 29: Vladimir Guerrero Jr. #27 and Bo Bichette #11 of the Toronto Blue Jays walk off the field after defeating the Tampa Bay Rays in the last game of the season in their MLB game at the Rogers Centre on September 29, 2019 in Toronto, Canada. (Photo by Mark Blinch/Getty Images) /
As we enter the 2020 season, the Toronto Blue Jays major league club is looking to take a giant leap from last year.  There is the much anticipated arrival of Nate "The Great" Pearson to make his debut, but what other prospects should you be looking at taking big strides in their 2020 MiLB seasons?
Alek Manoah
Age 22
Acquired: 1st Round Pick, 11th Overall in 2019 Draft
Alek Manoah is a touring beast standing 6'6" and 260 lbs and will be turning 22 years old on January 9th.  Manoah has embraced being a Blue Jay and is projected to be a front of the line starter. After being drafted in June, Manoah pitched in just six games, and his first appearance did not come until the end of July due to his workload in his college season.  Manoah impressed in his outings by posting a with a 2.65 ERA, 1.06 WHIP and a 14.3 strikeout per nine inning rate. He had his best performance in his last appearance of the season when he threw four innings, allowing no runs, while striking out eight on one walk and three hits.
Manoah will likely start the season in High A Dunedin with the hopes he may see some time of climbing up to New Hampshire by the end of the season. Our own Tyson Shushkewich had the chance to chat with Manoah last month as well.
More from Jays Journal
Jordan Groshans
Age: 20
Acquired: 1st Round Pick, 12th Overall in 2018 Draft
Jordan Groshans is looking for a big comeback season after losing almost all of 2019 to injury.  The top offensive prospect in the Blue Jays organization is ranked as the 67th in all of baseball by MLB Pipleline.  Groshans shined in his post draft 2018 season where he batted .331 in the Gulf Coast Rookie League as an 18 year old straight out of high school.
There was a lot of hype behind Groshans going into 2019 and that he could potentially be the shortstop of the future, pushing Bo Bichette to second base (those plans appear to have changed); however an early season injury had Groshans play his last game on May 13th.  As a 19-year old, he was one of the youngest players in Single-A baseball this season and showed his hitting skill, over 23 games he hit .331 with eight extra base hits. However, his defence needed some work as he had seven errors over 20 games at shortstop.
Groshans has tweeted out some of the running workouts he has been doing over the last couple of weeks, which shows the injury looks to be behind him.  Groshans is likely going to start the season in Lansing again, but could begin the year in Dunedin instead. If he sees any playing time at New Hampshire this year, count it as a big success.
Adam Kloffenstein
Age: 19
Acquired: 3rd Round, 88th Overall in 2018 MLB Draft
Adam Kloffenstein is the High School teammate and long-time friend of Jordan Groshans.  The Blue Jays selected Kloffenstein in the third round and was able to sign him away from committing to going to one of the top baseball colleges (Texas Christian).
Like many freshly drafted high school pitchers, Kloffenstein was limited in his 2018 exposure as he pitched twice for a grand total of two innings.  However, the opposite can be said in 2019 as Kloffenstein had a lot of exposure, which included pitching in the Northwest League All-Star game (receiving game MVP) and collecting MVP for the Vancouver Canadians with the Short Season baseball team.
Kloffenstein finished 2019 with a 2.24 ERA, 1.09 WHIP and a 9K/9IP rate over 64 innings pitched.  He may even catch up with his friend this season as they could both start the season in Lansing.  Kloffenstein, who does not turn 20 until the end of the minor league season, might also get a small look in Dunedin.  The Blue Jays have a lot of pitching prospects and Kloffenstein could be the best of the next crop of pitchers that are still 20 and under.
Alejandro Kirk
Age: 21
Acquired: International Free Agent Signing in 2016
I believe that the catching tandem in 2020 will be Danny Jansen and Reese McGuire, but Alejandro Kirk could press the club to move Jansen at the end of the season.  Kirk turned 21 years old just six weeks ago and is coming off a season that saw the Blue Jays award him with the top offensive hitter in their organization.
Kirk is small in stature at just 5'9", which can help with how quick he comes out of the crouch to throw out runners.  Through three levels of minor league baseball, Kirk has thrown out 38% of the base runners. In 2019, Kirk played in both Dunedin and Lansing where his offensive stats were almost identical.  He walked more than he struck out, had a batting average of .290 with an on-base percentage of .403, while having 39 extra base hits in 92 games.
Kirk is most likely starting the season in New Hampshire and it would be really good to see him in Buffalo where he can handle a very deep young starting pitching core.
Griffin Conine
Age: 22
Acquired: 2nd Round, 52nd overall in 2018 MLB Draft
Griffin Conine was selected in between Adam Kloffenstein and Jordan Groshans by the Blue Jays in the 2018 draft.  He has arguably the best raw power from any Blue Jays prospects and will be looking at his first full season in 2020.  The Blue Jays drafted Conine out of Duke where he had 18 home runs in 63 games.
Conine reported almost immediately after the draft and played a few games in rookie ball before reporting to Vancouver in Short "A" Season.  His season in 2019 was delayed 50 games due to a suspension after being found using a performance enhancing substance.
When the season started, Conine came out destroying the baseball as he hit four home runs in his first seven games.  Conine finished his 64 game season with 22 home runs, 64 RBI and 43 total extra base hits with a .283 average with Lansing.  He collected nine outfield assists while playing all of his time in right field, so he won't be solving the centre field issue.
It is unclear if Conine will start the campaign in Dunedin or New Hampshire, but either way it isn't out of the question that if he has a strong season you could see him in Buffalo at some point of the season.
Who of these five prospects are you most excited about?  Which prospect not on this list are you ready for a big season?