Blue Jays: The 2020-21 free-agent outfield crop is mediocre at best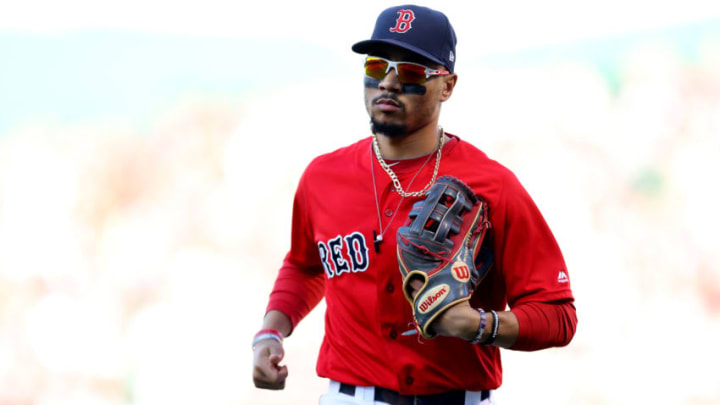 BOSTON, MASSACHUSETTS - SEPTEMBER 29: Mookie Betts #50 of the Boston Red Sox runs to the dugout during the fifth inning against the Baltimore Orioles at Fenway Park on September 29, 2019 in Boston, Massachusetts. (Photo by Maddie Meyer/Getty Images) /
Looking ahead to the 2020-21 free-agent outfield crop still does not bode well for the Toronto Blue Jays in their hopes of landing a franchise outfielder.
With the exception of Mookie Betts and maybe George Springer, next season's available outfielders are nothing short of mediocre. Even if the Blue Jays are going full steam ahead as contenders, Betts will be a hard sign and require a financial commitment never before seen north of the border.
Aside from Mookie, the Astros' George Springer would be the most desirable player among the available outfielders, the former first-rounder will be 31 years of age when he gets his first taste of free agency after earning $12 million in 2019.
Starling Marte could be on the list but the Pirates hold a $12.5 million club option with a $1 million dollar buyout for his services. The Yankees Giancarlo Stanton could opt out of his remaining 7 year/$218 million dollar agreement but there is zero chance that is happening although the Yankees brain trust would surely encourage it.
More from Toronto Blue Jays News
Available centre fielders include Jackie Bradley Jr., Enrique Hernandez, Jake Marisnick, Michael A. Taylor and Brett Gardner if New York declines his $10 million dollar team option.
Right fielders on the open market include Jay Bruce, Robbie Grossman, Nick Markakis, Josh Reddick, and Adam Eaton if his $10.5 million dollar option is turned down.
In left field, the list does not get much better with Michael Brantley, Yoenis Cespedes, Leury Garcia, Marwin Gonzalez, David Peralta, and Joc Pederson. Ryan Braun also has a $15 million dollar mutual option that includes a $4 million dollar buyout.
Obviously the list will grow once teams decide on their non-tenders but as it stands there are only a few outfielders who would excite me on that list.
Ross Atkins and company may have to look via the trade route to shore up their outfield depth moving toward 2021 and beyond.