Blue Jays: Potential is high for prospects to crack roster in 2020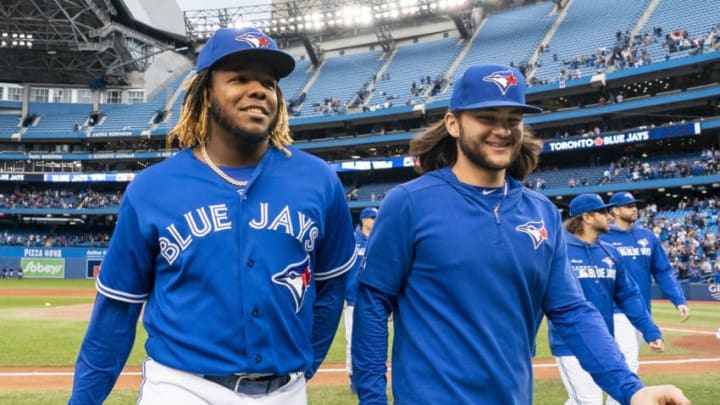 TORONTO, ONTARIO - SEPTEMBER 29: Vladimir Guerrero Jr. #27 and Bo Bichette #11 of the Toronto Blue Jays walk off the field after defeating the Tampa Bay Rays in the last game of the season in their MLB game at the Rogers Centre on September 29, 2019 in Toronto, Canada. (Photo by Mark Blinch/Getty Images) /
TORONTO, ONTARIO – SEPTEMBER 29: Vladimir Guerrero Jr. #27 and Bo Bichette #11 of the Toronto Blue Jays walk off the field after defeating the Tampa Bay Rays in the last game of the season in their MLB game at the Rogers Centre on September 29, 2019 in Toronto, Canada. (Photo by Mark Blinch/Getty Images) /
The Toronto Blue Jays boast a strong farm system, and some of the organizations top prospects could find themselves making the active roster if they perform well this spring training.
The 2020 season will be an opportunity to improve for the Toronto Blue Jays in terms of rebuilding management, as the active rosters will expand to 26 players to begin the season. That means that the Blue Jays have the advantage of adding another prospect from within the system to the major leagues, whether it be in the bullpen, in a 6 man starting rotation, or on the bench.
The Toronto Blue Jays are smack dab in the rebuild, and this season will be another trying year where prospects will continue to navigate the MLB waters. The core will still continue to develop and take shape, and the hope will be that a playoff-bound competitive team will form when the rebuild fog lifts within the next 2-4 years. It will be a difficult time, and the team will slowly keep improving year after year if the rebuild goes according to plan, spitting out a playoff-ready team destined for World Series glory.
Depending on where the Blue Jays choose to use their extra roster spot, this leverage allows for another potential prospect to shine on the major league stage in order to facilitate the rebuild.
There are multiple players who are out of options and need to find space on the roster in order to avoid the waiver wire.
There are also a slew of players who are trying to get their foot in the door, hoping that one shot on the major league roster could be their ticket out of the minor league system.
Regardless of what the Blue Jays choose to do, this next spring training is going to be a war-zone for 'bubble' players; those who haven't cemented their spot on the active roster just yet. If they stumble out of the gate in spring training, they could see themselves riding the bus down to Buffalo, where they will patiently have to wait for their phone to ring for another opportunity to show what they are capable of under the bright lights of the Rogers Centre.
A strong spring can avoid the bus ride altogether, with the added incentive to keep on producing or risk being demoted back to Bison country.