Blue Jays: Another minor leaguer busted for PED's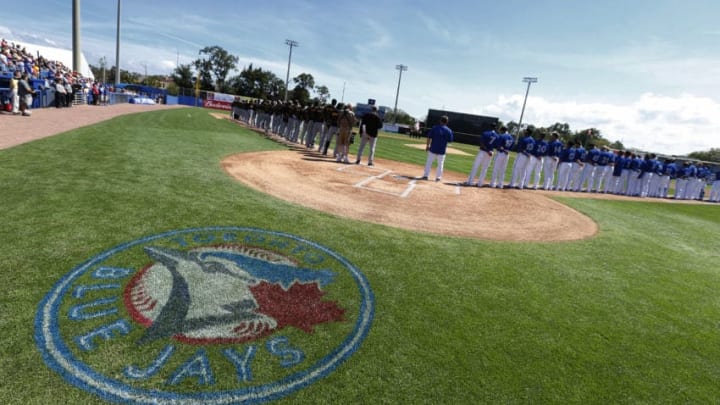 DUNEDIN, FL - MARCH 3: General view as the Toronto Blue Jays prepare to host the Pittsburgh Pirates in the spring training opener for both teams at Florida Auto Exchange Stadium on March 3, 2015 in Dunedin, Florida. (Photo by Joe Robbins/Getty Images) /
Toronto Blue Jays farmhand Jackxarel Lebron is the latest in a long list of prospects who have been busted for performance-enhancing drugs.
The league announced that Jackxarel Lebron would be suspended for 52 games following a positive test for the banned substance Boldenone. Lebron is not the first Blue Jays prospect to test positive for that specific anabolic steroid.
The 19-year old spent last season with the Blue Jays Rookie affiliate in the Gulf Coast League making seven appearances compiling an 11.32 earned run average in 10.1 innings pitched in his first taste of pro ball. The native of Puerto Rico was selected in the 16th round of the 2019 amateur draft.
Lebron is the second Puerto Rican farmhand busted since the conclusion of the minor league campaign. Earlier in September, pitcher Luis Quinones was suspended for 80 games after testing positive for Nandrolone.
More from Toronto Blue Jays News
In 2018, three minor leaguers were nabbed cheating including Joel Espinal– 80 games for Stanozolol, Griffin Conine– 50 games for Ritalinic Acid and Thomas Pannone– 80 games for Dehydrochlormethyltestosterone (DHCMT).
In 2017, six players were collared for using Boldenone who all had began the season with the Blue Jays' Dominican Summer League Program. The Blue Jays minor league ranks were called into question when Jol Concepcion, Hugo Cardona, Yhon Perez, Leonico Ventura, Juan Jimenez, and Naswell Paulino were all suspended in November.
A couple of months earlier Luis Pena was suspended for72 games for testing positive for Stanozolol.
During the end of the 2016 season, Chris Colabello was dinged for the same banned substance that Pannone tested positive for in 2018. Colabello would never be the same player following the suspension and eventually disappeared from the game.
Jesus Montero tested positive that same season for dimethylbutylamine while a member of the Triple-A Buffalo Bisons.
And we can't forget the 50-game suspension that Marcus Stroman received for having the banned substance Methylhexaneamine in his system in 2013.
You would think in this day and age, the players would be more educated and mindful of the substances they can and can't put into their bodies. The reward may outweigh the risk for some players attempting to take their game to the next level and breakthrough at an elite level.