Blue Jays: Alex Anthopoulos in hot water over comments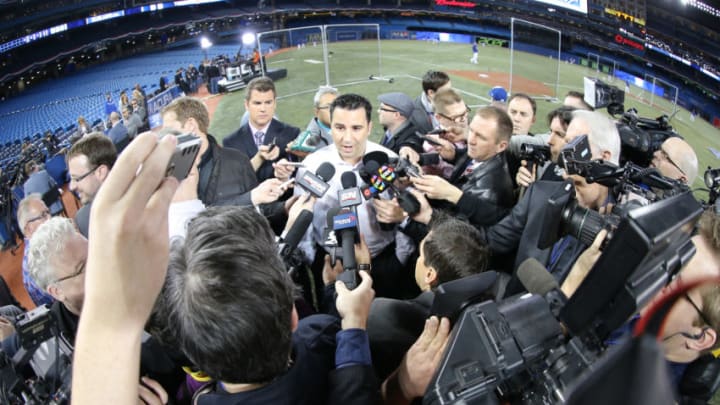 TORONTO, CANADA - APRIL 4: General manager Alex Anthopoulos of the Toronto Blue Jays talks to media befoe MLB game action against the New York Yankees on April 4, 2014 at Rogers Centre in Toronto, Ontario, Canada. (Photo by Tom Szczerbowski/Getty Images) /
Former Toronto Blue Jays General Manager Alex Anthopoulos is in a little bit of hot water with the MLBPA over comments which inferred there is collusion among teams regarding free agents.
Alex Anthopoulos was affectionately referred to as the "Silent Assasin" during his Blue Jays tenure and is best known in Atlanta for locking up both Ronald Acuna and Ozzie Albies on team-friendly contracts.
However, Anthopoulos is at the head of some controversy regarding comments he made on a recent conference call to reporters. During the call, A.A. advised he has spoken to 27 clubs in regards to getting a sense of what they were going to look to do in free agency.
"Every day you get more information. And we've had time to connect with 27 of the clubs — obviously the Astros and (Nationals) being in the World Series, they were tied up — but we had a chance to get a sense of what the other clubs are going to look to do in free agency, who might be available in trades."
With the current climate surrounding free agents, the comments garnered the immediate attention of the MLBPA Director Tony Clark who launched an investigation into possible collusion amongst team officials. The official statement released on behalf of the MLBPA is below.
Anthopoulos issued an apologetic rebuttal via the Braves Twitter feed in an attempt to get ahead of the comments before they snowballed.
""In advance of the General Managers meetings, I called around to Clubs to explore the possibility of potential off-season trades. At no time during any of these calls was there discussion of individual free agents or the Braves' intentions with respect to the free agent market. To the extent I indicated otherwise during my media availability on Monday, I misspoke and apologize for any confusion.""
It would appear that Anthopoulos meant to imply he was doing his due diligence when speaking with other teams and did not intentionally mean to infer he was colluding about potential free agents. Perhaps a Freudian slip on behalf of the Silent Assasin.