Blue Jays: If you're not a star, you had better be flexible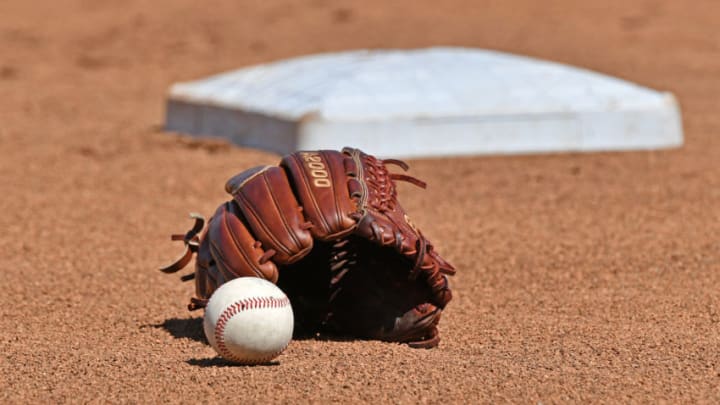 Omaha, NE - JUNE 24: A general view of a baseball and glove in the the field, prior to game one of the College World Series Championship Series between the Michigan Wolverines and Vanderbilt Commodores on June 24, 2019 at TD Ameritrade Park Omaha in Omaha, Nebraska. (Photo by Peter Aiken/Getty Images) /
The Blue Jays have really put an emphasis on defensive flexibility with their minor league development over the last few years, with a few exceptions of course.
There's not a whole lot going on when it comes to live baseball related to the Toronto Blue Jays these days. Other than a few former players still in the playoffs, all there is to follow is the Arizona Fall League, which is pretty quietly represented this year.
The Blue Jays elected to send a six players to the desert this fall, including infielders Logan Warmoth and Kevin Smith. Warmoth was a first round pick in 2017 and Smith has appeared on organizational top 30 lists for the past couple of years, but neither player had a good season in 2019. Smith slashed .209/.263/.402 in 116 games, and Warmoth was slightly worse with a line of .200/.290/.277, both with Double-A New Hampshire. That's part of that reason that the duo extended their work into the AFL schedule, and hopefully the extra time will translate into improved play in 2020 for both of them.
One thing that Warmoth will carry with him from the experience is an addition to their defensive repertoire, at least in theory. He's played almost exclusively as an infielder throughout his pro career other than four innings in centre field in 2019, but apparently is working to expand that part of his game, at least according to a tweet from Sportnet's Ben Nicholson-Smith. I'm not sure if the Blue Jays plan to do the same with Smith, but it wouldn't surprise me. It's something that's becoming more and more common throughout baseball, and it seems to be a particular focus in the Blue Jays' organization. We saw Cavan Biggio work on the same thing last year during AFL games, even though he seems to be entrenched as the second baseman going forward.
More from Jays Journal
The Blue Jays' front office has talked about a desire to be more flexible with the next generation of this team, and it's clear that they're going to find whatever ways they need to in order to make that happen. That is, with the exception of the cream of the prospect crop, as you don't see Vladimir Guerrero Jr. or Bo Bichette playing anywhere but their full-time position. Bichette had some limited experience at second base during his MiLB career, but he's firmly entrenched at shortstop, as is Vlad Jr. at the hot corner (at least for now).
For Warmoth and Smith, the ability to bounce around the diamond could help them to fit into the future plans for the Blue Jays, help improve their trade value down the road, or it may help them find a road to the big leagues altogether. Take Lourdes Gurriel Jr. for example, who looked lost at the MLB level as a second baseman early in the 2019 campaign. He had a classic case of the "yips", and there was a real threat to his career if he couldn't get over the mental hurdle.
Thankfully when the Blue Jays gave him a break and starting playing him the outfield in Buffalo, he started to hit again and suddenly it didn't seem like a temporary solution. The Blue Jays already had a glut of infielders with plenty more on the way, and a need in the outfield. Gurriel Jr. had proven he could hit, and showed that he was a more than capable defender in left field. For the time being anyway, problem solved.
It's going to take more than a position change to make the difference for Warmoth and Smith, but it certainly doesn't hurt to experiment with the idea, and the AFL is the perfect time to do it. It's almost like the early stages of spring training, where working on something in particular is more important than the results, and for the duo there are a few goals in Arizona right now. One, find the groove that made them sought after prospects at one time, and two, hopefully add a tool to their belts.
It's clear that the Blue Jays value positional flexibility, both to help enhance player value, but also to help their development and ceiling. It worked for Gurriel Jr., and the hope is that the Blue Jays can still extract the most from the talents of all of their prospects, including Warmoth and Smith.