Blue Jays: A look at the 2019 Drafted Positional Players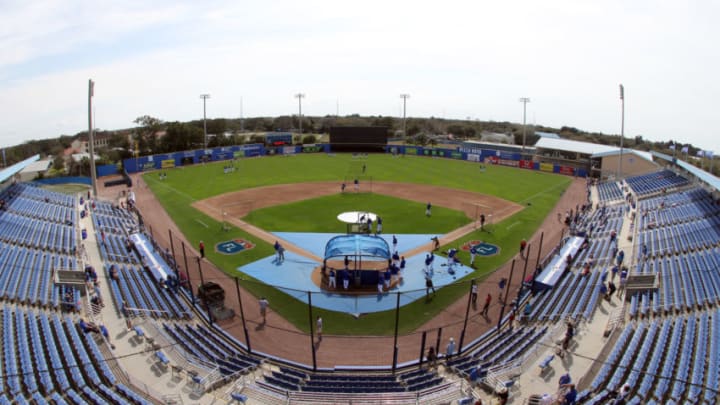 LAKELAND, FL- MARCH 02: A general view from the spring training home of the Toronto Blue Jays before the game against the Philadelphia Phillies at Florida Auto Exchange Stadium on March 2, 2016 in Dunedin, Florida. (Photo by Justin K. Aller/Getty Images) /
The MiLB season has been over for about a week and most of the recently drafted players are taking some time off after long College seasons that led into their first professional season.  Most of the hype surrounded 11th overall selection, Alek Manoa, so in this article I'll take a look at which position prospects from the 2019 excelled from the draft.
Out of the 40 rounds, the Blue Jays drafted 17 position players, with 15 of them signing , and 13 playing in games.  7th Rounder LJ Talley played at the highest level as he played 52 games for Lansing.  Oakville native, Dasan Brown and the teams' third round pick was the youngest to suit up for games at just 17-years of age for the Blue Jays Gulf Coast League team.  Here is a look into who played well after the draft.
Will Robertson (4th Round Pick – 21 years old)
Will Robertson was the second highest position player drafted by the Blue Jays and reported to Vancouver where he suited up for 61 games.  Robertson is a big, strong right fielder that should develop power.  Robertson batted .268 which included 18 extra base hits (11 doubles, one triple and six home runs).  He also walked 31 times in just 263 plate appearance for a .365 on base percentage.
Eric Rivera (14th Round Pick – 21 years old)
Eric Rivera turns 22 in just over a week and played the entire season in Bluefield in the Blue Jays Rookie league, getting in to 53 games.  Rivera has good speed and eye at the plate. He was 7 for 7 in stolen bases and walked more then he struck out (30:28) for a .378 on base percentage.  There isn't a ton of power in Rivera, but that isn't a big part of his game.  Rivera split his games between left field and centre field; and while playing left field he picked up four assists in 20 games without an error.
More from Jays Journal
Ryan Sloniger (38th Round Pick – 22 years old)
I talked about Ryan Sloniger a couple times in two articles about important catchers in the Jays organization, which you can read them here and here. Sloniger put on more miles than anyone else of the drafted players as he first reported to Bluefield, then after two games he got moved up to Vancouver for seven games where he batted .280 with a .333 on base percentage.  After playing 28 more games and dominating in Bluefield with a .327 average with nine home runs he got moved back to Vancouver where he finished out the season batting .255 in Vancouver.  Sloniger led all minor leaguers from the 2019 draft with 10 home runs.
Tanner Morris (5th Round Pick – 20 years old)
Tanner Morris was impressive playing up the middle for Vancouver.  Morris started 28 games at second and 29 games at shortstop; and looked pretty even at both positions.  Morris is still just 20-years old for another couple of days and showed a lot of patience at the plate.  Morris had the best on-base percentage of the new crop of prospects that played at least 15 games, as walked 49 times and had a .384 on-base percentage.  Morris also finished second to Spencer Horwitz with 16 doubles, although Morris played the entire season in A-Ball.
Philip Clarke (9th Round Pick – 21 years old)
The second catcher on our list, Philip Clarke played his entire season with Vancouver and got into 37 games.  He is a solid defensive catcher and threw out 24% of the base runners trying to steal off him (9 for 29).  At the plate Clarke batted .257 (37 for 144) with seven extra base hits and drew 21 walks while striking out just 22 times.
Dasan Brown (3rd Round Pick – 17 years old)
Dasan Brown is a Canadian kid who was taken in the third round pick.  When he was drafted it was unclear if the Jays would be able to get him away from going to Texas A&M in the fall.  The Jays were able to sign him and used him sparingly through the summer as he is still just 17-years old.  Brown played the entire time with Bluefield and registered extra base hits in each of his first three games.  While Brown batted just .222, he did have a .444 on base percentage in just 14 games.
This was just part of a summer for most of the kids, but taste of what to expect. 2020 will really help tell the Blue Jays and fans know which prospects will start to separate themselves.