Blue Jays: Checking In On The Top 2019 Drafted Pitchers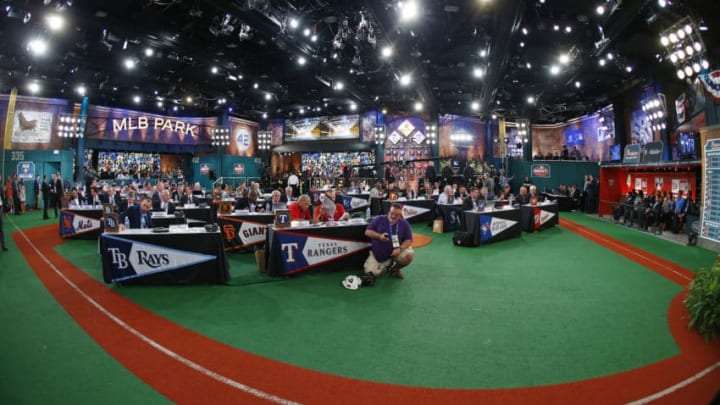 SECAUCUS, NJ - JUNE 5: Representatives from all 30 Major League Baseball teams fill Studio 42 during the MLB First-Year Player Draft at the MLB Network Studio on June 5, 2014 in Secacucus, New Jersey. (Photo by Rich Schultz/Getty Images) /
As the 2019 Minor League system came to an end on Monday, a lot of the prospects will go home and rest for a bit after college and minor league seasons.  But how did these players do?  There are 40 rounds of draft picks and most people may have just followed Alek Manoah.
Of the 40 rounds in the draft, the Jays selected 23 pitchers, they signed 15 of them and 13 have pitched a game in the organization so far.  I will dive into which prospects from the 2019 draft excelled in their first taste of professional ball.
Alek Manoah (1st Round Pick)
The most notable player from this past draft was Alek Manoah and he did not disappoint.  The 21-year old pitched in six games with Vancouver in "A" ball short season, in which the opposition failed to score a run in four of them and twice he averaged at least two strikeouts per inning.  In his final appearance of the year on August 26th, Manoah struck out eight batters in four innings.  Manoah finished with a 2.65 ERA over 17 innings a WHIP of 1.06 and averaged 14.3 strikeouts per nine innings.
Kendal Williams (2nd Round Pick)
The Jays used their second round pick to draft 6'6" high school pitcher Kendall Williams.  Williams reported to the Blue Jays Golf Coast League (GCL) and was very impressive.  In his first professional appearance on July 23rd he pitched one inning, allowing a run, a walk, and a hit with a strikeout.  After that appearance he pitched five more times for 15 IP, allowing just five hits, six walks and one run while adding 18 strikeouts.  Williams just turned 19 years old two weeks ago.
More from Jays Journal
Michael Dominguez (15th Round Pick)
Another high school player who just turned 19 in August, the Blue Jays used their 15th round pick on Michael Dominguez.  Dominguez also reported to the Blue Jays GCL team.  Dominguez was nothing short of impressive.  In nine appearances, Dominguez pitched 24 innings and struck out 29 batters while allowing just three earned runs.  Dominguez had a WHIP of 0.96.
Nick Fraze (22nd Round Pick)
Nick Fraze was drafted in the 22nd round from Texas State where he threw almost 90 innings.  Fraze was one of the leaders for innings pitched by the drafted players by tossing 34 innings in Vancouver.  Fraze had a WHIP of 0.91 and gave up just one home run against the 131 batters he faced, with 21 hits total.  His ERA on the season was 2.12 and over his last 10 appearances it was 1.20 over 30 innings.
Luis Quinones (34th Round Pick)
A very late draft pick, the Blue Jays selected Luis Quinones in the 34th round and he first reported to Bluefield in Rookie ball.  After two appearances, he struck out 10 batters in just 6 1/3 innings and he was moved up to Vancouver.  Quinones was dominant in Vancouver outside of one blip, which was his final game of the year.  Going into the final game, Quinones had posted a 1.29 ERA and a 0.89 WHIP.  He finished the year season averaging 14.2 strikeouts per nine innings.
Blake Sanderson (31st Round Pick)
Blake Sanderson was the oldest pitcher drafted by the Blue Jays and also played at the highest level.  Sanderson originally reported to the Blue Jays GCL league where he struggled in his first appearance, but bounced back.  In his last four games he pitched 11 2/3 innings, did not allow a run and struck out 14; after that appearance he was called up to Dunedin and has been the only recent draft pick to reach that level so far.
With names such as Nate Pearson, Anthony Kay, Simeon Woods Richardson, Eric Pardinho and Adam Kloffenstein already well known it is nice seeing another crop of pitchers following them up through the system.