Blue Jays: Alek Manoah embracing Toronto and the rest of the country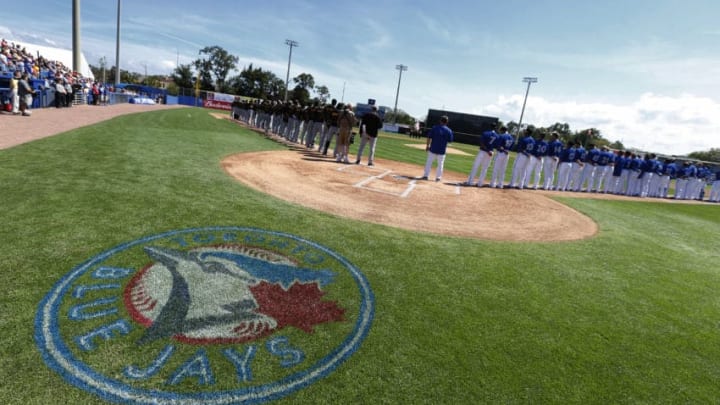 DUNEDIN, FL - MARCH 3: General view as the Toronto Blue Jays prepare to host the Pittsburgh Pirates in the spring training opener for both teams at Florida Auto Exchange Stadium on March 3, 2015 in Dunedin, Florida. (Photo by Joe Robbins/Getty Images) /
Our own Cam Black-Araujo had the opportunity to chat with Alek Manoah, the Blue Jays' 2019 first-round draft pick, and a talented pitcher and quick fan favourite.
When Alek Manoah, a hard-throwing 6-foot-6 right hander from West Virginia University, was selected 11th overall by the Blue Jays in this year's draft, he didn't even own a passport. He had also never stepped foot outside the United States.
Now just a couple months later, he's living in Vancouver and has tried some Canadian classics such as poutine and Canadian bacon, both of which he loved.
Despite growing up south of Miami in Homestead, Florida, Manoah has quickly embraced this entire nation and all it has to offer which has helped him become a fan favourite just months into his Blue Jays career.
More from Jays Journal
His twitter account (@Alek_Manoah47) allows him to connect with fans across the country and he says he likes to make sure the fans know they are appreciated as well after seeing all the support he's received since being drafted.
"I get a lot of notifications sometimes so I at least try to favourite everyones tweet or throw a like on it or just give a quick "thank you" and direct message them and let them know I appreciate it," said the 21-year-old. "With a busy schedule in the minor leagues, finding time for the fans is something that's extremely important to me because as players that's something we feed off so it's important to put them first as well."
Through his interactions with fans he has come to know a lot about Canada and although he has yet to use bagged milk, he's already educated enough to pass on some tips to new players joining the organization such as Anthony Kay, who came over in the Marcus Stroman trade.
Another thing that's easy to notice about Manoah is the excitement he has for the future of the Blue Jays. He's had a lot of fun following the youngsters tearing it up with the big league team right now, but it's the young arms that will accompany those position players over the next few years that really gets him excited.
Manoah ranks 4th among Blue Jays prospects and joins several other impressive arms in the top seven such as Nate Pearson, Eric Pardinho and recently acquired Kay and Simeon Woods Richardson. You can hear the enthusiasm in his voice as he discusses the future of the club and he knows this wave of pitchers, including himself, will make an impact at the major league level one day.
"I know when the Blue Jays see our future pitching staff, they see all of us in the rotation or some at the back of the bullpen as main relievers so there's room for all of us. With management moving some of the other guys out around the trade deadline, I think that's them proving to us that the future is ours."
The former Mountaineer is confident in this group of pitchers and knows they will compliment the positional talent very well, and that's why he's setting high expectations for what this organization can accomplish with the youth movement.
"I think with due time, once we all get past our development phase and we're ready for the big leagues, I think we're all going to be ready to make that next step and hopefully stay together for the next 10-12 years and make a run at winning the pennant and make a run at bringing some titles back to Toronto."
Manoah has only been a Blue Jay for just over two months, but it's easy to already envision him as one of the puzzle pieces in the future rotation. He takes pride in his durability on the mound and his ability to throw strikes, as well as an ability to generate swings and misses that should allow him to move through the system without a ton of difficulty.
But the 21-year-old isn't looking that far ahead, just staying in the moment and enjoying where he is. It's been a crazy couple months for him after pitching in the NCAA tournament for West Virginia in early June, inking a deal with the Jays shortly after that included a signing bonus of roughly $4.5M, and now living in a country he hardly knew much about at the beginning of 2019.
It's been a lot to take in for Manoah, and his passion for baseball has made the transition easy, as he says it's all just another stepping stone along the path to making his dream come true of playing major league baseball.
"I have faith that every step I take is the correct step and it's one step closer to the final destination for me. These are things I've prayed for and I hoped would happen and God has granted me with all these blessings so going city to city, state to state, country to country has been a huge blessing for me to move around and play the game that I love."