Blue Jays: This offence will create rebuild urgency in a hurry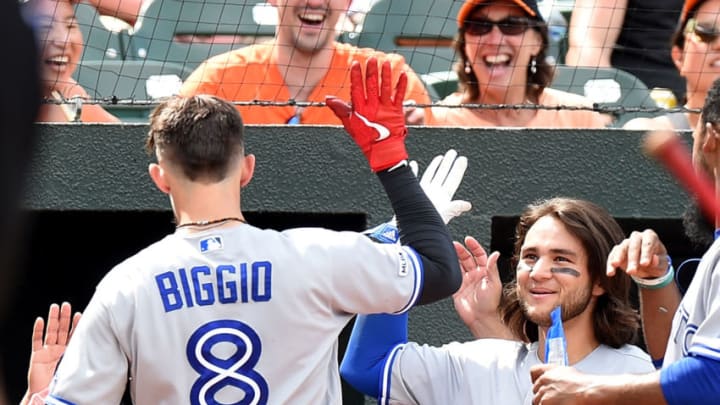 BALTIMORE, MD - AUGUST 04: Cavan Biggio #8 of the Toronto Blue Jays celebrates with Bo Bichette #11 after hitting a home run in the seventh inning against the Baltimore Orioles at Oriole Park at Camden Yards on August 4, 2019 in Baltimore, Maryland. (Photo by Greg Fiume/Getty Images) /
There may be a lot of learning yet to do for this young Blue Jays squad, but at the rate the offence is growing this should be a short rebuild.
If you've been watching the young Blue Jays over the last week or so, then you're probably feeling pretty good about the future of this team, whether you liked the trades made before the July 31st deadline or not.
The Blue Jays are well set up for the future because of the talent they already have on the offensive side of the ball. Bo Bichette has been a revelation since joining the team seven games ago, collecting at least one hit in every game he's played and setting a franchise record to start his career. He's also hitting .406/.457/.750 (13-32), already picking two doubles and two home runs as well.
He's just the latest young talent to give this lineup a boost, as we've seen Vladimir Guerrero Jr. really pick things up at the plate lately, Lourdes Gurriel Jr. go through hot streaks as one of the most dangerous hitters in the American League, and really encouraging growth from others like Cavan Biggio and Danny Jansen. The kids have arrived, and the keys to the clubhouse have been handed over.
More from Jays Journal
In my mind, those are the five players that will form the nucleus of this team going forward, but there's a good chance there are others that can and will stick with this roster going forward as well. Randal Grichuk has overcome another slow this year and has looked a lot better lately (well, not literally. Sorry Mr. Grichuk), which is a great sign after he signed a five-year extension earlier this year. The Jays have received a much improved contribution from Teoscar Hernandez as well, and the front office is obviously high on Derek Fisher's future in Toronto after the acquisition cost they paid to get him from Houston. Rowdy Tellez has been putting things together in Triple-A again too, and has shown he can be a legitimate power threat in the big leagues.
Add it all up, and I would argue that all this lineup really needs is time to gain the valuable experience they need to truly compete in the most difficult division in baseball. They're up against the Rays and Yankees as their next two opponents, and it will interesting to see how the young talent fares against better talent, as they've looked pretty great against the Royals and Orioles lately. Regardless, these kids can hit and there are a lot of reason to be excited about the amount of runs they are capable of scoring.
The Blue Jays' front office may see themselves in the early stages of their rebuild right now, but I would argue that they are going to find themselves in a place of urgency, sooner than later. The league is getting younger all the time, and while I don't think the Blue Jays are quite ready to pursue a World Series title even next year, I don't think it's out of the question that they'll be pushing for a playoff spot by 2021. That is, if the front office can put together enough talent on the pitching side of the ledger.
Don't get me wrong, there are solid pieces to be excited about in the system already, including the two arms that the Jays got back for Marcus Stroman in last week's trade. However, there's no way that the Blue Jays are going to develop their pitching talent at the same rate that their offence is going to be ready to flourish, and that will need to be addressed in time. That time hasn't come yet, but the more I watch guys like Bichette with strong debuts, and see important steps of growth for Guerrero Jr., Guerriel Jr. Jansen and others, the more I believe they'll eventually push the front office.
The Blue Jays are pretty thin in their starting rotation and even in their bullpen right now, but the good news is that they'll have a chance to evaluate a lot of young arms for the rest of the season. Some will stick, some will fill a role for a while, and others won't be able to cut it at the highest level, but the coaching staff will get a chance to figure out who wears what hat. It'll also help them figure out what they'll need going forward.
When that time comes, sooner than later, the Blue Jays should have all the payroll space they need, and quite a few prospects available to help them supplement their big league roster needs. I don't expect that the front office is going to shift direction before next season or anything, but the more the youth of this franchise impresses and shows it's ready to compete, the sooner that day is going to come.