Blue Jays: Prospect Josh Hiatt adjusting to starters role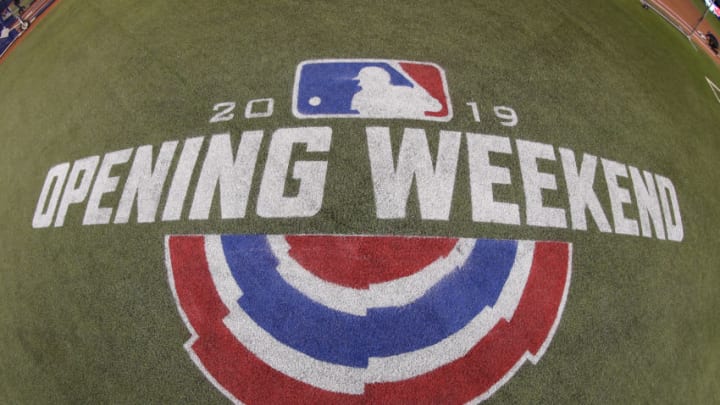 TORONTO, ON - MARCH 28: A decal on the turf marks the Opening Day weekend of the 2019 MLB season before the start of the game between the Toronto Blue Jays and the Detroit Tigers at Rogers Centre on March 28, 2019 in Toronto, Canada. (Photo by Tom Szczerbowski/Getty Images) /
The Toronto Blue Jays 16th-rounder in 2018, Josh Hiatt, is still playing the same game he fell in love with when his dad came home with a bat and glove when he was just eight years old, but baseball has been a little different for him this season.
Last year he was pitching in his home state at the University of North Carolina working in the closer's role and helping his team reach the College World Series in Omaha.
Now 12 months later he's pitching roughly 11 hours away from North Carolina, in Lansing, Michigan with a new found role which sees him begin most of his outings at the start of a game and not in the final few innings.
The transition hasn't been a difficult one for Josh Hiatt as he knows it's still the same game being played but the adjustments he's needed to make are felt more in his preparation as opposed to actually on the mound.
"Some of the adjustments for me were just my routine in changing from a reliever to a starter. So getting used to throwing every fifth day and kind of changing my routine based off that and how soon before a game I get ready," explained the 22-year-old right-hander from Charlotte.
More from Toronto Blue Jays Prospects
"I think the biggest adjustment for me wasn't actually going out and throwing the ball a different way and changing that up, but just the routine and how I go about my business."
Despite being caught in a new role on the field and a new situation away from the field, Hiatt isn't having any troubles adjusting to the lifestyle that comes with pro baseball. Often times part of adjusting to that lifestyle comes with sharing a room with as many teammates that can fit into an apartment and living paycheck to paycheck.
It can certainly resemble the college lifestyle but Hiatt says he was lucky enough to be selected by a club that is looking after their minor leaguers, including even the lowest levels as this season the Blue Jays upgraded their MiLB pay by over 50 percent.
"It's definitely helped because before I got in pro ball all I heard about was six people in an apartment and three people in the living room and all this crazy stuff," explained Hiatt, recalling stories from other minor leaguers he previously played with.
"The biggest help is paying rent and not having to worry about what you're going to eat and also not having to go cheap every time. It's been a blessing to get drafted by an organization that cares about the players enough to do this, so it really has been a big help not just to me, but a lot of the guys."
Extra money isn't the only thing that's been helping Hiatt settle in with Lansing and the Blue Jays organization. He played in some big games in one of the country's top conferences (Atlantic Coast Conference) and even pitched against the two of last year's top four picks in the draft, Nick Madrigal of Oregon State and Joey Bart of Georgia Tech.
Every year the North Carolina Tar Heels find themselves around the top of the rankings and in contention for the World Series and its experiences like that that have allowed Hiatt to keep the nerves and pressure away from him so far in pro baseball.
"Playing against ACC teams all the time helped me in my transition to pro ball because I'm already used to facing the best players from those top teams. Most of those 3 and 4 hitters from the ACC are all in low-A now," added Hiatt.
"Pitching in the ACC you have all those big matchups everyone looks forward to when you go down to the Florida State's or when you're playing at home against an NC State. There's a lot of pressure in those situations where if you don't do well you can't make the tournament."
Those big pressure moments didn't faze Hiatt one bit, becoming the teams closer as a redshirt freshman in 2017 and pitching to an ERA of 1.90 with a WHIP under 1.000 and striking out 64 batters in 52 innings.
Everything from his time with the Tar Heels to the times he was throwing the ball with his dad at a young age and all the little moments in between are now culminating into a season with Single-A Lansing.
All of those moments have allowed him to quickly settle into his new life and that's showed with his on-field performance.
Despite a hamstring injury that currently has him on the 7-day Injured List, he has an ERA of 4.10 in a league where teams average 4.30 runs per game. He's been able to keep the ball on the ground this year and has already surpassed his season high of innings pitched in college, saying his arm still feels great even with the added workload as a starter.
With only 15 career games in the minors, Hiatt is truly just getting started.
He's pitched on national television in the U.S. on several occasions and he's hoping it's not too far down the road until he's on the national stage again… but this time north of the border, on Sportsnet with the Blue Jays.
You can find Josh on Twitter at the following: @joshlhiatt