Blue Jays: Must-see home and road series in 2019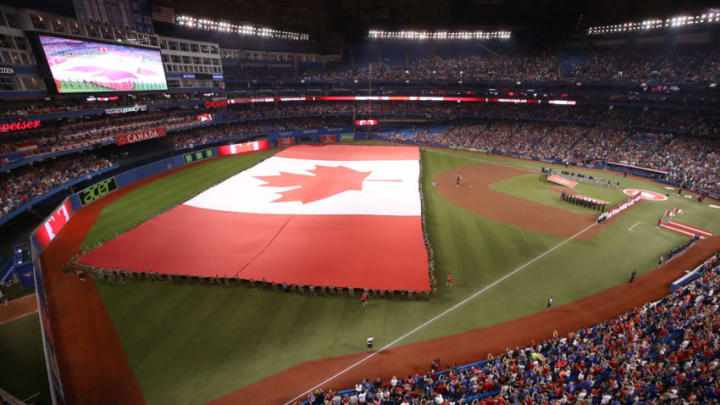 TORONTO, ON - JULY 1: A large Canadian flag is held by members of the military during the singing of the Canadian anthem on Canada Day before the start of the Toronto Blue Jays MLB game against the Detroit Tigers at Rogers Centre on July 1, 2018 in Toronto, Canada. (Photo by Tom Szczerbowski/Getty Images) /
Baseball season is almost back. With this piece being written on Sunday, March 17th, we are just 11 days until the Detroit Tigers come to play your Toronto Blue Jays for the season and home opener.
Because of that, I bring you my top home and road series to head on down to the Rogers Centre for or hit the road with friends to see the Blue Jays in 2019.
10. at Baltimore Orioles
The on-field product may not be there like it was just a few seasons ago, but if you're looking for a road trip, this series kicks off the list. Thursday, August 1st through Saturday, August 3rd are all 7:05 pm starts with getaway day on Sunday, August 4th being at 1:05.
Why this trip? Baltimore is about an eight to nine-hour drive from Toronto, so it is doable in a weekend, but even more so this series because on Monday the 5th, it's the Civic Holiday in Ontario. You get a bonus day to drive home and might not even need to take a vacation day off work to make this series if you do the Saturday and Sunday games.
The Blue Jays dominated the hopeless Orioles in 2019, so there's a good chance you can see some wins. The bonus as well is that there are tons of cities on the way to Baltimore to catch a game. The Pittsburgh Pirates are at home that weekend as are the Philadelphia Phillies, so you can break up your trip to see some other ballparks.
9. vs. Detroit Tigers
The season-opening series comes in at number nine on the list with a four-game series against the 401 rivals where Tigers fans will surely come for the weekend. Opening Day is Thursday, March 28th at 3:37 pm with Friday at 7:07 pm, Saturday the 30th at 3:07 pm, and the 31st at 1:07 pm.
With the season kicking off this series, you're guaranteed to see Marcus Stroman, Matt Shoemaker, Aaron Sanchez, and Ryan Borucki. You get the best four starters for either team. The Tigers aren't expected to be that good in 2019, so there's a chance for some wins the kick off the season here. There's also the excitement that comes with a new season, so there should be some decent sized crowds.
8. at Cleveland Indians
The first road trip of the season for the Blue Jays starts at the Cleveland Indians for a four-game series. You get the Thursday, April 4th game at 6:10 pm, Friday at 7:10, Saturday at 4:10, and Sunday at 1:10 pm.
Cleveland is only a four to five-hour drive dependent on traffic out of the city, through Buffalo, and as you move closer to Cleveland. This trip can be done without taking any vacation time due to the proximity of Cleveland.
There are tons of good breweries around the Cleveland area, the Rock N Roll Hall of Fame, and even though they're not good, you can catch a Cleveland Cavaliers home game against DeMar DeRozan on the Sunday, should you please. The Buffalo Bisons are at home that weekend as well, so you could hit up Sahlen Field to see Bo Bichette on your way to Cleveland or back to Toronto, too!
7. vs. San Diego Padres
Before the 2016 season, the Padres had never visited Toronto in either of the franchise's existence. The Blue Jays had been to Petco Park a bunch, but the San Diego Padres had never been to Rogers Centre. Now, they'll be here for the second straight meeting between the two clubs.
The Padres signed Manny Machado this off-season, so optimism is at an all-time high amongst Padres fans. The Padres also have their own version of Vladimir Guerrero Jr. in Fernando Tatis Jr., who likely will be up with the Padres when this series rolls around. The question surrounding the Padres is the lack of a pitching rotation, which is why the rumours were flying about Marcus Stroman and the Padres this off-season.
Perhaps we'll be watching Marcus Stroman's next team in this series. It's possible! But a weekend down at the ballpark in late May, with a set of Friday 7:07 pm, Saturday 3:07 pm, and Sunday 1:07 pm games make this a good time to come down. Plus, it's country weekend!
6. at Boston Red Sox
Blue Jays fans have flocked to Fenway Park over the last few years, so this weekend deserves a shoutout for a trip to take this summer. While Boston fans can be serious pieces of work, the rivalry between the two cities is always fun to take in. Plus, you're at a historic ballpark.
The Red Sox once again figure to contend with the New York Yankees for the division. The loser of the division will likely host the wild card game. This series could be ugly for the Blue Jays, but it's always a fun time getting to go to Fenway. This three-game series has a Friday 7:10 pm, Saturday 4:10 pm, and Sunday 1:10 pm set of first pitches and is the weekend of June 21st-23rd.
If you want to extend your vacation into the week following, take the train or the four-hour drive south to see the Blue Jays at Yankee Stadium.
More from Toronto Blue Jays News
5. vs. Kansas City Royals
Canada Day weekend and Blue Jays baseball has become a great tradition for those who aren't out at their cottage for the weekend. If you're in the city, you have four games starting June 28th at 7:07 pm, Saturday at 4:07 pm, Sunday and Monday at 1:07 pm to see the Jays play the Royals.
Note, that all Saturday Blue Jays games are starting at 3:07 pm except for this scheduled 4:07 pm first pitch. Regardless, if you're in the city, it's always a fun weekend at the ballpark. Monday is Canada Day and it's usually a sea of red with the dome sold out.
The Royals don't figure to be very competitive this season, so the Blue Jays could deliver a winning series to celebrate Canada. It's also fun seeing what starter gets the ball on Canada Day for the Blue Jays.
4. vs. New York Yankees
There's always an attendance boost when the Yankees come to Toronto, but especially so over the weekend. This four-game series kicks off at on August 8th, a Thursday night at 7:07 pm with a Friday 7:07 pm game as well as 3:07 on Saturday and 1:07 pm Sunday.
There isn't much to say about this series other than the fact you'll get to see a ton of star power with the likes of Aaron Judge, Giancarlo Stanton, and many others. There's a good chance we'll get to see J.A. Happ start in Toronto as well with it being a four-game set. It's the start of a lengthy homestand as well with the Texas Rangers and Seattle Mariners coming to town the following two series.
3. at Los Angeles Dodgers
The Blue Jays make a trip to the west coast to play at Dodger Stadium, which will surely be a draw for tons of western Canada Blue Jays fans, but fans all across Canada as well. It's a three-game midweek series starting Tuesday, August 20th through to the 22nd on Thursday. It's late start times on the East coast. Blue Jays fans will get to see Russell Martin playing for his new/old team as well.
Dodger Stadium is one of the last of the old ballparks, so it is quite historic and worth making the trek to Los Angeles for the series. It's also been a while since the Blue Jays last played at Dodger Stadium, so take advantage of this series if you can! It also ties in nicely with the next series right after, which I'll get into below.
2. at Seattle Mariners
Immediately following the Dodgers series, the Blue Jays head north to Seattle for the famous Canadian invasion at Safeco Field. This series is one which Blue Jays fans have to do, because they take over the entire ballpark, much to the dismay of Mariners fans and media.
The great thing about the Blue Jays representing an entire country is fans two hours north in Vancouver come down in flocks as well as others from Alberta and Saskatchewan. In fact, fans from all over Canada have made this trip lately because it's turned into a home series for the Blue Jays despite being on the road.
If you want to get really creative and take the entire week off, fans could start the series before at Dodger Stadium and drive up the coast to see the Jays in Seattle. Stop in Portland on the way north and you have yourself an excellent Blue Jays road trip.
1. vs. Atlanta Braves
The top series of the year is a very brief two-game stint on Tuesday, August 27th and 28th, both 7:07 pm starts. This series is going to be a very special one for Blue Jays fans because Josh Donaldson makes his return to the Rogers Centre for the first time since the trade to Cleveland last August.
Alex Anthopoulos' Braves are set to be contenders for the post-season yet again with young stars and veterans like Donaldson. Mike Soroka, a Canadian pitcher from Calgary is also on the Braves. Soroka pitched in Toronto last year, which was fun to see. The Braves are talented but in a tough division with the Washington Nationals, New York Mets, and Philadelphia Phillies, who all could be tough.
All in all, this series is tops for me due to the fact that, if healthy, Blue Jays fans can shower Josh Donaldson with appreciation for all the great memories he gave this fan base in his nearly four seasons with Toronto.