Blue Jays: Five additions to improve fan experience at the Rogers Centre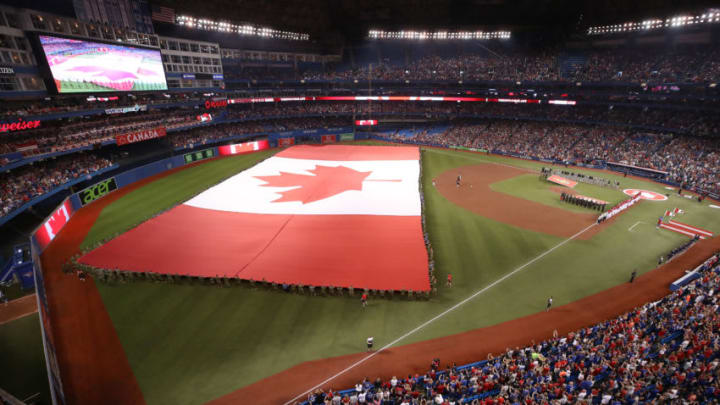 TORONTO, ON - JULY 1: A large Canadian flag is held by members of the military during the singing of the Canadian anthem on Canada Day before the start of the Toronto Blue Jays MLB game against the Detroit Tigers at Rogers Centre on July 1, 2018 in Toronto, Canada. (Photo by Tom Szczerbowski/Getty Images) /
Toronto Blue Jays – Let's face it, the Rogers Centre is in desperate need of some upgrades not only on the field but off. Here are my five suggestions that might help enhance the fan experience and improve the attendance during this short rebuild.
Have a small Blue Jays Hall of Fame
With the rich history that the Blue Jays have built over the years, why not have an area strictly dedicated to this? Game worn jersey's, World Series, Cy Young and MVP trophies that have been achieved over the years would look fantastic there, also it would give the fans an opportunity to take pictures and learn more about the past while getting excited about the future.
Autograph sessions with a different player following an afternoon game for
Season Ticket Holders
Want to sell more season packages? How about after the game have one or two players available for a meet and greet strictly for those that have purchased season packages. There are events that are held throughout the year, but why not make this once a week when the Blue Jays are playing a home series? Also, if you are lucky enough before the game, you can get a glimpse of some of the players signing at field level. This does not help the fans that are not sitting in this section, as there are times the ushers will not allow anyone to access if that is not your designated area.
Regularly inviting local food establishments to promote and sell during the game.
This was done last season as a test and should be a regular feature. This is a fantastic way to keep the menu fresh, promote and support local restaurants in the community.  Not suggesting by any means that they would come in and set up 5-star dining experience, but maybe an opportunity to promote and attract new customers. Will it hurt the Rogers Centre's current food establishments, no, they will continue to sell the popcorn, soda's, hot dogs and hamburgers but at least it gives the fans a small variety and shows how committed Rogers is in supporting the local business.
Sports card kiosks 
More from Toronto Blue Jays News
One of my fondest memories as a child going to the ballgame was stopping at either Legends of the Game which was just a block from Rogers Centre or the shop that was located in the Skywalk on the way to the game. I will always remember before and after the game, going in and buying some packs of Upper Deck hoping to find some Blue Jay cards I needed for my collection or duplicates that I might hope to get autographed some day. You would also mingle with other fans, talk about the game and possibly swap duplicates.
To me, this should go hand and hand. You are at a Baseball game, you are getting excited about the product on the field, now you just want more Baseball goodness. Today, you may see an old team set, a vending machine with packs here and there but that's about it. Think of the possibilities, during one of the autograph sessions that they would be hosting, they could sell singles of that player.
Following the game, invite fellow collectors to a designated area and do some box breaks and an opportunity to trade with fellow collectors. C'mon Mark Shapiro, I know you are scratching your chin on this one.
And finally…. Speakers Corner – Toronto Blue Jays Style
For those of us who grew up in the '80s, you might remember a feature CityTV conducted, it was Speakers Corner. The premise behind this was simple, come up with an idea, speak your mind and once it passes the filter stage you would become a TV Star (Well, not really, but you get the idea). Your thoughts would be shared with a large audience, you would squeal that you have made it to TV and everyone comes out happy. Why not do this for the Blue Jays?
During each inning, the selected videos can be played on the Jumbotron, why, let us not make this even more interesting, have the best ones played on Rogers Sportsnet Baseball from time to time, now as fans we would have to keep it clean and not be, how do I put this gently…fully intoxicated, but what a great way for fans to get their message across to Blue Jays Management?
Anyways, these are just some of my thoughts and I would love to hear what you would like to see to improve your experience at a Jays game.