Toronto Blue Jays News
Blue Jays History: Trade for Ricky Henderson, missing on Randy Johnson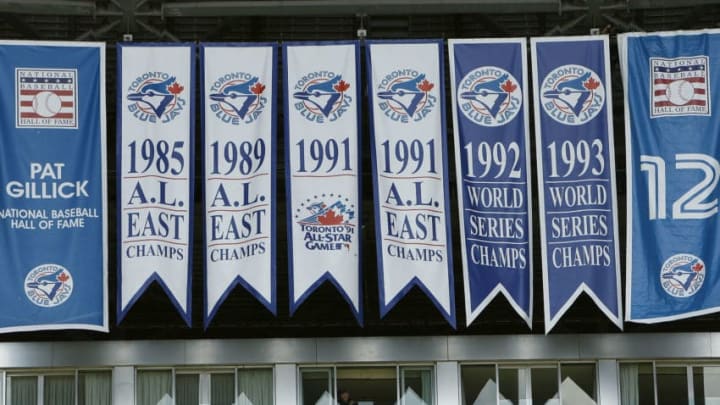 TORONTO, CANADA - JULY 31: A Hall of Famer Roberto Alomar /
Blue Jays – Pat Gillick knew how to build a winner. Two World Series rings with the Jays says it all, however even the great ones can slip up from time to time.
Now you are probably thinking, what the hell, the Blue Jays still won the World Series in 1993 but before you send me to the Arkham Asylum hear me out.
First and foremost, Ricky Henderson did not want to waive his no-trade clause. He was quite adamant about this to the point that it cost Oakland a financial bonus just so he would waive his no-trade. Well, after all the drama of 'would he or won't he', the trade was official just before midnight.
Oakland received pitcher Steve Karsay and a player to be named later who turned out to be Jose Herrera. In return the Jays received Rickey Henderson, considered to be one of the greatest leadoff hitters of all time. Throw in the fact he was a fantastic fielder and the all-time stolen bases leader and it was definitely a coup for any team that wanted to contend.
More from Jays Journal
Now why was this a bad trade? Well for almost the same package the Jays could have had Randy Johnson. Yes, that Randy Johnson who could throw over a 100 mph fast ball, that Randy Johnson who in the same season went 19 – 8 with a 3.24 era.
Johnson was also at that point in his career, a two-time all-star with a couple years left on his contract. Even though the 1994 season was cut, Johnson would have been in the Jays starting rotation which would see Johnson, Juan Guzman, Pat Hentgen, Al Leiter, and either Dave Stewart or Todd Stottlemyre. For the sake of argument, one of these guys would have become available as trade bait for the Jays to pick up another bat. Having Johnson in the rotation would have clearly set up more options for the '94 Jays.
Back to Henderson, following the 1993 World Series Rickey had decided to sign back with Oakland, and these things do happen unfortunately. What made it sting a little more was asking how valuable was Henderson during the final stretch. Well, in the final 44 games he played with Toronto, he batted a .215, with 12 RBI's, four HR's, scored 37 Runs and stole 22 Bases. Henderson's stats in the playoffs were not really that much better. In the ALCS vs the White Sox he batted a .120, 0 RBI's, 0 HR's, scored four Runs with two stolen bases. The World Series was a little better, as he batted .227, two RBI's, scored six Runs with one stolen Base.
Now I agree a platoon of Darrin Jackson and Turner Ward would not be ideal for a playoff run, but with all the time that was wasted on waiting to see if Henderson would accept the trade, the Blue Jays could have looked elsewhere, accepted the trade with Seattle for Johnson and would have probably been better off. This of course, is just my opinion. Having a stud like Randy Johnson does not happen everyday, especially with a couple of years left on his contract.
Looking back in hindsight is always a blast, especially when you know now what could have been helpful then. Henderson was a legend, the coolness factor of having one of the Oakland boys on our team was there. But thinking back, Randy Johnson as a Blue Jay would have been amazing. I guess we will never know what could have been, but hey with the '94 Strike, either way the Blue Jays remained the Champs. But again, what if.
One last factor to consider that would have been really cool, should there not have been a strike and the Jays would have made the World Series again, Johnson would have potentially pitched against his former team the Montreal Expos, now that would have been fun.