Blue Jays: The case to keep Marcus Stroman in the fold long-term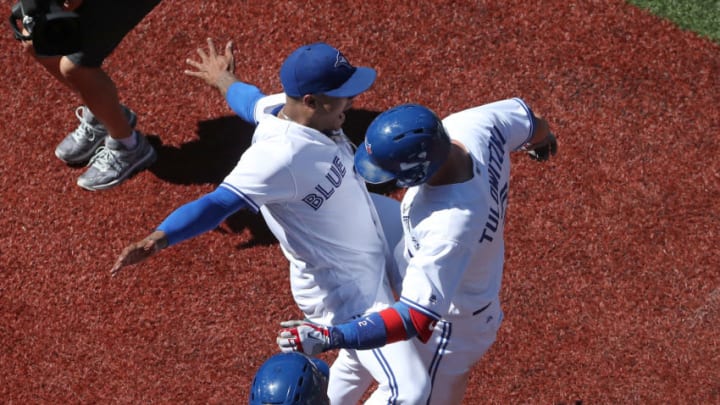 TORONTO, ON - JULY 8: Troy Tulowitzki #2 of the Toronto Blue Jays is congratulated by Marcus Stroman #6 after hitting a three-run home run in the seventh inning during MLB game action against the Houston Astros at Rogers Centre on July 8, 2017 in Toronto, Canada. (Photo by Tom Szczerbowski/Getty Images) /
Much has been written in the past few weeks in regards to the future of Marcus Stroman with the Toronto Blue Jays, well here are some reasons why they Jays should opt to keep the "Stro-Show" in the fold long-term.
Talent And Talent Alone
Marcus Stroman is a winner, yeah he struggled in 2018 but that was mainly due to injuries, this kid is a winner. Stroman is fearless on the big stage as he proved in the World Baseball Classic on a team loaded with superstars and in the postseason for the Blue Jays.
Stroman sported a 5.7 WAR in 2017 and is an extreme groundball pitcher which bodes well at the Rogers Centre if the hurler has a defence behind that can field a groundball. The 27-year old has a career 3.91 earned run average and a 3.62 FIP over five MLB seasons which is nothing to scoff about. Pitchers with those numbers don't exactly grow on trees and if they did, they would be very expensive trees.
I truly believe the best is still yet to come for Stroman and so does he.
Team Control
Stroman is still under team control for two more seasons, however, many fans are griping that Stroman will be 30 years of age by the time the Jays are ready to compete. So what…..
He is 27 and still could conceivably have at least eight more years of dominant baseball ahead of him. He is the same age as the Japanese hurler Yusei Kikuchi that everyone is jockeying over to sign. Give me Stroman any day of the week over Kikuchi for the next five years.
The Intangibles
More from Toronto Blue Jays News
The New York native wants to remain a member of the Toronto Blue Jays for the long haul, if you have forgotten, we aren't the Yankees or the Red Sox, some players would rather pitch in Alaska than Canada, hence why the Blue Jays are on most people's no-trade lists. Appreciate the fact that Stro wants to be here and has embraced the country.
Don't give me this Steve Simmons nonsense that Stroman is not liked in the clubhouse, aside from maybe Aaron Sanchez who has had an apparent falling out with Stroman. Many of the young players gravitate to Stroman and he is often the first out of the dugout to congratulate players. I am not buying for one second that this guy is a cancer in the locker room.
Stroman is outspoken on social media and wears his heart on his sleeve, who cares. We can't have 25 vanilla, cookie-cutter molded players on our team. When did personality and swagger become a bad thing?
Stroman shines bright like a diamond and hopefully, that brightness will be on display at the Rogers Centre for many years to come.