Blue Jays Prospect Interview: Andy McGuire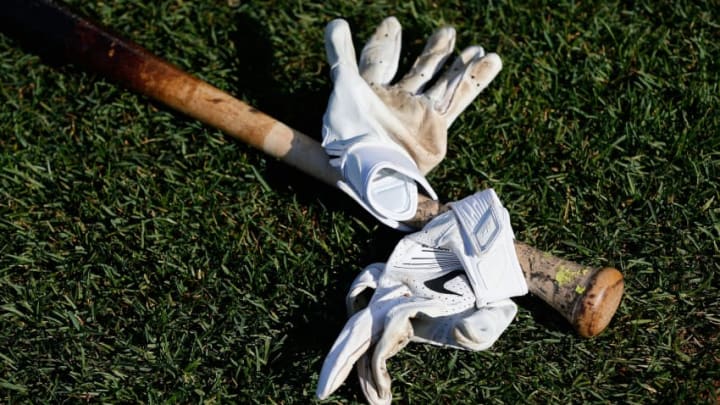 BALTIMORE, MD - APRIL 20: A bat and batting gloves sit on the grass before the start of the Toronto Blue Jays and Baltimore Orioles game at Oriole Park at Camden Yards on April 20, 2016 in Baltimore, Maryland. (Photo by Rob Carr/Getty Images) /
Recently, Jays Journal sat down with 2018 28th round draft pick Andy McGuire to discuss his career goals, playing style, and the feeling of being in such an exciting organization. McGuire, a 23-year-old two-way player, spent his first professional season playing for the Rookie-level Bluefield Blue Jays of the Appalachian League.
An outfielder/first baseman and a reliever, Andy McGuire is a quietly intriguing name on an even more intriguing roster. He was signed by the Blue Jays shortly after being drafted and was soon assigned to the Bluefield Blue Jays. A former Texas Longhorn, McGuire closed out games in his college days and also spent some time at the hot corner.
Hayden Godfrey: Andy, thank you so much for joining me. This year, you served not only as a reliever for Bluefield, tossing 23.1 innings to an ERA of 3.09, but you also played 13 games at first base, going 11-for-14 with four doubles and nine runs scored. As a young player, how do you balance trying to improve on both sides of the ball?
Andy McGuire: It's really awesome that the Blue Jays are giving me the opportunity to do both. I think I'm their first ever two-way player so that's pretty cool; it's something that I've been able to do, luckily, for my whole life and to be able to say that I'm doing it in pro ball, or at least trying to, is pretty cool.
For me, nothing really changes. It's really about what works for you, so being able to balance getting my throwing done every single day and making sure my arm is in good shape every day, that's pretty much a priority. I can't take days off from pitching to focus on other things and still expect to reach my full potential. So, the priority for me and the Blue Jays, which we've spoken about, is getting my throwing done every single day so that my arm can grow and stay in shape.
I've also been doing a lot of development on the other side, taking ground balls, doing live reads in the outfield, and making sure that I'm not tinkering with my swing too much. It's been a crazy summer, it's been awesome!
HG: I think a lot of people would assume that the high elevation of Appalachian League stadiums would cause it to be somewhat of a hitter's league. You've had the unique experience of both hitting and pitching in those parks. From your perspective, are those parks hitter-friendly or are they more pitcher-friendly?
AM: Being in the mountains definitely brings a different element to the game, but at the same time, we did see a lot of good pitching. It's hard to say, just because there's a lot of good players and guys are really figuring out their swings and will sometimes get hot really fast.
I would say that the field we played at was more so a hitter's ballpark, Bowen Field in Bluefield. Actually, my first ever pro outing I gave up a home run and I was kind of confused because I thought it was going to be a routine fly ball to right field but it hung up in the air forever and sailed over the wall and I was like "alright, that's how this is gonna go I better start getting ball down"! From there, it was all good, our team hit plenty of home runs and looking back at some of the fields we played at, some definitely weren't hitter friendly, but I wouldn't say it's a pitcher-friendly league.
HG: You're playing for an incredibly exciting organization. In Bluefield, you're surrounded by Eric Pardinho, one of the top organizational prospects, Cal Stevenson, Jordan Groshans and so on. How does that feel being surrounded by so many talented individuals? Although you're an undoubtedly talented individual yourself, how does being around those guys improve your game and help you improve as a player?
AM: It's awesome because we're a very dynamic organization. [Cal Stevenson] is one of the best baserunners I've ever seen in my life; being able to watch him battle and handle himself on the base paths is a huge plus.
Everyone's pretty open, so I think everyone is able to grow from each other. [Jordan] Groshans, the first-rounder for us, he joined us late in the season, and that guy, while obviously young, is a true talent and he's got some great baseball ahead of him. For him, he's got a lot of talent, but he was also able to learn from the older guys who've played a little bit in college and have some more experience.
And then Eric [Pardinho], Eric is unreal. I mean, the guy handles himself like a big leaguer and he's what 17, 18 years old? He barely knows English but he's super cool and super friendly and works his butt off it's really cool how he carries himself, really professional.
HG: In a minor league baseball world that's sort of dominated by promotions and moves to higher levels, how do you develop goals as a player and how do you execute those goals on a daily basis?
AM: In my first season of pro ball, I was learning every day how the Blue Jays system works and how pro ball is different from college because it is different. You sort of get a feel of "okay every day we've got games, everyday I need to be ready, I don't have any school work or anything else to worry about this is my job", and that's awesome but that can also be hard for people, because it leaves room for laziness and you have to be very accountable and very motivated.
More from Toronto Blue Jays Prospects
Everybody wants to move up, but you definitely can't look too far ahead. You have to break it down as simple as you possibly can. So, something like, "we've got a game tonight, who're we playing? What's my plan for tonight? Let's make a goal for today. Try not to give away any at-bats or throw more changeups; do whatever and you get through that day and hopefully, you've succeeded on your goal and if not, then you can learn from it ".
HG: Who is your all-time favourite Toronto Blue Jay?
AM: I really like Troy Tulowitzki, I was able to spend some time with him over at the spring training complex right after I was drafted. He was around rehabbing and obviously, it was one of those things, I grew up as a shortstop and idolized Derek Jeter and he's a guy that has a similar game. The guy's super open and super approachable, really cool. We had some similarities in our game as far as our batting stances and approach, so we were sorta able to bounce some things off each other and I was really in awe of how cool and how normal he was!
HG: You're somebody who maybe is not as known by a large portion of the fanbase, given mostly your age and how new you are to the organization. Since this might be the first time Blue Jays fans are hearing you speak, what is one thing that Blue Jays fans should know about Andy McGuire?
AM: One thing to know about me that maybe a lot of people don't know is I love to sing! I love to keep it light and have fun and I'm always smiling so I think if there's one thing I want Blue Jays fans to know about me is that I don't take myself too seriously, I work my butt off and obviously I want to play in Toronto someday, hopefully not in the too far distant future. I love the game and I'm enjoying this opportunity.
I would like to personally thank Andy McGuire and the Bluefield Blue Jays for allowing me to conduct this interview. You can find Andy on Twitter at @AMcGuire_1 and you can follow his career with the Bluefield Blue Jays at MiLB.com. The Jays Journal team wishes Andy McGuire the best of luck in his young baseball career!