Blue Jays: Charlie Montoyo and the Rays Connection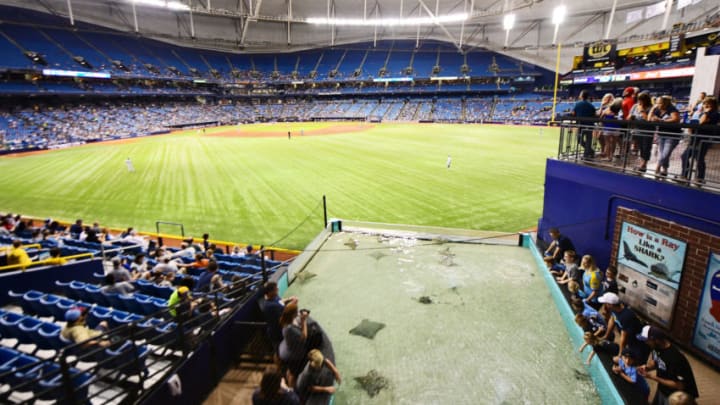 ST PETERSBURG, FL - SEPTEMBER 29: Fans enjoy the stingray tank during the sixth inning of a game against the Tampa Bay Rays and the Toronto Blue Jays on September 29, 2018 at Tropicana Field in St Petersburg, Florida. (Photo by Julio Aguilar/Getty Images) /
The secret sixth sense that Charlie Montoyo could bring to his new job with the Toronto Blue Jays.
The Tampa Bay Rays are the team that Blue Jays fans love to hate. They've consistently been one of the peskiest teams in baseball. They haven't been a serious playoff threat for some time, but they always seem to find a way to win ballgames in bunches. Now, the Blue Jays are going to be coached by a long time member of the Rays organization.
Charlie Montoyo, lauded by his colleagues for his warmth, professionalism, and passion, has been supported the Rays coaching staff for years. Now that he's going to be wearing Blue Jays blue, how exactly can he help them strategically?
First off, he coached the Rays. Yes, that's already been said numerous times, but think about what that entails. Montoyo, for all intents and purposes, knows Tropicana Field perhaps better than anyone. The Blue Jays, while moderately successful against the Rays at home over the past few seasons, have played to an abysmal 74-111 record all-time at the so-called "House of Horrors".
While Montoyo won't magically be able to make the team win in Tampa, he could certainly implement new and unique defensive alignments that would be more conducive to winning at the Trop. Even if the Jays make it to .500 on the road against the Rays, they'll see their overall record improve significantly.
More from Jays Journal
Aside from the geographical struggles, the Rays have long been known for their unique, progressive approach to the game. Kevin Cash, current Rays skipper, has single-handedly turned heads with his use of the unconventional "opener" strategy that could become a staple of 21st-century baseball.
Montoyo undoubtedly had somewhat of a hand in helping Cash develop the shifts, game plans and strategies that made the Rays a surprisingly dominant 90 win team in 2018. If it hadn't been for the incredible records of the Yankees and Red Sox, the Rays might've been a playoff team, as shocking as that sounds.
The trend in baseball is to go for the more bold, youthful managers, and although Montoyo isn't the youngest of the crop, he certainly understands strategic trends and knows how to execute in-game moves that'll set this team apart from the rest.
It'll be fascinating to see what Charlie Montoyo has in store for this ball club. Even if his first year isn't filled with groundbreaking bullpen utilization and unexpected rotation management, we should see a difference in the way the Toronto Blue Jays score runs and plot out their game from the first pitch to the final out of the ballgame. I, for one, am excited for this new managerial era of Blue Jays baseball, and you should be too.