Blue Jays: Interview with Kevin Smith – Part 2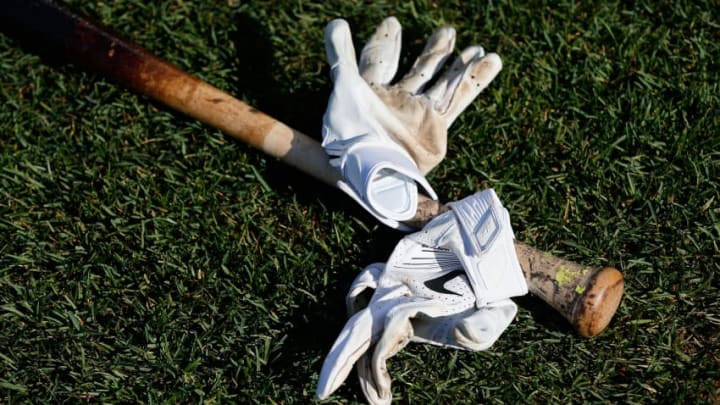 BALTIMORE, MD - APRIL 20: A bat and batting gloves sit on the grass before the start of the Toronto Blue Jays and Baltimore Orioles game at Oriole Park at Camden Yards on April 20, 2016 in Baltimore, Maryland. (Photo by Rob Carr/Getty Images) /
Part 2 of Jays Journal's exclusive interview with Kevin Smith of the Dunedin Blue Jays – Part 1 can be found here.
Hayden Godfrey: Your scouting report notes that your prowess on the basepaths comes not from ridiculous speed – although you are really fast – but from choosing your spots well. When did you develop the ability to "pick your spots" well on the basepaths?
Kevin Smith: I think it was something I worked on at Maryland a lot. Coach Vaughn, Coach Szefc… they wanted us to be great on the basepaths and they thought that putting pressure on the defence and the pitcher would help out our offence as well. I didn't steal a ton of bags in my sophomore and junior years, because I was sort of new to the concept, but being able to run a little bit more and having a few more games under my belt, that's kind of where it started.
We really had a lot of practice working on jumps, working on the whole thought process of pitches and when to run and when not to run. So, that's how I started back in Maryland, and I'm trying to get better here and there. I think it's all about being in the right count to run in and picking the right time to run.
HG: Almost every scout, in addition to that aggressive baserunning nature that you just mentioned, has lauded your ability to consistently make plays in the field. You're a fantastic defender – how do you balance, as a young, developing player, the priority of trying to improve your bat, and trying to improve defensively, simultaneously?
KS: That's a tough one. I think I spent more time on my defence growing up than my hitting and I take a lot of pride in my defence. I want to be a valued defender in the big leagues. Pitchers like it, coaches like it, and if you're in the field making plays, you're saving runs and getting outs. It's tough, I think a little work here and there goes a long way and I think it's a lot more fun to take hits away than it is getting hits. That's kind of my mindset, growing up, doing travel ball and at Maryland. It's always fun to be in the field and make a great play – I think it's kind of undervalued right now, but I think you're starting to see fielders getting more and more value watching them in the big leagues. Guys are hitting the ball harder and you've gotta make better jumps and have more range.
HG: I love that. That's a fantastic team-first attitude. Kevin, your rise to Dunedin, which is High-A, could be described as dazzling. Under a year after signing with the Jays, you were already a key cog in the lineup of the High-A affiliate, something that might take prospects a year and a half, two years to reach. How would you describe your last year of professional baseball?
KS: It's really exciting. It's been eye-opening, I've been learning a lot. I think the biggest thing is just getting the process down, trusting the guys that I'm with and putting myself in the right situation. The guys around me know more than I do and I can learn every day and get better. But, it's nothing out of the ordinary, it was sort of what I expected to happen, I think when you work hard and when you put the effort in and you're really doing everything that you can to get better, it's just kind of what you should expect. It's been great to see it come to fruition and I'm excited to keep it going.
HG: So much of what Blue Jays fans talk about this year is the future. Your cohorts, your Dunedin, Lansing, and Bluefield teammates, offer such a sense of hope for a fanbase that, for the last two seasons, has been rather starved of competitive baseball. With that said, we have a lot of people writing in, mentioning your name and telling us how excited they are to see you play. How does it feel to be a name that people look forward to seeing?
KS: It's awesome. Especially with the guys around me and the guys above me right now, that I've gotten the chance to talk to and hit with, there's tons of exciting guys in the system – we got Vladdy G coming up, we got Bo coming up, and then there are guys like Chavez Young, Josh Palacios coming up. There's a lot of guys, probably 10 or 15 big names, that are coming up that I'm excited to play with and I know they're going to make a big impact in the big leagues.
I think it's going to be exciting. I mean, there are a lot of guys that want to make it, and I'm working hard. With that culture, I just don't think that you can really fail. It's going to be a fun few years and I can't wait to see how it shakes out.
HG: For a lot of Blue Jays fans, this might be the first time they're hearing you speak. I'm sure a ton of them have seen your stats float around, but for some of them, this is the first time they're getting to know Kevin Smith on a personal level. With that in mind, let's get to know you a little bit. Who is your favourite all-time Toronto Blue Jay?
More from Toronto Blue Jays Prospects
KS: That's a tough one. I would have to say [Josh] Donaldson and [Troy] Tulo[witzki] are up there, just because of the position they play. Growing up, I was watching their swings and in the Cape [Cod League], I studied their swings a lot. I would say those two guys because of the positions and I study them on defence, offence and even getting to know them a little bit in early camp…I would say those two, I've been trying to take pieces of their game and put it into mine.
HG: This year, your Players' Weekend nickname on your jersey was "Uber". Is there a story behind that nickname?
KS: Up in Lansing, the guys were starting to call me "Uber", and I kinda let it go for a little while, but I didn't really know why they were calling me that. I think it was Reggie Pruitt who asked one of the guys, and he said it was because I was driving everyone in so they started calling me "Uber"! I thought it was hilarious and it kind of stuck – it actually followed me down to Dunedin, so I'm curious as to how far it'll go!
HG: Finally, what is your goal for the [next] year of baseball. What should Blue Jays fans expect from you in 2019?
KS: I'm just hoping to build on last year, stick to the process and get better. I don't really like setting end goals, I like setting process goals, so there's stuff that I want to work on and get better at – it's not hitting for a higher average, hitting more homers, stealing more bases – more in the sense of what can I do in between games, what can I do pre-game, to give me the best shot to be the best player on the field. So, my goal is to make it to the bigs next year, and hopefully, I'll be up there with a lot of my buddies that we've been working hard with down here in the minors!
I would like to personally thank Kevin Smith and the Dunedin Blue Jays for allowing me to speak with him. You can follow Kevin Smith on Twitter @KJS_4 and follow his career at MiLB.com.